I've been getting a lot of questions about meditation lately, which isn't surprising to me at all. Many people have heard about the many benefits of meditation, and how many very successful people have a daily meditation practice. Meditation is also a big part of yoga, and I've found that a moving meditation during my yoga practice has done a lot to improve my life. So, I thought I'd take the time to walk through the many benefits of yoga so hopefully you'll give it a try!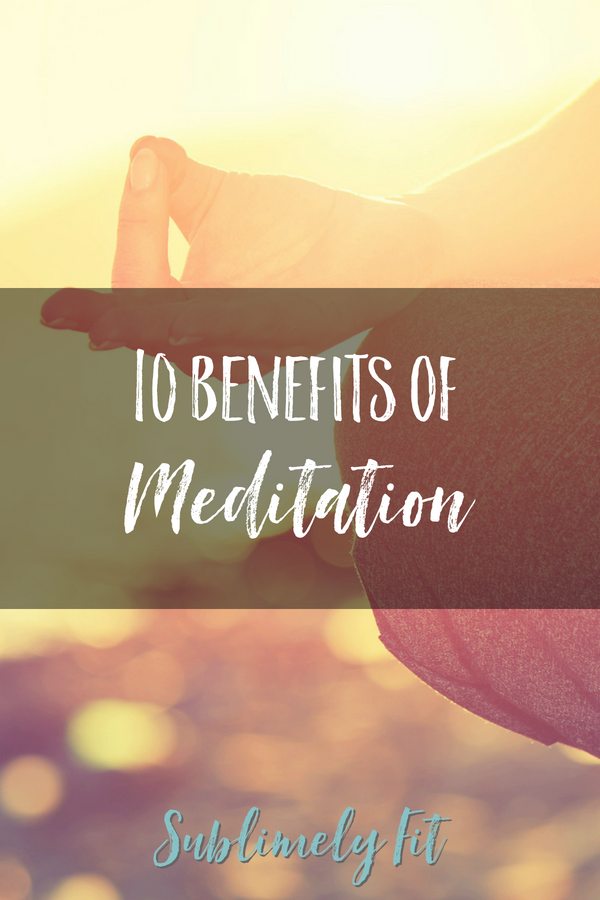 Stress Relief – Probably the best known benefit of meditation is stress relief. Countless studies have shown that a consistent meditation practice will help you feel more relaxed and less stressed. That can help you feel more content and happy overall. Meditation can teach you to be mindful, which can help you cope with all sorts of stressful situations.
Better Concentration – Do you feel like you struggle to focus on the task at hand? It's totally normal these days—we're all so distracted by the internet and our smartphones that we have really short attention spans. Meditation can help counteract that by improving your concentration. You'll be able to focus more easily, which means you'll get more done each day.
Makes You More Compassionate – Meditation also helps regulate some of the emotions involved with social interactions. Specifically, meditation can help you be more empathetic and compassionate. You'll have better control of your emotions when you meditate, including those emotions that are tied to the people around you.
Boosts Your Creativity – Need to use your imagination, but it just isn't working? Meditation can help! Meditating can actually help stimulate the areas of the brain that are involved in coming up with new ideas. So, if you're trying to brainstorm but you're struggling, meditation could be the answer you've been looking for.
Reducing Anxiety-Induced Chemicals in the Body – Stress caused by anxiety can lead to changes in the body, including the release of extra stress hormones and inflammation. Meditation can help counteract these changes, helping to lessen the negative effects of chronic anxiety caused by Generalized Anxiety Disorder.
Coping with Depression – I would never tell anyone who is depressed how they should treat their illness. But, I do want to point out that research has shown that meditation can be a helpful component of a treatment plan for depression. If you've been diagnosed with clinical depression, it might be worth asking your doctor if you might give meditation a try.
Pain Relief – Meditation, specifically mindfulness meditation, has been shown to help relieve pain. So, the next time you have a bad headache, or any type of pain, try focusing on your breath and dropping your thoughts. You just might feel better!
Counteracting Brain Aging – Unfortunately, many people don't think as clearly as they get older. The brain ages, we get slower, and we're not as good at controlling our emotions. Luckily, a meditation practice can actually help fight brain aging, helping to keep your brain younger for longer.
Improving Body Image – A yoga and meditation practice can actually help you have a better body image. A recent study of Australian women showed that women with a normal BMI were more likely to be satisfied with their bodies if they practiced yoga and meditated. So, if you've been struggling to see yourself in a more positive light, give meditation a try!
Helps You Sleep – Sleep is so incredibly important. If you've ever missed out on getting a good night's sleep a few nights in a row, you know what I'm talking about. (Why did those all-nighters seem like a good idea in college?) If you have trouble sleeping, meditation could be your answer. You'll be able to relax so you can drift off faster and get better quality sleep. Meditation may even help you feel less tired, too!