A vast majority of yogis I know have a yoga practice that ebbs and flows. Sometimes, you're super into it and you're making it to the studio multiple times a week, maybe every day. (This happens a lot with New Year's resolutions.) Other times, you go for a long time before making it back to your mat. Sometimes life just gets crazy, and sometimes you're just not feeling it. Whatever your reason, know that it's very common for your yoga practice to change over time. Don't beat yourself up or feel guilty! But, remind yourself that you started your yoga practice for a reason, and you want to get all of those amazing yoga benefits! To help you get back to your practice, I'm sharing the likely top # reasons why you keep giving up on yoga and how you can overcome them.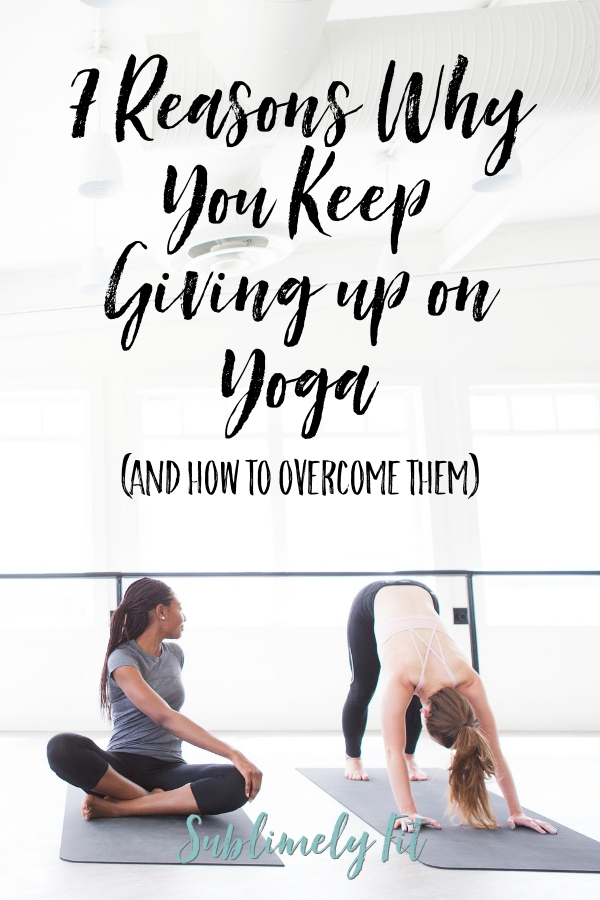 You Haven't Found the Right Style of Yoga for You
I think one of the big reasons that people try yoga and stop going is that they haven't found the right style of yoga. Maybe they're a go, go, go type person and they find their way to a very slow, zen class. Maybe they like a good workout but a friend asks them to come to a restorative yoga class. Every style of yoga is different, and most of us will have a style or two that really speaks to us. And, your preferred style can change over time. I know mine definitely did! I started out as a hardcore heated vinyasa/power yoga fan, but gradually really grew to love restorative yoga. It's all about finding what's right for you for where you're at now.
You Haven't Found the Right Teacher or Studio
Every yoga teacher is different. They'll all have a different teaching style. Some will focus on cueing alignment, while others will lead you through a mental or spiritual journey in class. Some teachers focus more on your breathing. Some like to use their classes to tell a story. And, some teachers are a little more woo-woo than others. Similarly, some studios tend to focus more on the body's position; others will focus on the mental or spiritual aspect of yoga. Again, it's about finding what speaks to you. Maybe you just haven't found the right teacher or studio for you. Keep looking!
You're Not Seeing (or Feeling) Results
Most of us have a reason for starting a yoga practice. You might decide that you're going to use your yoga practice to destress. You might want to become more flexible with yoga and stretch your muscles. Or, maybe you want to get stronger or lose weight. Whatever your reason for starting your yoga practice, if you're not seeing or feeling the results you'd hope for, it's going to be tough to stick with it. If this is you, check in with those goals. Were they realistic? Are you seeing progress, but not instant progress? Are you practicing yoga frequently enough to see progress? (Once a week generally isn't going to get you big or fast results.) Results can take time, but if you're consistent, you will see them. If you're not, have a chat with your yoga instructor. They may be able to give you some insight into why you're not meeting your goals.
You Can't Get Into It
I know so many people who have tried yoga because they hear it's a great stress reliever, but they try a class or two and hate it. Or, they get frustrated because they can't get into a pose or they struggle to clear their minds. Hey, I've been there, too. The important thing to realize is that yoga is a practice. It takes time to get used to yoga. It especially takes time to get used to the mental aspect of yoga, the meditation. If you're like most people I know, it's incredibly difficult to slow down your thoughts and shut off your brain. So, don't get frustrated with yourself if you find that you're struggling. Remind yourself that it's all part of a journey, and that you're exactly where you need to be on that journey in this moment.
Yoga Doesn't Feel Right
So many people try to force themselves into yoga poses that they think that they should be doing. Your teacher asks you to get into Pigeon Pose? Well, then you're going to force yourself down as deep as you can get, even if your hips are screaming at you. Please don't be that person! Our bodies are all built differently. Our bodies are different day to day, hour to hour. Sitting at your desk all day can do crazy things to your body and can cause you to be tight throughout your body. Likewise, if you did some heavy cleaning or gardening over the weekend, your body will feel different in your Monday yoga class. Honor where you're at today. Don't be afraid to modify your poses. Not sure how to modify the pose so it feels right in your body? Ask your teacher. The most important thing is to honor your body, and that means finding the right version of each pose for your body, even if it means skipping that pose altogether.
Yoga Isn't a True Priority for You
Here's a little tough love: if something is a priority for you, you make it happen. So, if you're not making it onto your mat, that's telling you that yoga isn't a priority. If you want to have a consistent yoga practice but you're struggling to make it happen, do a little introspection. Why are you having a hard time sticking with yoga? Is it hard to carve out time in your schedule? Try following some short yoga videos online, which will save you time over going to an hour-long (or longer) yoga class, plus finding parking, plus getting your spot in class, and so on. Feel too tired? Try a slower or relaxing style of yoga that doesn't require as much energy. Find a way to make yoga fit your needs and it's more likely to make it up your to-do list.
You've Forgotten Why You Started
You started your yoga practice for a reason. It took a lot for you to pull up that streaming video or head to your first studio class. But, your reason for doing yoga was stronger than that discomfort. But, over time, it's easy to forget why you began your yoga practice. You get wrapped up in your life, or you start to focus on the things you think you can't do. Over time, you lose touch with that purpose you began with. If you're feeling this way, come back to your "why" for practicing yoga. Do you simply need some "me time" to recharge? Do you need to reduce your stress? Do you want to stay active and take care of yourself and your body? When you have your why, you understand why your yoga practice is so important. And, when you keep that why in mind, it's much harder to give up on your yoga practice.
Your yoga practice is important. It can do so much for you, including helping you feel better, both physically and mentally. You may find that you have a lot of excuses for why you can't make it to your mat. But, if you work past those excuses and spend even a few minutes in your yoga practice, it will be worth it. Keep trying, and stop giving up on your yoga practice. I really do think you'll find the results you're looking for if you're consistent and if you honor what you and your body need.