This post is sponsored by NOW Foods. All opinions are my own, honest thoughts. Please know that I only work with brands that I absolutely believe in, and NOW Foods is one of the few brands that I completely trust to support my health and the health of my family.
I absolutely love to enhance my yoga practice using aromatherapy from essential oils. It's a way for me to really focus on my intention for my practice, whether I want to relieve stress, improve my mental focus, or just improve my mood. If you've never tried using oils with your practice, I hope this post will help encourage you to do so. And, if you use oils regularly as you practice, I hope you enjoy the recipes I've included later in the post.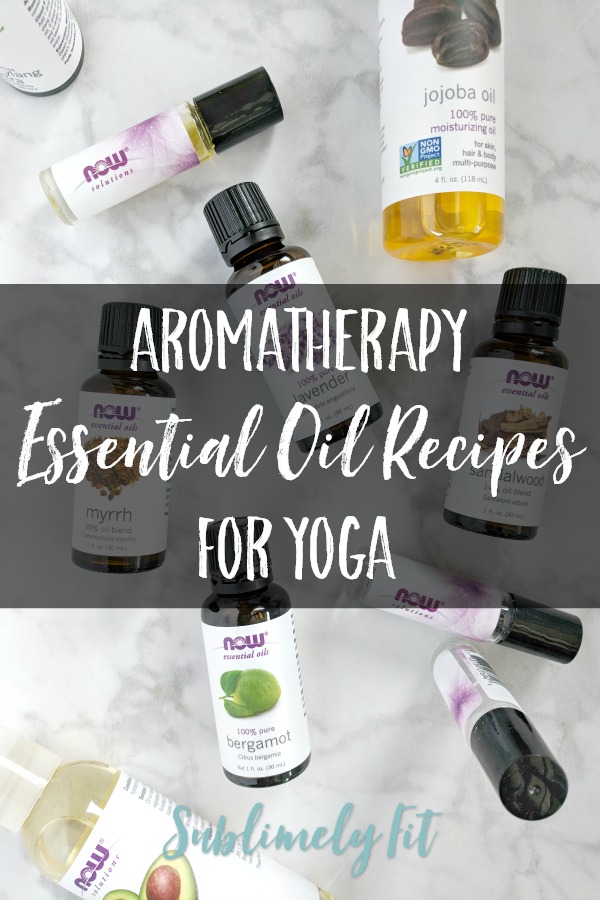 I started using essential oil blends during my yoga practice when I was in yoga teacher training. One of my very favorite yoga teachers used to end each class with a quick neck massage using lavender oil (with the student's permission, of course), and I absolutely loved it. So, I started out with a simple bottle of lavender, which I applied before my yoga classes.
Then, a fellow teacher-in-training introduced me to a blend with peppermint and lavender that was meant to help you breathe deeply and relax. My friends and I would pass the roller bottle around before class, putting it on our necks and wrists. If I started to feel down in the middle of my practice, I'd quickly bring my wrist to my nose for a little pick-me-up. We'd all finish our practice feeling great.
Over the past year, I've really started to experiment with different essential oil blends during my yoga practice, including making my own blends. I didn't always love the commercially-available blends that I'd smelled at the store, and it was fun to make combinations that I really loved and that made me feel great. I also use them as a form of intention setting: if I want to let go of some stress during my practice, I'll put on a relaxing blend. If I want to calm my thoughts, I'll put on a blend that helps improve mental focus.
How to Use Essential Oils for Aromatherapy During Yoga
There are two main ways that you can use essential oils for aromatherapy during your yoga practice. If you practice at home, you can diffuse your favorite oils in the space where you practice. Simply fill up your diffuser with water using the manufacturer's instructions, and add in your oils. You'll be able to enjoy the scent as you practice, and since it's being distributed throughout the room, you'll get the same effect, no matter what pose you're in.
If you practice at a studio, diffusing oils may not be an option. In this case, you can apply the oils topically. If you choose to use oils topically, be very careful! You should not apply pure oil directly to the skin unless an expert tells you to. I'll chat more about safety and essential oils in the next section.
Make Your Own Essential Oil Blends for Yoga
Lucky for us, it's actually surprisingly easy to create your own oil blends for your yoga practice. But, there are a few things to note when you're creating your blends. First and foremost, it's important to know that some oils can actually be harmful if you use them undiluted. For example, some citrus oils can actually burn your skin or make you more susceptible to sunburn.
So, what do you do to make sure you're using oils safely? Dilute them with a carrier oil, or mix them in with other diluting products like a lotion. That way, you're not applying the concentrated oil directly to your skin. The same is true for taking oils internally; some oils should never be taken internally, and others may be taken, but they should be diluted. Check with an oils expert if you need help figuring out whether you're using your oils safely.
If you're pregnant or nursing, also be able to check with your doctor to make sure the oils you're using are safe for your baby. Better safe than sorry!
I also want to give a shout out to the NOW Essential Oils line. These oils go through multiple highly rigorous checks to make sure they're the purest oils available, and that they are what they say they are. I trust these oils 100%, and I hope you will, too. Plus, they're a fraction of the cost (especially per ounce) than other popular essential oil brands in the marketplace. When I buy my oils (and I do spend my own money on them), I always buy NOW Essential Oils.
Aromatherapy Essential Oil Recipes for Yoga
Here are my current favorite blends that I use all the time during my yoga practice. (And, if I'm being honest, I totally use them all the time throughout the day, too.) For each of these, I fill a roller ball applicator with 1 tablespoon of carrier oil (I frequently use jojoba oil and avocado oil) and then add 10 drops of essential oils.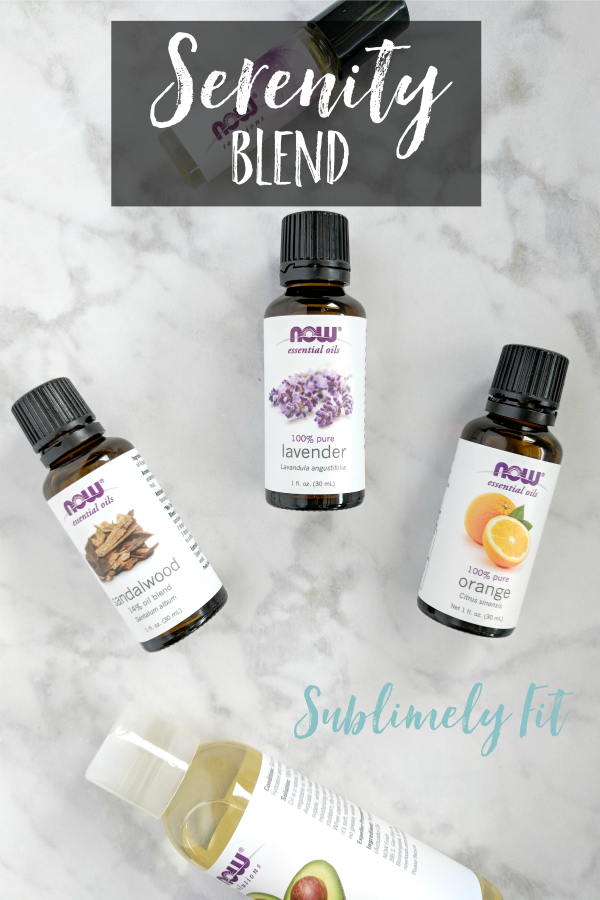 Serenity Blend
6 drops sandalwood oil
3 drops lavender oil
1 drop orange oil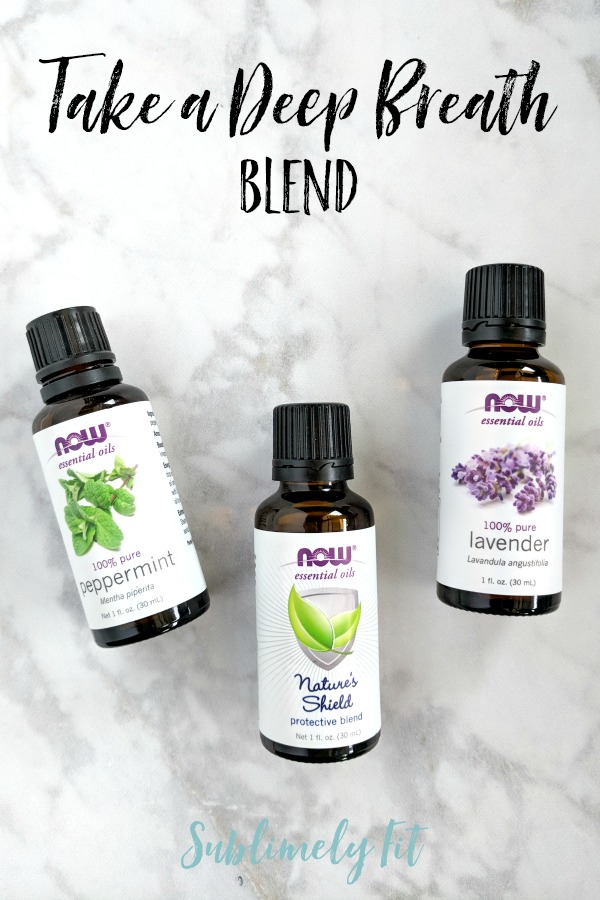 Take a Deep Breath Blend
4 drops peppermint oil
4 drops Nature's Shield oil
2 drops lavender oil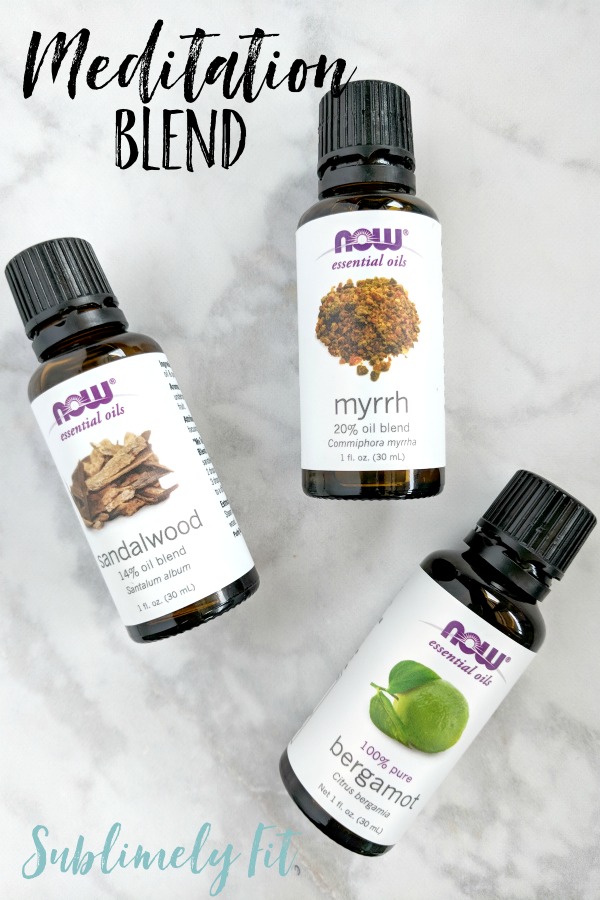 Meditation Blend
4 drops sandalwood oil
4 drops myrrh oil
2 drops bergamot oil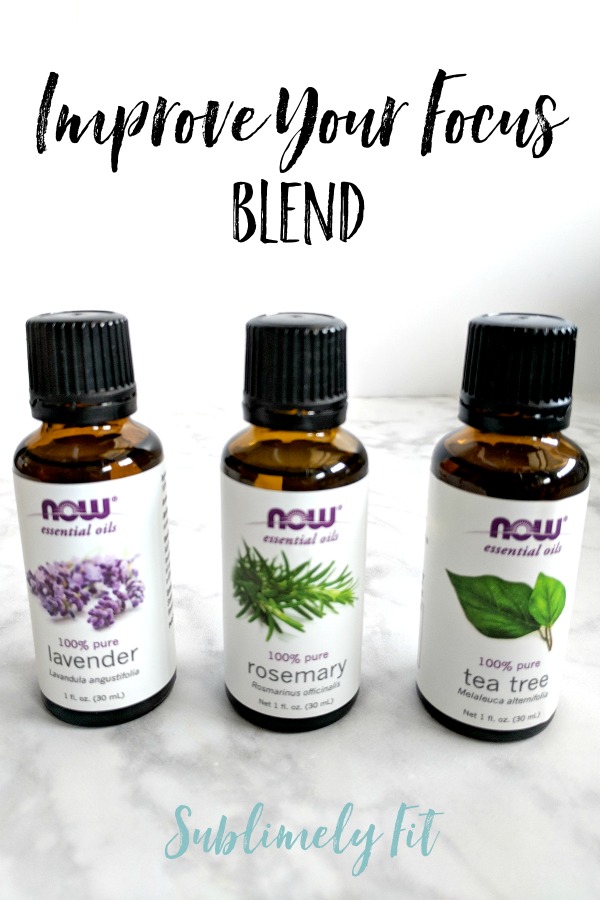 Improve Your Focus Blend
5 drops lavender oil
4 drops rosemary oil
1 drop tea tree oil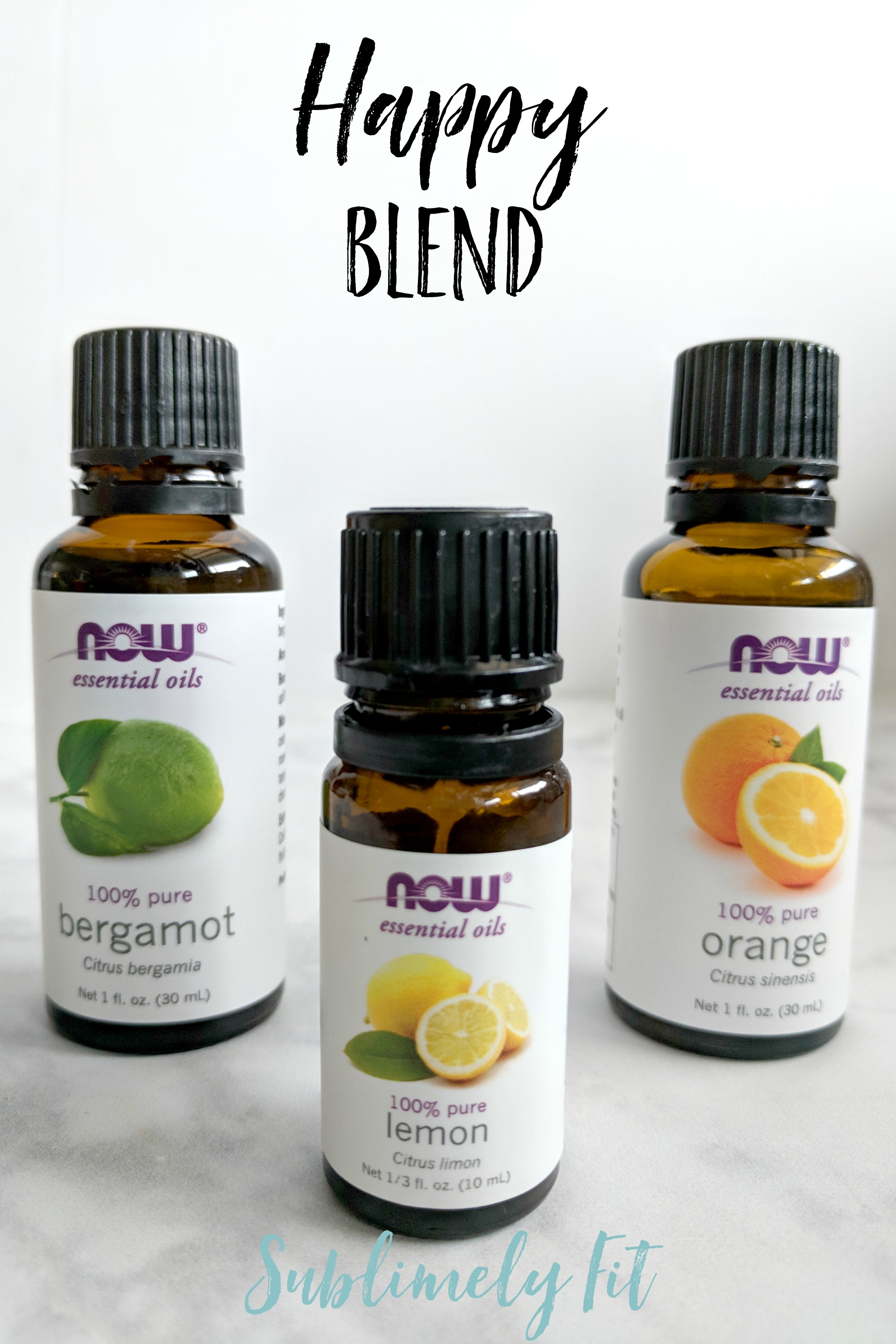 Happy Blend
4 drops bergamot oil
3 drops orange oil
3 drops lemon oil
(Or, you could just grab a bottle of their Cheer Up, Buttercup oil blend. It's one of my favorites!)
I really do think that using essential oil blends can help you enhance your yoga practice. So, if you haven't tried using essential oils with yoga before, I'd encourage you to give it a try! And, if you've been using oils for a while, think about making up a new blend. It's a great way to further explore your yoga practice through a different sense!
Do you use essential oils?
Share your favorite oil or blend in the comments!