I've written before about how beneficial yoga is for runners as a whole. Yoga can really help you strengthen weak areas and help prevent injuries, not to mention the mental benefits a yoga practice can give your running. Today, I'm focusing on balancing yoga poses for runners, why balancing poses are so great for runners and which ones you should try.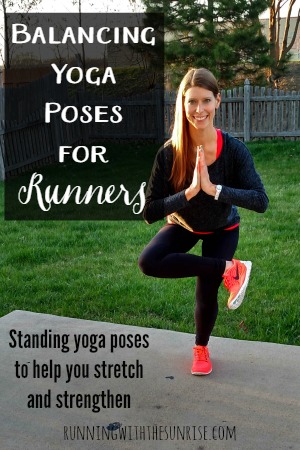 Disclaimer: I am a yoga teacher, but I'm not your yoga teacher. Always practice yoga mindfully and if you have any questions, consult with your teacher.
FREE Hip Openers for Runners Guide
Sweet relief for your tight, sore hips!
Get the best hip-opening yoga poses sent straight to your inbox.
Why should runners practice balancing?
Balancing yoga poses are really great for strengthening stabilizer muscles, especially in the standing leg. They'll help strengthen your foot and your ankle, which will reduce your risk of getting sprains when you misstep. Strengthening your arch can help reduce your risk of getting the dreaded plantar fasciitis. And, balancing will strengthen the rest of your leg, your hips, and your core. Balancing will also help you improve your mental focus, since a lot of focus is required to hold balancing poses for a longer period of time.
Balancing Yoga Poses Runners Should Try
My favorite balancing poses for runners:
Eagle Pose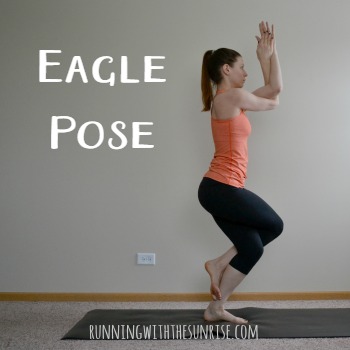 Eagle pose not only strengthens the ankle and foot, but it's also a good stretch for the Achilles and ankle of the standing leg. If you're just starting to work on balancing poses, keep the toes of the top leg on the ground next to the outside of your standing leg as a kickstand. As you get better at this pose, start to lift the toes of the top leg off the ground and gradually work on wrapping the foot around your standing ankle. If you have tight shoulders, skip the arm variation I'm showing and just give yourself a bear hug.
Standing Pigeon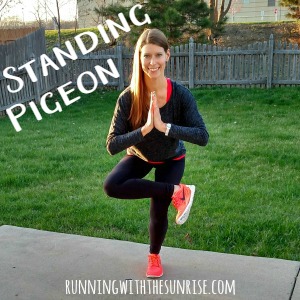 Standing pigeon is one of my very favorite yoga poses for runners because you get to stretch through the hip and glute of the non-standing leg, places where runners tend to get really tight. You're stretching many of the same muscles you stretch in regular pigeon pose with the added benefit of strenthening your ankle and foot.
Be sure you're pulling your belly button to your spine to take any curve out of the low back. Really flex through the foot of the top leg and sink lower to intensify the stretch. Think about pulling the top knee down and back, too, if you want to deepen the stretch a little more.
Half Moon Pose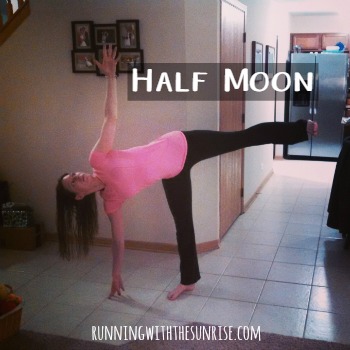 I love practicing half moon in the same session as standing pigeon because half moon helps open the hips in a different direction. Really squaring the hips off to the side will help you get a really nice stretch in this pose.
And, really flexing through the top leg and keeping it straight will help strengthen your glutes, especially in that top leg. Weak glutes can lead to some hip injuries, like the hip flexor injury that kept me from running for a few months back in 2012. Give your glutes some love, runners!
Runner-yogis: What are your favorite standing balancing poses?
Do you work on strengthening your ankles or hips?