If you're anything like me, the minute you lay down in bed your head starts to race through everything that happened to you that day and everything you have to do the next day. Adding in a little bit of gentle, relaxing yoga before bedtime will help calm your mind and prepare you for sleep. In this post, I've compiled my five favorite poses for bedtime yoga. These poses will help you stretch out tight and tired muscles and prepare you for a restful sleep. Hold each pose for a few breaths up to a minute, focusing on taking nice, long breaths and quieting your mind.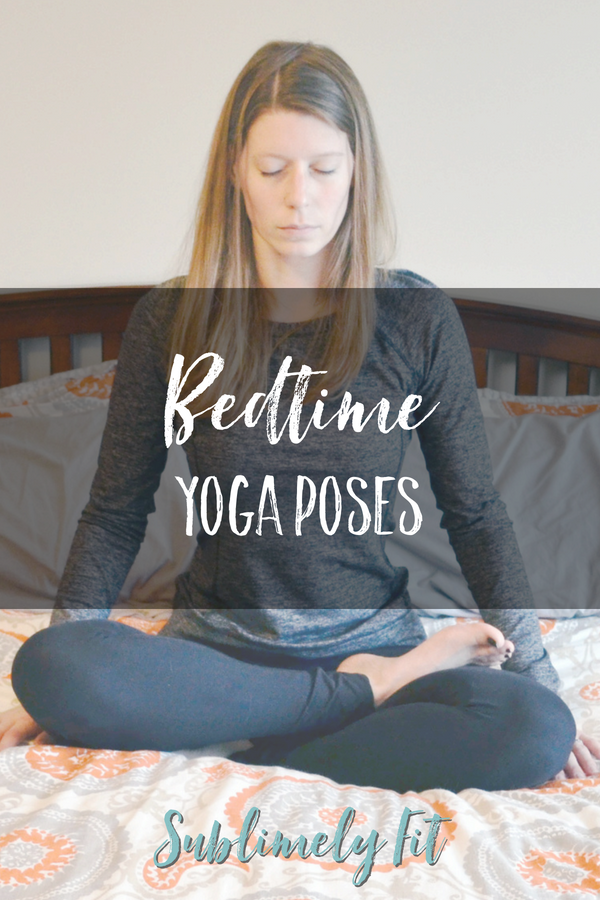 Disclaimer: I am a yoga teacher, but I'm not your yoga teacher. Always practice yoga mindfully and if you have any questions, consult with your teacher.
Bedtime Yoga Poses You'll Love:
Bridge Pose
Bridge is a wonderful bedtime yoga pose because it's technically an inversion, so you get all of the benefits of inversion like stress reduction and improved circulation. Bridge pose also opens your heart, giving the chest muscles a nice stretch. If you're flexible enough to shimmy your shoulders and tuck them under, you'll get an even greater heart opener. I would start your bedtime yoga routine with slightly stimulating poses like bridge pose, slowly working your way to more restorative poses.
Thread the Needle Pose
This seated Thread the Needle pose will open your shoulder muscles, perfect for bedtime yoga. Begin in a cross-legged, easy seated position. Next, reach your arms out in front of you. Keep your left arm in contact with the ground and reach your right arm under your left armpit, gently twisting as you reach. Be sure to do this pose on both sides of the body.
Half Lotus Forward Bend
Half Lotus Forward Fold will help stretch the outer hips and glutes. Begin in Half Lotus pose, with one foot near the hip of the opposite leg. (If Half Lotus is too hard for you to get into, try Reclined Pigeon Pose; it stretches similar muscles.) Then, simply fold forward and melt into the pose. This pose is one of my favorite gentle stretches to do before taking a yoga class.
Reclined Bound Angle Pose
Reclined Bound Angle Pose will help you open up your inner thighs and hips. Simply lie on your back, bring the soles of your feet together, and let your knees fall out to the side. You can even prop your knees up with pillows if that makes the pose more comfortable—just place a pillow under each knee. I always think of this pose as a pose of opening, physically and mentally, so I try to find openness and gratitude in my heart when I practice this pose. For bedtime yoga, maybe think of the things you were grateful for during the day. It's always nice to end the day on a positive note.
Supine Twist
Supine Twist provides a nice, gentle twist and stretch through the back, and it's very relaxing because you're essentially lying down and twisting over a bit. Keeping both shoulders on the ground will help you get more out of the pose. You can modify the pose by putting a pillow under the knee of the top leg.
If you found this post helpful, check out my gentle morning yoga routine to help you loosen up after a night's sleep. Or, read more about the best yoga poses for beginners.
VIDEO: BEDTIME YOGA SEQUENCE
Are you loving the poses in this post? Check out my Relaxing Gentle Bedtime Yoga Sequence! It incorporates many of these poses, and it's the perfect way to wind down after a long, stressful day. Be sure to subscribe to the Sublimely Fit YouTube Channel, too!
Have you tried bedtime yoga?
Do you stretch before bed?
Do you prefer daytime or nighttime yoga?