I remember when I took my RRCA running coach training and we got to our section about injuries, our trainer asked us to raise our hand if we had ever gotten a running injury. Everyone in the room raised his or her hand. So, if runners relatively injury-prone, it makes sense that we should be preventing running injuries in any way we can. Every coach will have a list of his or her best practices for preventing running injuries. Here, I'm trying to synthesize those practices into one article. Coaches, feel free to weigh in in the comments section with your tips for preventing running injuries!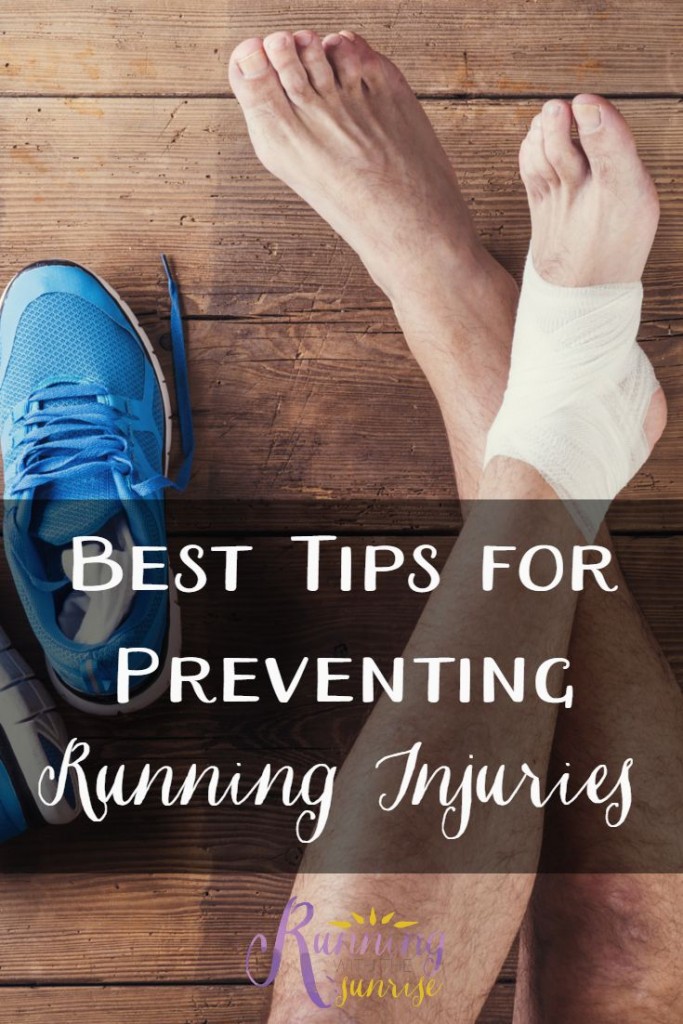 Disclaimer: These are generally accepted best practices for preventing running injuries. If you're injured, please go see a medical professional. They'll be able to help you recover and get back to running as soon as possible.
FREE Hip Openers for Runners Guide
Sweet relief for your tight, sore hips!
Get the best hip-opening yoga poses sent straight to your inbox.
Strength train to improve muscle imbalances. So many runners get injured because of muscle imbalances. I had to DNF at the 2012 Chicago Marathon because my weak glutes caused an injury in my hip flexor after weeks of running 60 miles or more. I was devastated that all that training went to waste. Strengthening those stabilizing muscles will help reduce your risk of getting those injuries that originate from muscle imbalances, which includes a lot of injuries! Elite runner Tina Muir has put together a fantastic series on strength training which I would highly recommend. Check out her posts on strength exercises for legs, arms, and core.
Increase your mileage slowly, especially if you haven't ever run that kind of mileage, or haven't run that kind of mileage in a long time. If you're used to running 20 miles a week and you suddenly start running 40 miles a week, you're drastically increasing your risk of getting injured. Many (perhaps even most) coaches are firm believers in the 10% Rule, saying you shouldn't increase your mileage this week by more than 10% of the mileage you did last week, meaning you wouldn't run more than 11 miles this week if you ran 10 miles last week.
Include cutback weeks. I know that personally, cutting back my mileage every third or fourth week has really helped me prevent any little twinges from becoming full-blown running injuries. Cutback weeks, where you cut back your weekly mileage by 40 up to 70%, give your body time to recover from the hard training you're doing, which can be the difference between getting injured or staying healthy. You definitely won't lose any fitness during the cutback week, and you may actually improve your running because your body has more time to recover.
Cross train. This tip for preventing running injuries might be a little contentious with some running coaches. To become a better runner, you have to run more. However, if you tend to be more injury prone, your body may not tolerate high mileage weeks. Running-specific cross training, where your body roughly mimics the movement of running, such as cycling or using an elliptical, may help you increase aerobic fitness without the impact of running. There are other activities some would consider cross training, such as yoga or barre classes, that can help runners improve strength, helping them reduce the risk of getting injured. Check out my post on cross training for runners for a more detailed discussion.
Foam roll. Oh, runners, love to hate foam rolling, but it can be really great for preventing running injuries. Foam rolling helps remove muscle adhesions that can be painful and that can restrict full range of motion. If you have a restricted range of motion on one leg compared to the other due to muscle tightness and adhesions, you risk getting injured by putting stresses on the right and left legs differently. Combining foam rolling with a little bit of gentle stretching to improve range of motion can be very helpful. If a muscle is particularly tight and/or knotted, consider going to see a massage therapist. You may leave feeling like a new man or woman.
Running coaches: What are your tips for preventing running injuries?
If you leave a comment, please let my readers know that you're a running coach!
Runners: What steps do you take to prevent running injuries?