Runners are becoming more and more familiar with the benefits of yoga and how yoga can help make them better runners. Yoga will help you reduce your running injury risk by helping you strengthen your entire body, but in particular, it will help you strengthen stabilizing muscles in your ankles, legs, and hips. Yoga will help you stretch sore, tired muscles, help you breathe better, and will help you be a mentally stronger runner. But, the same qualities that can make a good runner can be dangerous when applied to a yoga practice. If you're a runner-yogi, make sure you're not making these mistakes with your yoga practice.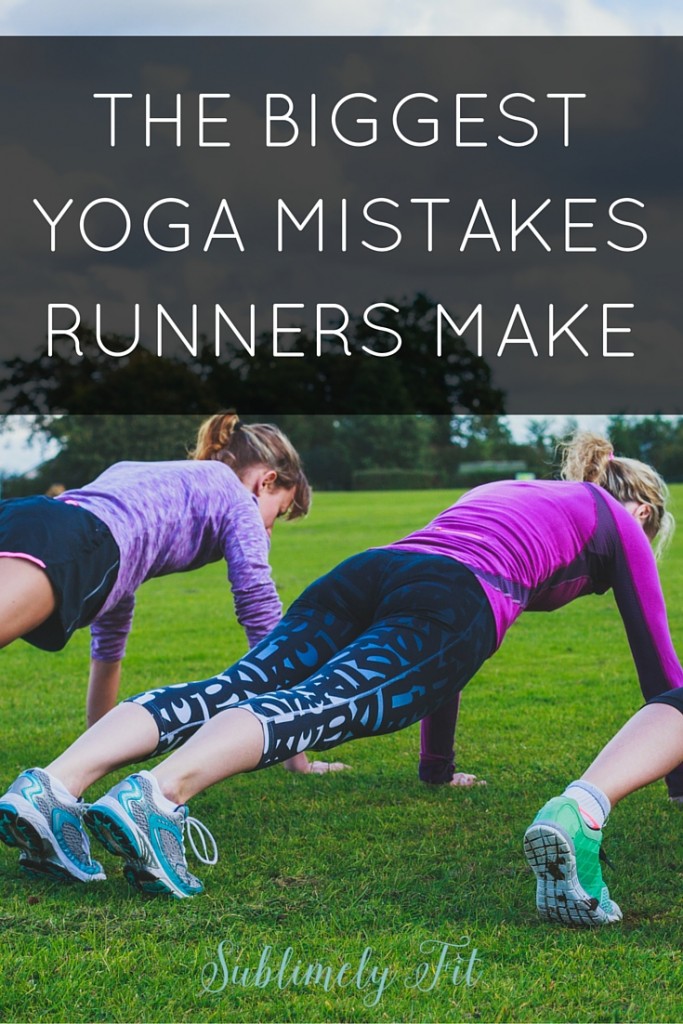 Mistake #1: Pushing a stretch too far.
Many runners subscribe to a "more is better" mentality and think that pushing more in yoga is better, just like pushing through a tough run. However, pushing too hard in stretches in your yoga practice can be dangerous. This is the number one mistake that I see runners make when they come to yoga class—they think "I'm really fit, so I can do all of these poses." However, tight muscles from years of running (or even sitting at a desk) mean that many yoga poses that require more flexibility, especially in areas like the hips and hamstrings, are not poses that some runners should attempt without modifying.
FREE Hip Openers for Runners Guide
Sweet relief for your tight, sore hips!
Get the best hip-opening yoga poses sent straight to your inbox.
What should you do instead? When practicing yoga, runners should focus on finding a pose that feels good in their body. You should find a nice, comfortable stretch, even if that means bending your knees or using props like yoga blocks to help you modify poses. When stretching muscles, particularly muscles that are tight, make sure that you don't push yourself deeper into the pose, but instead allow the pose to happen and let it help you open the tight muscle. You'll actually gain flexibility faster by letting your body open instead of forcing it into a stretch. It's all about finding the right amount of stretch.
Not being consistent
There's a reason why they call consistently doing yoga a yoga practice—it's all about practicing the poses over time, which leads to gains in flexibility, strength, and mental focus. If you just do yoga every once in a while, you won't make the changes you're hoping to make. Just like you won't improve as a runner if you only run once a week, you won't improve flexibility and strength if you only work on them once a week. Aim to practice yoga 2-3 times a week, being sure to include gentle stretching after your runs, too.
What should you do instead? Write yoga sessions into your training plan and treat them just like you would a run. You don't have to practice for long periods of time; even 15 or 20 minutes can make a big difference. Consider finding videos or classes that are specifically geared toward athletes, which should feature modifications for the areas where runners tend to be less flexible, like in the hamstrings. And, they'll help you focus on opening the areas that commonly get very tight in runners, helping you feel better.
Not self-massaging
When you perform any kind of strenuous exercise, including running, your muscles often form adhesions as they repair and grow stronger. Those adhesions cause muscle fibers to "stick" to each other, in a sense, which limits flexibility. So, stretching muscle fibers that are stuck to each other may not lead to increases in flexibility because the fibers can't slide against each other. Not to mention, trying to stretch muscles with adhesions can be painful, too.
What should you do instead? Be sure to include foam rolling in your recovery routine in a regular basis. Foam rolling will help you release the adhesions in your muscles, which will then be freer to be stretched. If you're feeling very tight and sore in a particular muscle group—quadriceps, hamstrings, etc.—be sure to roll that area out. Then, go through some gentle yoga poses to help stretch those muscles. You'll not only gain flexibility, but you'll feel much better.