I love eating a hearty, healthy breakfast—it's the perfect way to start out each and every day. I really love adding overnight oats to my breakfast routine because of how simple and easy they are to make. Oatmeal really fills you up and sticks with you for the entire morning, which is great if you have a busy schedule like I do and don't have time to stop to eat again until lunch. Steel cut oats are really healthy for you but take forever to cook, which is why overnight oats are so awesome. No cooking needed and they're ready for you to eat right when you wake up!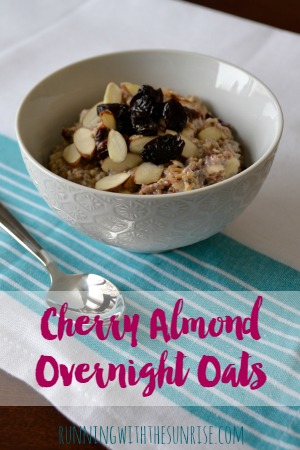 I was first inspired to make overnight oats by Lindsay at Running the Windy City. I followed her basic recipe for overnight oats for a long time, making tiny tweaks to spices or playing around with flavored yogurt. Lately I've been trying to get more creative with my recipes and had one of those "aha" moments where I created this cherry almond overnight oats recipe in my mind.
FREE Hip Openers for Runners Guide
Sweet relief for your tight, sore hips!
Get the best hip-opening yoga poses sent straight to your inbox.
I used dried tart cherries for my recipe because tart cherries are one of those healthy superfoods you often hear about. Tart cherries have been shown to reduce inflammation and can help you recover more quickly from hard workouts. They also have all of the great, healthy stuff in regular, sweet cherries like vitamins and fiber. I loved using dried tart cherries in this recipe because they soften up a bit in the overnight oat mixture and their flavor really gets mixed into the oatmeal. Yum yum!
Are you ready for the Cherry Almond Overnight Oats recipe yet?
Cherry Almond Overnight Oats
2015-02-27 16:34:38
Serves 1
An easy, healthy overnight oats recipe with almonds and tart cherries!
Ingredients
1/3 c steel cut oats
1/3 c plain yogurt
1/3 c tart cherries, chopped
1/4 c sliced almonds, chopped
1/2 c milk
1 tsp ground flax
1 tbsp chia seeds
1/4 tsp almond extract
dash of cinnamon (~1/8 tsp)
Instructions
Combine all ingredients together. Place in sealed container in refrigerator overnight. Ready to eat in the morning!
Notes
I used soy yogurt and almond milk to make my overnight oats vegan. What kind you would like to use is completely up to you!
Sublimely Fit http://sublimelyfit.com/
Sharing this with Tina and Deborah's Meatless Monday linkup!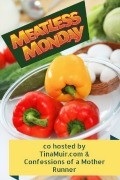 Have you ever tried overnight oats?
What's your favorite breakfast food?
Are you a tart cherry fan?