Happy Friday, everyone! Hope you had a wonderful week. Mine has been very busy–including a class tonight, I will have picked up four extra fitness classes to teach this week, and I'm working an extra shift at the desk at the barre studio tomorrow morning. Because of that, I haven't gotten as much accomplished as I would have liked to this week, but that's okay. And, I'm excited to link up with Heather to share my favorite things of the week!
Feeling better. I've been on the struggle bus a lot lately. I've been feeling down, which is part of the reason why I haven't been blogging as much. But, I've been trying to make some mental shifts over the past week, which has helped me feel a little better. And, the days will start to get a little longer soon, which will be a huge help, I'm sure.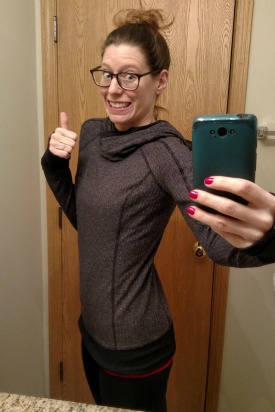 FREE Hip Openers for Runners Guide
Sweet relief for your tight, sore hips!
Get the best hip-opening yoga poses sent straight to your inbox.
My new hoodie. My dad got me this hoodie as a birthday gift and I already love it so much. Unfortunately it's generally frowned upon to wear the same shirt every day. It's so cozy and the hood is lined with rulu, my favorite lululemon fabric. It's incredibly soft! On second thought, maybe I will live in this hoodie…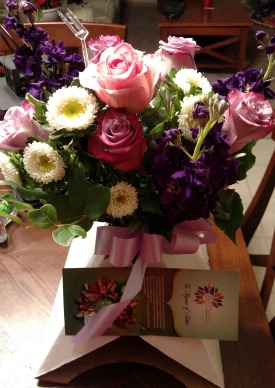 Flowers from my bestie. My bestest friend in the whole world, AKA my non-sexual life partner, sent me this lovely bouquet, which I keep staring at because they're so pretty. If you're reading this, Erin, thank you so much. You're the best and I'm so lucky to have you in my life.
Being able to work out again. Did I mention on here that I dropped my giant, heavy laptop on my big toe? Yeah, that hurt a lot, and it seriously bruised my toenail (definitely NOT sharing photos of that!) and I haven't been able to work out for a little over two weeks as I let it heal. I'm going to go out on my first run post-incident today and I am so excited! Can't wait to get back at it!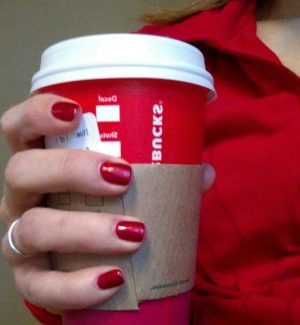 Festive manicures! I went way too long between manicures, so I was so excited when I got my no chip redone a week ago, and I was even more excited when I found this sparkly red polish color. It's perfect for the holidays! And it matches my latte–what's not to love?
Periscope. I've been a scoping fiend lately. I'm taking part in a Periscope challenge as part of a business mentorship group I'm part of, and it's been a lot of fun. It's also giving me a lot of great video to upload to my YouTube channel. Winning! If you're on Periscope and we're not following each other, let's fix that. You can find me @sublimelyfit. If somehow I miss adding you, shoot me a tweet or an email or carrier pigeon or one of whatever your preferred method of communication is so we can connect.
That's about it for this week! We've been so busy with family and friends over the past week that I'm looking forward to having a little less to do this weekend. I'm hoping to catch up on some projects and finish my Christmas shopping. Wish me luck! 🙂 And, have a great weekend!
What are you up to this weekend?
What's something your loving this week?