Happy Friday! To those of you who headed back for your first full week of work after the holidays, I hope it was a good one! I've had a very busy week, but it was a good one. Today and tomorrow are my days off and I'm going to take full advantage of them by getting a lot done. I'm looking forward to having a productive weekend!
Linking up with Heather for Friday Favorites! Here's what I loved this week:
Friends visiting. My friend Carley came to visit! Carley has been a good friend for years—we've even run races together! She actually paced me through my first 10K. She was one of my bridesmaids. We got to hang out at our friend's wedding in November, but I was super excited when she was able to find some time to come visit us in Chicagoland. Unfortunately I am a terrible blogger and only got one photo with her in it.
FREE Hip Openers for Runners Guide
Sweet relief for your tight, sore hips!
Get the best hip-opening yoga poses sent straight to your inbox.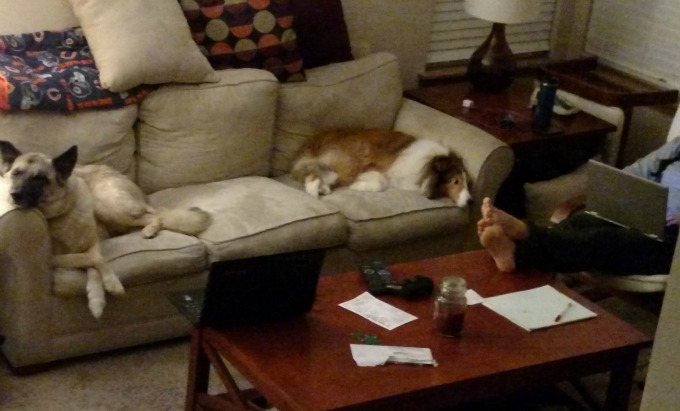 That's her feet over to the right. But at least I got the photo of the dogs! Yes, I am a terrible friend.
We had a great time hanging out. (I did anyway, and I think she did, too.) We had a pretty chill weekend, partly because I had a lot of work to do for my online yoga programs that launched Monday. But, Scott was off all weekend, so she got to hang out with him, so that worked out well. We even got to take a Pure Barre class together before she had to head back home, which was a lot of fun.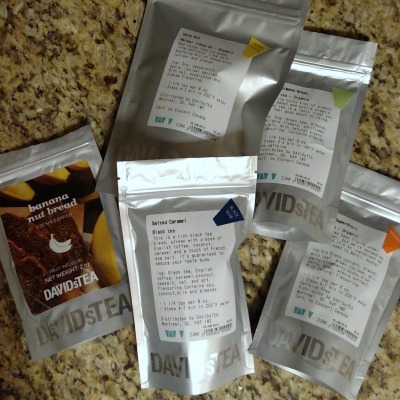 David's Tea. I also got Carley hooked on David's Tea, which then made me want to buy more tea. I've been bad about drinking enough water lately, so I'm using herbal and fruit teas to help me out with that. If you live near a David's and you like fruity teas, definitely give the new Buchu Superfruit tea a try. It's really tasty! And, it's nice to have warm drinks throughout the day during the winter.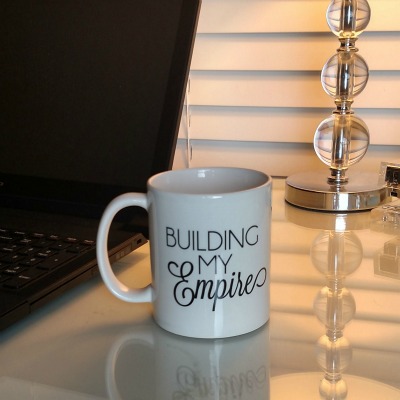 Cute mugs. Speaking of warm drinks, I'm also totally loving this mug that I got for Christmas. So adorable. It's actually designed and sold by an artist from Chicago who sells under the brand The Trendy Sparrow. Definitely check her stuff out; it's all amazing.
Right Inbox. If you have emails that you need to send out on a regular basis (I definitely do for my online programs), having an email scheduler can be a lifesaver. I've started using Right Inbox and have had a great experience so far, and it's about half the cost of Boomerang. I love that I can schedule morning emails the night before, and I don't need to worry about forgetting to send them. If you need to be able to schedule emails with Gmail or Google Apps, definitely check it out! If you send 10 or fewer scheduled emails a month, it's free!
That's it for me this morning!
What are you loving this week?
Are you a fan of tea?
What are your plans for the weekend?