Hello all and happy Friday! I took a bit of a blogging hiatus over the past week for several reasons, 1) moving and getting the old house ready as well as getting the new house somewhat ready for houseguests, 2) my Illinois BFF got married yesterday!, and 3) I just needed a little time to reassess things and where I'm at on a number of levels. I'm not going to lie; I've been struggling a bit personally. I've been working a lot to stay mindful and trying not to let the negative thoughts get to me, which meant that I needed to take a little bit of a break to refocus.
Here's what I'm loving this week:
Obviously, the top thing I'm loving is getting to see my Illinois BFF Olivia get married. She has been such a godsend to me and I'm so honored that I was there to witness her and her new hubby commit themselves to each other. It was a beautiful, touching, and funny ceremony and was absolutely perfect and 100% "them." I can't wait to have married couple dates with them (instead of our just plain couple dates) and to have a girl date to celebrate with a crap ton of champagne, because that's how we roll.
FREE Hip Openers for Runners Guide
Sweet relief for your tight, sore hips!
Get the best hip-opening yoga poses sent straight to your inbox.
I also loved the food they had at the reception! Tacos (so sorry I didn't take a photo; I was too busy stuffing my face) and doughnuts for dessert. Oh my gosh, yum. This is why you must go to weddings where two foodies are getting married.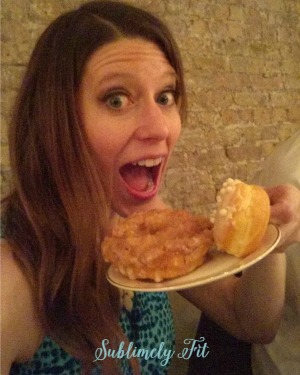 Another favorite: having all of our stuff at our new place. We officially moved the rest of our stuff over this past weekend. We're still unpacking because we've had a lot of things to do otherwise (Scott's been doing some minor painting and small projects at the old house and I've been partying with the former bachelorette and picking up extra classes).
We do have a very pretty (small) lake by our new place which I think we're really going to enjoy, especially when the weather gets warmer. It will be perfect for taking the dogs on long walks.
So that's what I've been up to. Lots of dealing with stuffing my life into boxes and back out of boxes. I'll be so happy when we're unpacked and settled! I have a little painting I want to do at the new house–some of the walls have some marks on them, so I'm hoping to do a quick coat of paint to freshen them up a bit. Finding the time to do it is the tricky part. 😉
Linking up with Heather for Friday Favorites!
Have a great weekend!