Sorry for the foul language, but I really think postpartum depression deserves it. Postpartum depression is a jerk and a bully. PPD steals the joy out of what's supposed to be one of the happiest times of your life. PPD makes you feel disconnected during a time that already passes by much too quickly. For these and a myriad of other reasons, I say, "Fuck you, postpartum depression."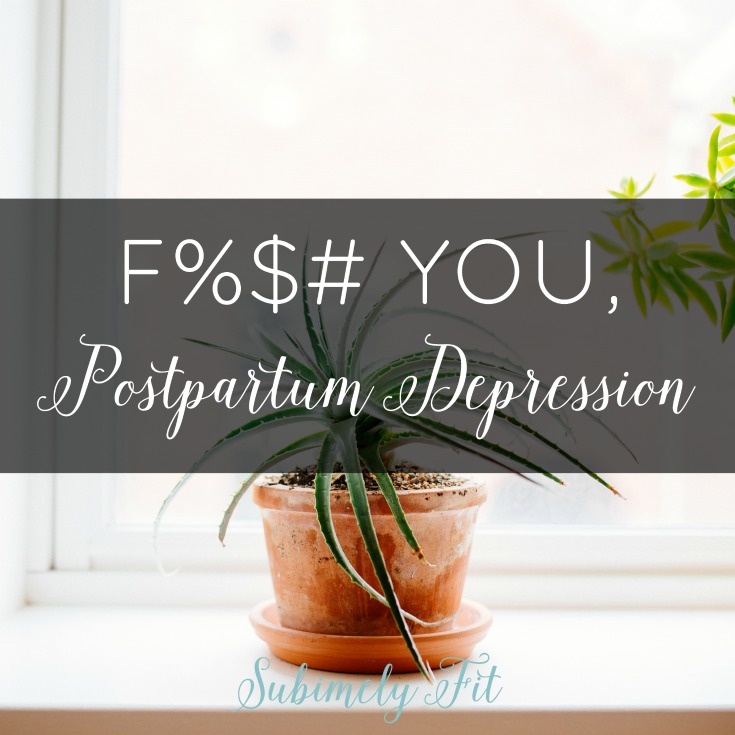 I am lucky that my postpartum depression has been relatively mild. I got on medication pretty much right away when I started to have symptoms, which is why i think I'm able to get out of bed and check a few things off of my to do list every day. It's why I'm able to take a shower somewhat regularly and why I usually change my underwear every day. It's why I'm able to be there to pick up my daughter when she cries and give her the support she needs to turn into the amazing human being she's becoming.
FREE Hip Openers for Runners Guide
Sweet relief for your tight, sore hips!
Get the best hip-opening yoga poses sent straight to your inbox.
But, I still don't feel like myself.
Postpartum depression has stolen my creativity. Sometimes I'll click on "New Post" and sit in front of my computer for a good five or 10 minutes, shooting down my own ideas for a blog post. "Nobody will want to read that one." "I couldn't write more than two paragraphs about that." "Seriously, Beth, no one wants your ice cream sandwich recipe."
Beth's Ice Cream Sandwich Recipe
2017-05-18 14:59:30
Ingredients
Ice cream sandwich
Instructions
Walk over to freezer.
Take ice cream sandwich out of freezer.
Unwrap ice cream sandwich.
Eat ice cream sandwich.
Notes
Don't eat it too quickly or you'll get brain freeze.
Sublimely Fit http://sublimelyfit.com/
Making choices is awful, too. I'll stare at my clothes (the ones that fit me, anyway) for minutes at a time, waffling back and forth between wearing that top or the other. Some days I just snack all day instead of eating a real breakfast or lunch because I just can't think of anything that's appetizing. Sometimes those snacks don't even taste good. Even minor decisions can make my life feel like it's at a standstill as I struggle to get my shit together.
The worst part is, I don't really have anything to feel depressed about. My daughter is cute and wonderful and adorable. Her smiles light up my day. I am her favorite person. I'm the one who gets her sloppy kisses (more like open-mouthed licks). I get to work from home and stay home with her, watching each new milestone unfold before my eyes. Why am I not happier?
I also definitely try to ignore my symptoms a lot of the time. I feel like if I dwell on how down I'm feeling, it will become a self-fulfilling prophecy, and I'll just feel worse. So I distract myself with work for my clients and with baby kisses and smiles. But sometimes it catches up with me. I definitely feel criticism more harshly than before. I take things personally more often.
What does really help me? Knowing I'm alone. Alyse has posted some really touching pieces about motherhood that have made me feel less crazy, like this one. Hearing other moms talk about their experiences helps. I feel less crazy, less weird for not being happy despite the fact that I now have this amazing tiny human in my life. I know I'm lucky, but I also know I'm not alone when I feel down despite having an amazing life.
And I know this too shall pass. So I'm just waiting for the day when the fog lifts for good and I can be myself again.