Yoga inversions are wonderful poses to practice. They improve circulation and help bring more blood to the brain, which helps bring mental clarity, focus, and a sense of peace. Inversions can even help you get to sleep more quickly and help you sleep more soundly. But, some more advanced inversions like headstands and handstands can be too much for some yogis. This post is a collection of my favorite gentle inversions that will give you all of the benefits of inversions without having to get into any crazy balancing poses.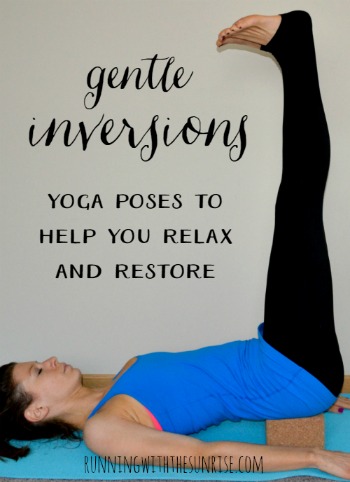 First, what is an inversion? An inversion is any yoga pose (asana) where your hips are higher than your head and heart. Many familiar poses qualify as inversions, like downward facing dog. Most people think of advanced arm balances when they think of inversions, but there are many easily accessible inversions that even new yogis can try.
Disclaimer: I am a yoga teacher, but I'm not your yoga teacher. Always practice yoga mindfully and if you have any questions, consult with your teacher.
Legs up the Wall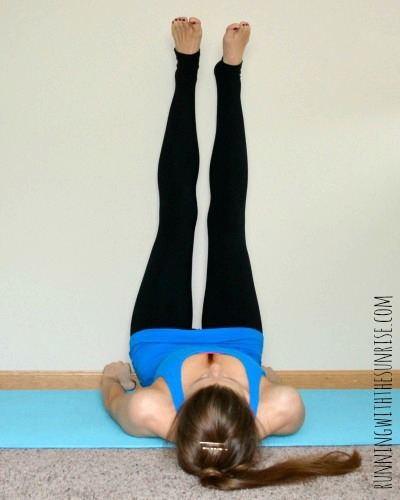 This is a favorite pose of mine, and is really helpful for athletes who use their legs a lot, like runners. And, it's pretty easy to practice. You lie on your side scoot your seat toward the wall, then bring your legs up against the wall. You can hold this pose for up to five minutes, as the deoxygenated blood falls from your legs, bringing metabolic waste products with it.
You can also try a slightly more active version of this pose by practicing the pose away from a wall. Or, you can place a block under your hips to raise them up further, intensifying the effects of the inversion.
Supported Bridge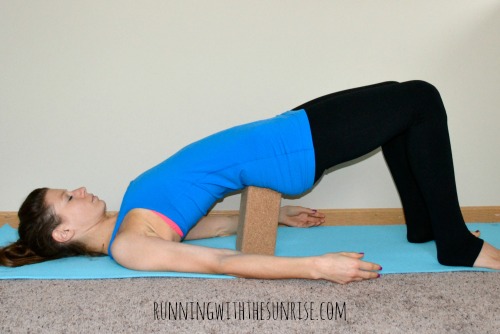 I remember the first time I tried supported bridge—I immediately fell in love with the pose and how good it made me feel. Bridge pose itself is technically an inversion, but supporting your hips with a block makes the pose more relaxing and restorative.
You come into a supported bridge like you would a regular bridge: bring your heels toward your seat and lift the hips high, and then you slip a block under your hips right under the sacrum. I recommend a cork block for this one if you have it, since a foam block can be a little too squishy to make you feel really supported. Choose whatever height of the block feels most comfortable to you. Once you feel nice and supported, you can play around with walking your legs further away from your body, releasing more weight onto the block, if that feels good in your body.
Down Dog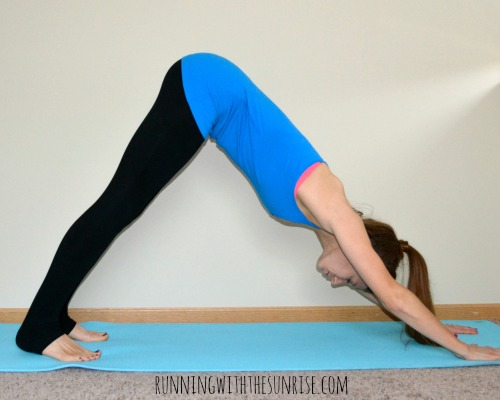 Technically downward facing dog is an inversion, and it's a pose most every yogi is familiar with, even new yogis. It does take some time to build up the upper body strength to be able to hold downward facing dog for a while, but it's a great pose to practice when you're building up that strength. New yogis can start by holding this pose for a couple of breaths, more advanced yogis can hold longer to get more of the benefits of the inversion.
Wide Legged Forward Fold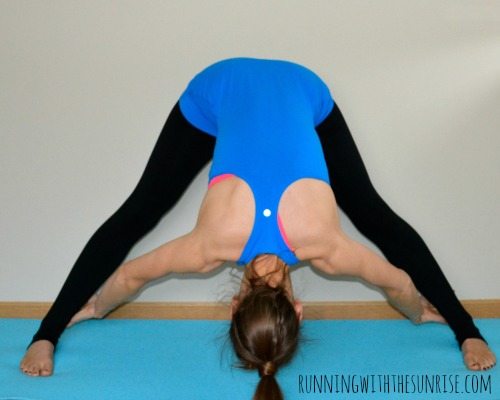 Prasarita, or wide legged forward fold, is another favorite easy inversion of mine. I always feel great when I practice this pose, and it provides a really nice stretch through the legs. You can start with your legs closer together and work on gradually widening your stance as your yoga practice advances. Slightly bending your knees is always an option if that helps the pose feel better in your body, as is placing a block under your hands. Make sure you're releasing any tension from your neck and really let your head hang. You should feel like you're melting forward and relaxing into the pose.
Do you have any favorite inversions?
How often do you practice inversions?
What's your favorite yoga pose?