You're in yoga class, thoroughly enjoying the experience. Then, all of a sudden, your teacher starts instructing the class to do some advanced poses that you and your body aren't ready for. Initially, you pause…but you don't want to look be the weirdo in class who's doing their own thing. You're faced with a bit of a dilemma: how do you handle this suddenly difficult yoga class?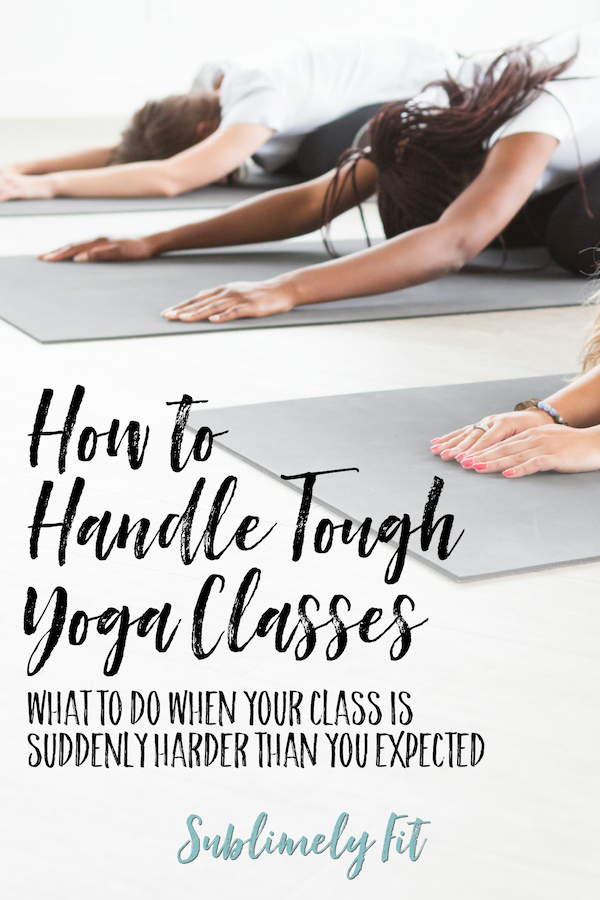 This post was inspired by a question I received from a reader: "What do you do if the class you are in suddenly changes so that you feel like a remedial student…do you keep going?" I've felt the same thing taking classes before. I remember going to classes that were specifically designated for beginners and having my teacher ask us to do some pretty advanced yoga poses. Yoga poses that my body definitely wasn't ready for. And, in those moments, it's hard to decide what to do. Should you try to follow along? Should you just walk out? Or, is there another solution?
FREE Hip Openers for Runners Guide
Sweet relief for your tight, sore hips!
Get the best hip-opening yoga poses sent straight to your inbox.
If you find yourself in this situation, the first thing I recommend doing is taking a deep breath. Pause, and ask yourself why you're feeling uncomfortable. Are you being asked to do something that's truly beyond your ability level? Or, are you just too scared to try? If you always stay in your comfort zone, you won't read those more advanced poses or build more strength. Your teacher may just be guiding you to try something they know you're ready for.
On the other hand, the class or pose may be way above your ability level. That's okay! When this happens, the most important thing to do is listen to your body. Your body will send you signals that it's not ready. When that happens, I recommend following one of the following three solutions. These solutions will help you handle tough yoga classes.
Solution 1: Ask Your Teacher for a Modification
Good teachers will pay attention to how all members of a class are doing—if they're following along easily, if they're struggling, or if they're somewhere in between. In an all-levels class, we're taught to teach to the middle. That means if you're a beginner, your teacher may be cueing poses your body isn't ready for. And, that's okay!
So what do you do when you're in this situation? Ask for a modification! If you're really worried about your ability level, arrive a little early and chat with your teacher. Tell them about your yoga experience and ask them if there are any modification they can provide before class. Also, feel comfortable to flag down your teacher in the middle of class if a pose doesn't feel right. Quietly ask if there are any modifications you can take. Your teacher's #1 concern should be your safety, followed by you having a good experience in class. Helping you find modifications your body needs plays into both.
Solution 2: Hang Out in Child's Pose
Every studio is different, and different styles of yoga have different philosophies, but in most classes that I've been to, coming to Child's Pose is welcome at any point in the class. Sometimes you're having an off day and you feel yourself getting frustrated. Maybe your thoughts are running like crazy through your head. If that's the case, come down to Child's Pose for several breaths. Focus on taking deep, full breaths and clearing your mind. You should start to feel better, and when you've reeled your monkey mind back in, you can come back to what the rest of class is doing.
You can also take Child's Pose if you need to take a beat physically. You may find yourself breathing really hard, feeling physical exertion pretty strongly. That's a great time to take a couple of breaths and slow your heart rate back down. Similarly, if you're getting some "this doesn't feel good" signals from your body, you can always skip a modification and go to Child's Pose. If you're feeling twinges of strong discomfort or pain, definitely come out of a pose and go to Child's Pose to reassess what's going on in your body. It's much, much better to back out than get injured.
Solution 3: Practice Something You Can Do
Along the lines of finding a modification for a pose, you could try practicing a similar pose that you know does feel right in your body. This could mean finding a similar pose that your body is ready for, like practicing Reclined Pigeon if your hips are feeling too tight for Sleeping Pigeon. I'll warn you that some teachers really dislike when you completely do your own thing, so you might want to talk to yours before class and find out how they feel about this. If you do plan to deviate a lot from what the rest of the class is doing, you might consider sitting at the back of the room so you don't distract your fellow yogis.
You might find that a pose and its modification might both feel off. It happens! In this case, you could practice a similar pose that has the same effect. For example, if everyone else is doing Pyramid Pose (a great hamstring stretch) but it just doesn't feel right to you, you could come to a One-Legged Seated Forward Fold (Hurdler's Pose) to stretch your hamstring.
Really, the bottom line here is to make your practice your own. Part of what yoga teaches us is to honor where we are in each moment. That includes honoring where your body is in each moment. We need to practice nonviolence toward ourselves and not force our bodies into yoga poses that don't feel good to our bodies. (And remember, pushing yourself too hard or in the wrong way is a great way to get injured. No one wants that.) I hope that the next time you find yourself in a situation where you're wondering how to handle tough yoga classes, one or all of these solutions will help you find the yoga experience you and your body need.