Today is a big holiday for runners–National Running Day! It's a great day to get out there and run, even if it's for a short period of time. Running does so much for so many people, so today I'm sharing the reasons why I run.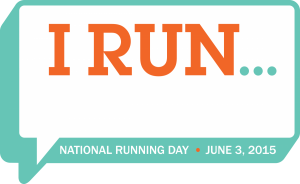 I run…to relieve stress and anxiety.
FREE Hip Openers for Runners Guide
Sweet relief for your tight, sore hips!
Get the best hip-opening yoga poses sent straight to your inbox.
I run…because running makes me feel strong and helps me see my body in a positive light.
I run…to stay fit, so I can live a long, healthy life.
I run…so I can eat more yummy food, especially the carbs during marathon training!
I run…because I love being part of a community of awesome runners, who love to support and encourage each other.
I run…because I love seeing the beauty of nature on my runs.
I run…for the exercise endorphins.
I run…for the love of running.
Why do you run?
How are you celebrating National Running Day?