Greetings from 10,000 feet somewhere above Missouri! I am officially my way to my very first BlogFest, which I couldn't be more excited about. And, I'm super excited about my awesome travel buddy, Suz!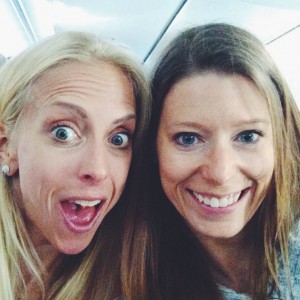 It's nice to be traveling with soeone who understands the need to constantly connect to social media and document everything with photos.
FREE Hip Openers for Runners Guide
Sweet relief for your tight, sore hips!
Get the best hip-opening yoga poses sent straight to your inbox.
Today I wanted to share the top 5 things I'm excited about for Blogfest!
1) Getting to meet some of my favorite bloggers face-to-face! I'm already hanging with Suz, which is like hanging out with a rockstar. And, it's only going to get better as I get the chance to connect with bloggers who I look up to very much. Can't wait! Stay tuned to my Instagram for too many selfies.
2) Getting in some great workouts. I've been focusing so much on barre, running, and yoga lately, so I'm looking forward to trying out some of the new workouts I'll be exposed to at BlogFest. Variety is the spice of life!
3) The IDEA Expo! I can't wait to hear about all of the new products and trends that are out there. It's nice to have everything in one place to really get my finger on the pulse of the fitness industry.
4) Getting inspired! I love going to conferences with like-minded people because I always leave feeling so inspired to improve what I'm doing and generally work harder and do things better. Since this is my first blogging conference, I fully expect to walk away fired up about blogging and ready to do some great things with my site!
5) Spending time in LA. I've been to California multiple times, but I've never been to LA. I'm looking forward to experiencing the city and seeing what all the hype is all about!
Have you ever been to a blogging conference?
Have you been to LA? What did you think of it?
Where's the last place you traveled to?