Ah, the dreaded holiday party. They're a lot of fun, but it's incredibly easy to overindulge and wind up regretting everything you ate and drank the next day. You don't want to completely skip out on holiday goodies–it is the holidays after all! But, how do you walk the line between enjoying the holiday and enjoying it too much? Today I want to share with you my healthy eating tips for holiday parties. Feel free to share what has worked for you in the comments!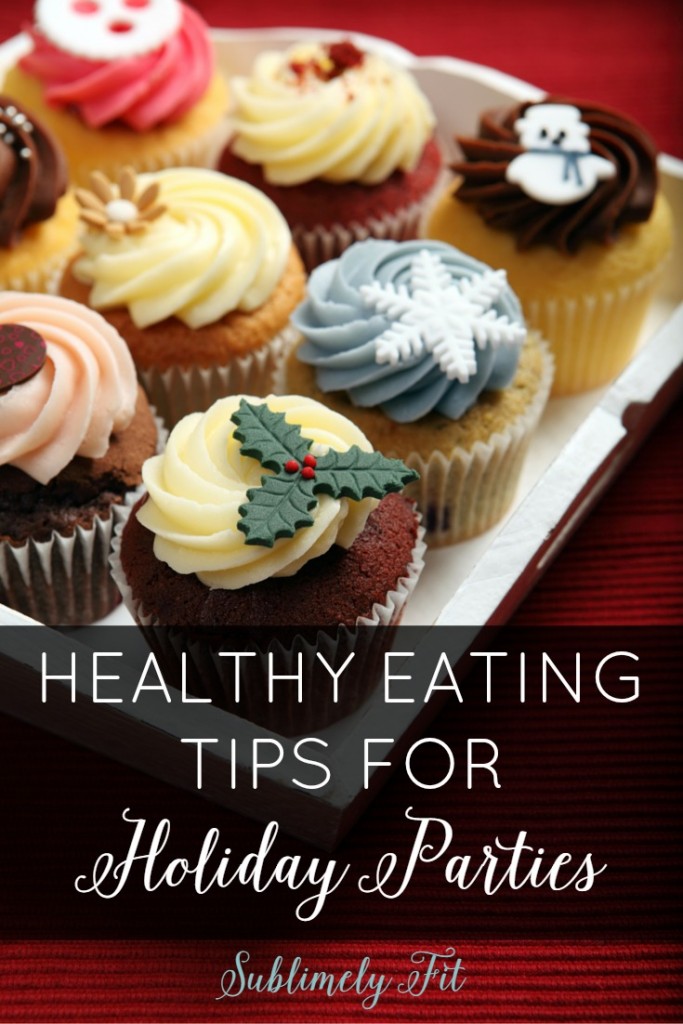 Disclaimer: I am not a registered dietitian nutritionist. I'm just sharing what works for me, following general healthy eating principles.
FREE Hip Openers for Runners Guide
Sweet relief for your tight, sore hips!
Get the best hip-opening yoga poses sent straight to your inbox.
Tip #1: Eat before the party!
Being hungry is an easy way to overindulge. You can get distracted chatting with friends at the party, then suddenly you've eaten five more cookies than you intended to. Filling up with a healthy meal before the party will 1) make sure that you're getting in the nutrients you need, instead of eating lots of sweets and fats, and 2) will keep you filling full, which makes it less likely that you'll overeat at the party. I personally like to make sure I get a good variety of veggies and lean protein before heading to a party. That way, I know I've fueled my body with the nutrients it needs, so I can enjoy dips and desserts in moderation.
Tip #2: Choose healthier options.
If you didn't have a chance to get in a healthy meal before heading to the party, or if you've been indulging for the past few days, try to choose healthier foods. Load up on veggies and healthier dips like hummus, or dishes made with whole grains. Opt for minimally processed foods. If you've been eating healthy, it's fine to indulge a little, but if you need to be a little stricter with what you eat at the party, think carefully about what you eat.
Tip #3: Drink carefully.
Drinks at holiday parties can be tricky. First, they can contain a lot of added sugar, and drinking alcohol can lower your inhibitions, making you more likely to eat more than you'd like to. If you're watching your sugar intake, stay away from mixed drinks made with sugary sodas. If you know you have a tendency to overeat when you've been drinking, set a limit for the number of drinks you'd like to have at the party and try to space them out through the event. Be mindful and intentional about the choices you make.
Tip #4: Remember it's okay to indulge occasionally.
It's important to remember that even eating a few more sweets than you intended at a party isn't going to ruin your healthy eating goals. It's important to enjoy life, and that means enjoying the holidays and eating your favorite foods. Just try to keep everything in moderation, especially if you know you're prone to overeating over the holidays. If you feel guilty about what you've eaten, that might encourage you to eat even more unhealthy foods. Do your best, but cut yourself a break when you need to.
Do you have any healthy eating tips for holiday parties?
What are your favorite healthy party foods?