If you asked me what style of food is my favorite, hands down it would be Mexican food. When I was pregnant, people asked me if I had any cravings. I had to say not really, because although I wanted to eat Mexican food all the time, it wasn't a change from not being pregnant! So, it's no surprise that my favorite at-home meals have a Tex-Mex flair.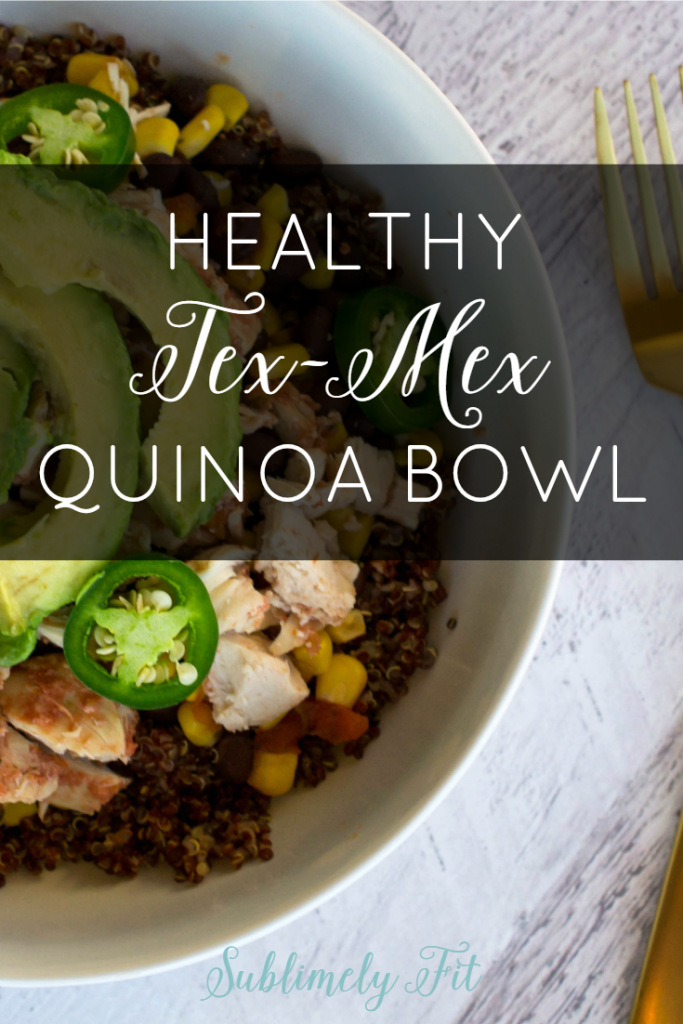 Today I wanted to share my recipe for my quick and easy Healthy Tex-Mex Quinoa Bowls. They're made with chicken cooked in the slow cooker, which makes cooking the bowls a breeze. And, if you're really looking to make things easy on yourself, you can do what I do and cook the quinoa in a rice cooker. I can set up the quinoa to cook while I'm doing other chores and come back to put the bowls together when it's done.
FREE Hip Openers for Runners Guide
Sweet relief for your tight, sore hips!
Get the best hip-opening yoga poses sent straight to your inbox.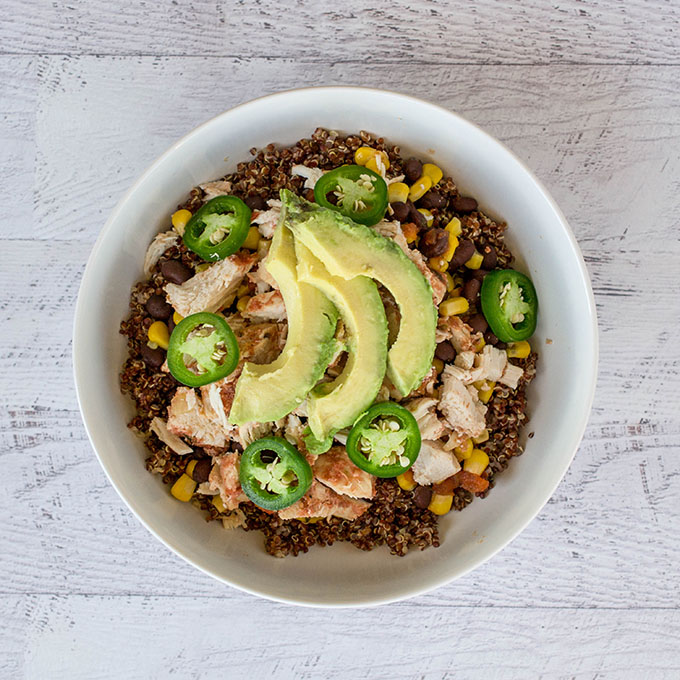 Because the bowl is made with quinoa and black beans, you get extra protein on top of the protein from the chicken. In fact, if you wanted to make a vegetarian version of the bowl, you could cook black beans or even pinto beans with salsa for a plant-based meal.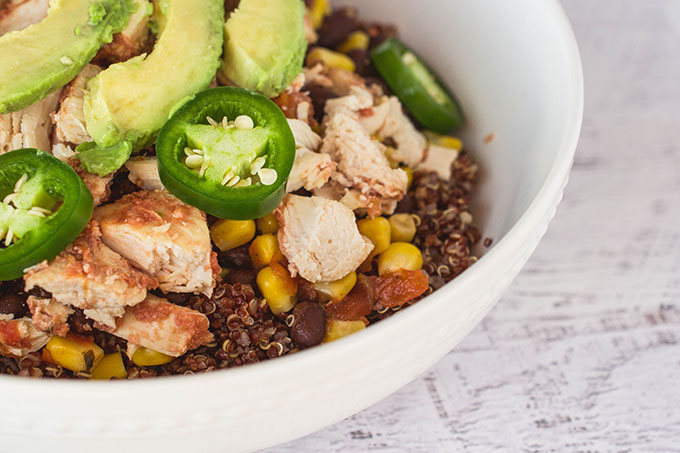 If you like things spicy, add in some fresh jalapenos. To make the chicken spicy, you could throw some jalapeno slices in the slow cooker with the chicken and salsa. Or, just throw a few slices on top for an extra kick!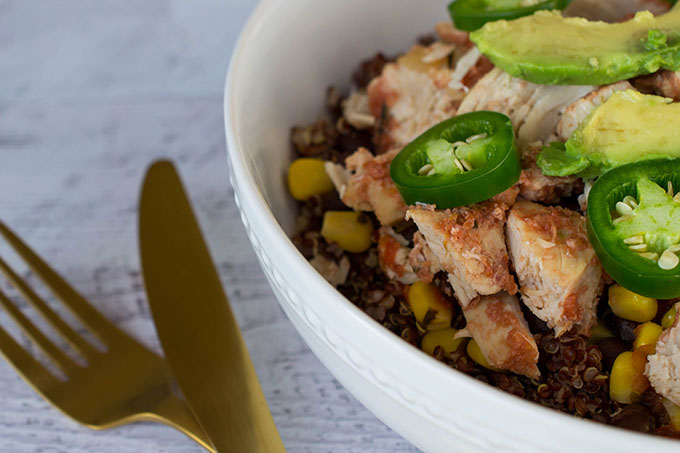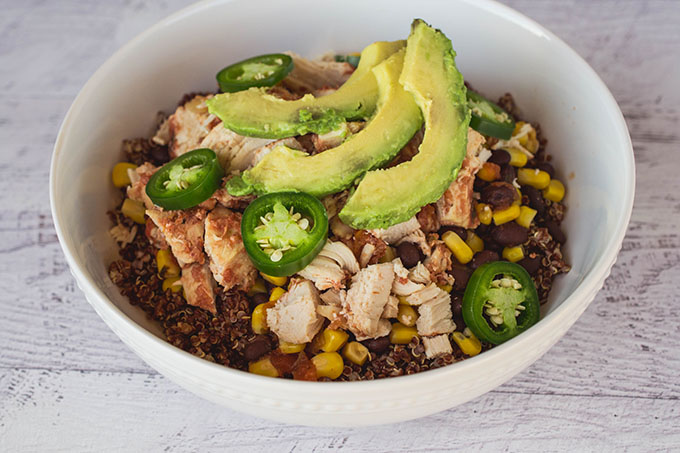 I hope you enjoy the recipe! Even my hubby loved this one, and he's not usually the hugest fan of super healthy meals like this. If it gets his seal of approval, you'll really like it.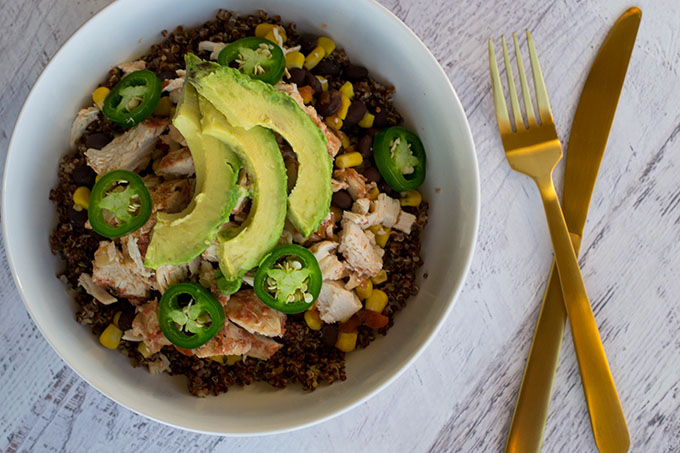 Here's the recipe:
Healthy Tex-Mex Quinoa Bowl
2017-01-31 22:57:18
Serves 2
Looking for a simple, healthy meal with Tex-Mex flair? Try my Healthy Tex-Mex Quinoa Bowl! It's gluten-free and made with whole foods.
Ingredients
2 chicken breasts
2 c salsa, divided
3 c cooked quinoa
1 15 oz can black beans
1 15 oz can whole kernel corn
1 avocado
Lime juice
1 jalapeno, sliced (optional)
Instructions
Place chicken breasts in a 4 qt slow cooker and cover with 1 c salsa.
Cook chicken on high for 3-4 h or low for 6-8 h, or until internal temperature reaches 165°F.
Cook quinoa according to package directions. (I cooked mine in a rice cooker.)
Mix together black beans, corn, and 1 c salsa.
Cook black beans and corn, either on the stovetop or in the microwave, until cooked through.
Top a bed of quinoa with corn, bean and salsa mixture.
Add chicken, then top with avocado and optional jalapeno slices.
Finish with a squeeze of lime juice over the top of the bowl.
Sublimely Fit http://sublimelyfit.com/