Being consistent with something is hard. Doing it every day is even harder. But, that daily commitment can bring huge changes. I've definitely felt huge changes with a daily yoga practice. In fact, a daily yoga practice has been one of the best things I've found to help me cope with my anxiety disorder. So, today I wanted to take a moment to share how a daily yoga practice can change your life and help you feel like a happier, calmer person.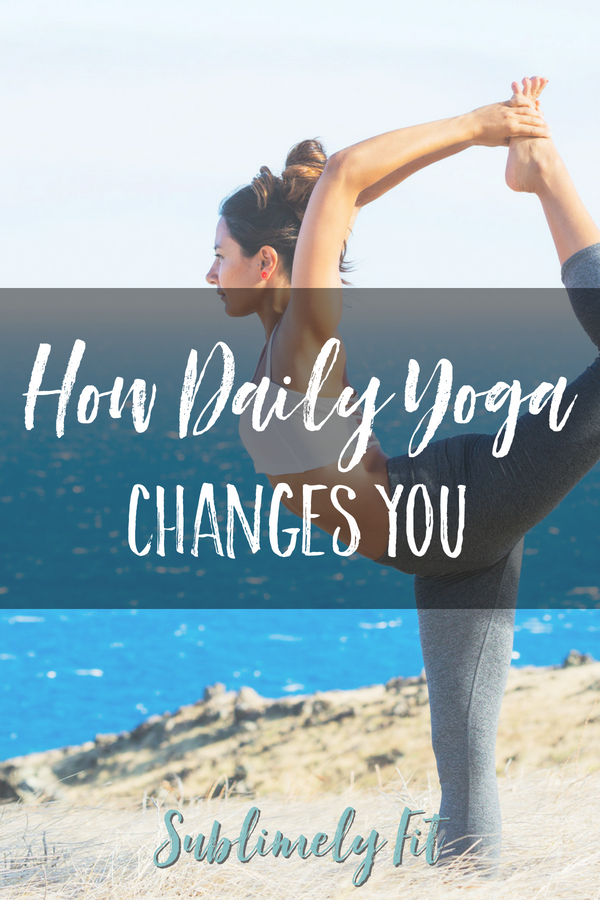 My First 28 Day Yoga Challenge
When I was in the middle of my yoga teacher training, I completed a 28 day yoga challenge at my yoga studio: taking 28 classes in 28 days. I had to miss a few days, so I doubled up and took two classes a few days, too. But, even though I didn't make it to the studio two or three days, I felt a huge change.
I noticed that quieting my thoughts became easier. We would begin every class by slowing down our minds, and the more I practiced dropping my thoughts, the easier it was. Just like anything that's difficult in life, practice really did help me hone that skill. Unhelpful thoughts started to feel less pervasive in my daily life, and I started to feel like I was finally in control.
I also noticed that I felt less anxious overall, and that anxiety was replaced by happiness and a sense of serenity. I didn't feel worried and on edge 24/7 anymore. I could relax more easily, and I found that I enjoyed my downtime more. I didn't have to put as much effort into letting go because it started to come more naturally.
Benefits of a Daily Yoga Practice
My experience with the 28 day challenge totally opened my eyes to the benefits of a daily yoga practice. Practice really does make perfect. Consistent practice is the key to getting the mental benefits of yoga everyone raves about. Even if it's just 5 minutes a day, coming to your mat really does help you learn how to be present and be mindful.
Physically, you'll notice differences, too. With a daily practice, you'll really start to see increases in flexibility. You'll also get stronger and you'll find that you can hold poses longer, and you'll be able to get into some new challenge poses, too. Daily practice is what helped me build up the core strength I needed to get into crow pose, for example. If you really want to see and feel changes in your body, a daily yoga practice is key.
If you take a yoga class here and there, or if you've been staying in your comfort zone of 2 or 3 classes a week, I'd strongly encourage you to add in a quick at-home yoga session every day. You don't have to spend hours a day doing yoga to see a huge benefit. If you truly commit yourself to a few minutes on your mat every day, you absolutely will feel a huge difference. Give it a try!