I know that there are some of you who can run a marathon in under four hours like it's nothing. Then there are the rest of us who dream of finishing those 26.2 miles in four hours or less. I've never been naturally athletic, so breaking the four hour mark was a really big deal for me. I put in a lot of work and made some mistakes along the way, but I was eventually able to meet my marathon time goal. Are you hoping to run a sub-4 hour marathon? Here I'm compiling the biggest things that I did that helped me along my journey.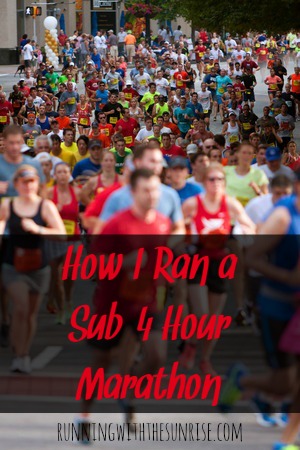 I worked up to running a sub-2 hour half marathon. Some people have natural athletic talent and just start out running quickly. I am not one of those people. I trained for just under a year to be able to run a half marathon in under two hours and I trained hard. Working up to running shorter distances at the 9:09 minute/mile pace you'll need to run that 4 hour marathon provides easy stepping stones along your training path.

I increased my mileage. I was running about 40-45 miles a week when I trained for my sub-2 half marathon. When I trained for my full marathon, I increased that to 50-55 miles a week during my peak training. You don't necessarily need to run really high mileage to get fast, but adding in extra easy miles helps your body get better at running.

I incorporated more speedwork into my training. It makes sense when you think about it—you have to run faster to get faster. Early in my training plan, I incorporated strides into my workout, working on leg turnover and running efficiency. After a few weeks of training, I added in tempo runs and Yasso 800s, running the 800 m at an 8:00 min/mile pace. I wanted to make sure I was increasing my VO2 max to make running at that 9:09 pace easier. Nailing my last set of Yasso 800s also gave me confidence that I was at the right level of fitness to run that sub-4 hour marathon.

I made sure to get strong and limber. I started practicing yoga twice a week when I was training for my half marathons and added a weekly class to my routine when I was training for my marathon. Yoga is wonderful for runners and can help prevent you from getting injured. I also made sure I was using my foam roller on my legs 1-2 times daily and also got massages every other week, making sure that little knots and adhesions didn't develop into injuries.

Marathon training was my primary goal. When I trained for my sub-4 hour marathon, my marathon training was the only big thing I had going on at the time. I was in graduate school but didn't have any extraordinary tasks that I needed to accomplish.

I learned this one the hard way. I trained for another marathon while I was writing my dissertation and planning my wedding. I was crunched for time so I stopped going to yoga, which allowed my glutes and hip stabilizers to weaken, leading to a bad hip flexor injury. I had to DNF at mile 14 of the Chicago Marathon which was just heartbreaking after months of training at 60+ miles a week.

Moral of the story: marathon training takes a lot of effort, so be sure that you don't have too much going on. Too much stress in your life while you're training for a marathon can leave you sick and/or injured!
Faster runners: do you have any tips to add?
Do you train to meet time goals?
FREE Hip Openers for Runners Guide
Sweet relief for your tight, sore hips!
Get the best hip-opening yoga poses sent straight to your inbox.