I love to tell you guys all about how awesome yoga is for runners. You'll become a physically and mentally stronger runner, among many other benefits. To see those benefits, you need to have a consistent yoga practice, just like you need to run several times a week to become a better runner. That begs the question, "How often should runners do yoga?" I'd like to thank a reader for submitting this question, since I'm sure many of you have wondered the same thing!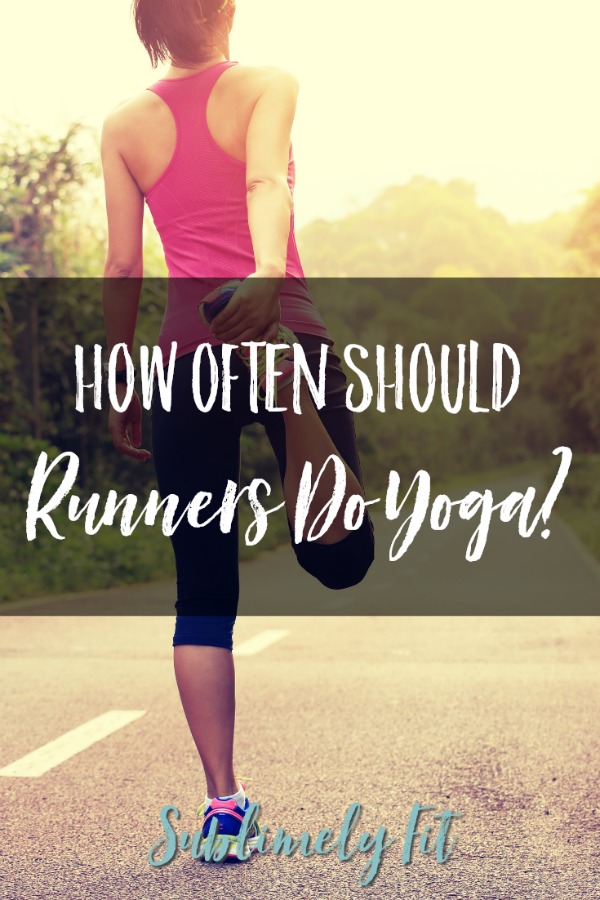 What's Your Goal?
Before you can figure out how often you should practice yoga, you need to take some time to figure out what you want to get out of your practice. Is your goal to get physically stronger? Do you want to loosen up some tight muscles? Your goal will definitely impact how often you should practice.
FREE Hip Openers for Runners Guide
Sweet relief for your tight, sore hips!
Get the best hip-opening yoga poses sent straight to your inbox.
If your goal is to get stronger, I'd recommend going through a strength-building yoga sequence 3 times a week. I strongly recommend making sure you build strength throughout your body: arms, chest and shoulders, core, hips and glutes, quads, calves and shins, ankles, and feet. There are yoga poses to help you build up strength in all of these areas, and many poses will do double or even triple duty and help you strengthen multiple parts of your body.
If you want to get more flexible, I recommend doing at least a little yoga every single day. When you run, your muscles, tendons, and ligaments tighten. If you really want to see progress with your flexibility, you need to do a little bit of yoga and stretching every day. Focus on finding a nice, comfortable stretch, which will actually help you build flexibility faster than pushing your body farther than it wants to go.
How Much Can You Fit in Your Schedule?
You should also take your schedule into consideration. If every time you practice yoga, it takes you at least an hour, how often can you feasibly fit that into your schedule? This is particularly true if you depend on yoga classes at a studio or at your gym. I'd encourage you to work to develop a home yoga practice as well. But, if you really love your class with your favorite teacher, definitely consider how often you can take the time to take a class, making sure to factor in any travel time, and how early you have to arrive before class.
With a home yoga practice, fitting things into your schedule is a lot easier. There's less travel time involved, and you're not being held to the schedule of your studio or gym. If you're really strapped for time, don't think that you have to spend an hour practicing yoga because that's how long classes are at your favorite studio.
Luckily, you don't have to spend a lot of time doing yoga to start to see and feel a change. You'll see progress (and feel a lot better) with a shorter yoga practice, too. Even 10 or 15 minutes of yoga can make a huge difference. It's really rare that you're so busy that you can't take even 10 or 15 minutes to do something for yourself. Remember that if it's something you really want to do, you have to make it a priority, just like running.
Seeing Progress
Just like with running, to see progress with your yoga practice, you should aim to practice at least three times a week. For your body to make changes, it needs to get a stimulus at least three times a week, whether you're running, doing yoga, or any other physical activity. Your body needs to get used to doing lunges during Warrior II Pose or the upper body control you need for Chaturanga. If you just practice once a week, your muscles aren't getting the consistent signals they need to get stronger. You won't see a real improvement.
And again, if your main goal is to build flexibility, you're going to see the best progress if you do a little bit of yoga every day. Take a couple of minutes to foam roll, then do a few yoga poses to help you lengthen out the muscles you just rolled. (That's actually an amazing and effective way to build flexibility.) You'll be surprised at how much progress you'll see with just a handful of minutes every day.
I hope this helps you as you work to build your yoga practice. If you have a question that you'd like to have answered in a blog post, email me at beth (at) sublimelyfit.com or leave it in the comments!
Linking up with Running on Happy, Suzlyfe, Crazy Running Girl, and Coach Debbie Runs for Running Coaches Corner!