My pregnancy has had a huge effect on my fitness routine. As a fitness blogger, I've felt a lot of guilt about not doing the things that I did when I wasn't pregnant. There's a little voice in my head that tells me I should be doing more because I need to be setting an example as a blogger. But, I know that it's more important that I listen to my body and ignore that voice in my head if they're telling me different things. So today I wanted to be honest and share with you how pregnancy has changed my fitness routine. I hope this helps those of you who may be struggling to balance fitness and pregnancy, too.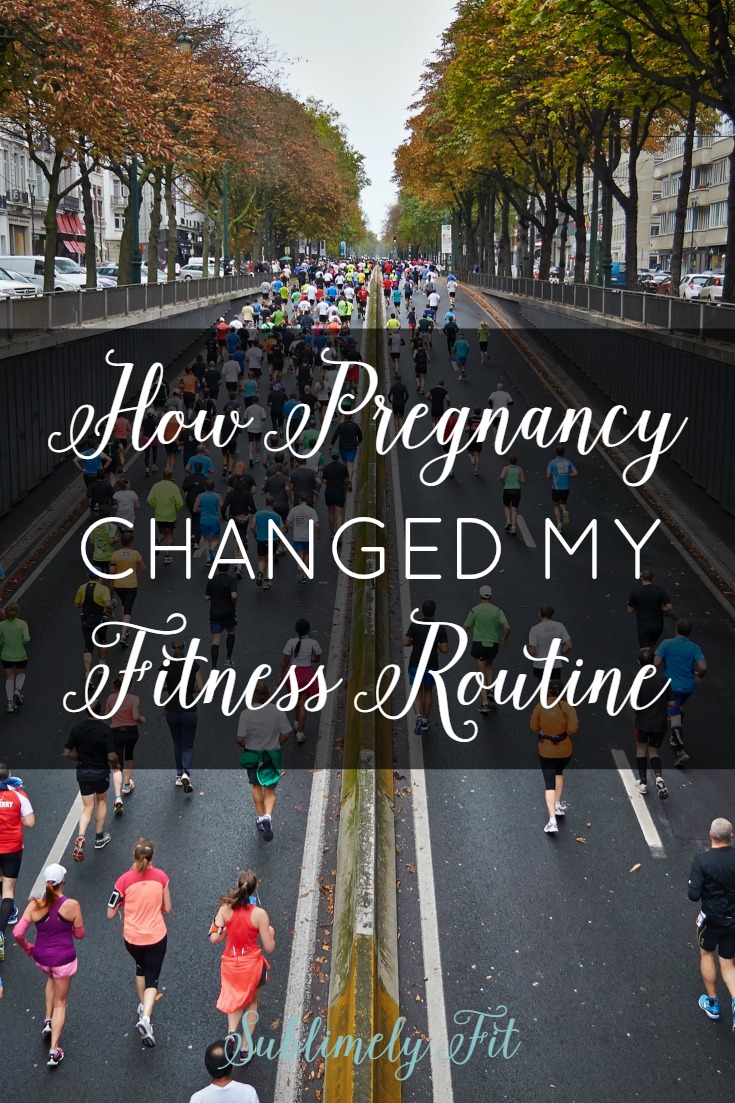 Trying to Conceive
If you remember, a couple of years ago, I was racing on a pretty frequent basis. I ran several half marathons and generally trained for a marathon at least once a year. However, I knew all of that mileage was pretty stressful on my body. I was also on a higher dose of birth control to help control my migraines (totally worth it for me) When I stopped the birth control, I also decided to cut back on my mileage to help me put on a little more body fat to support my body's natural hormonal cycle.
FREE Hip Openers for Runners Guide
Sweet relief for your tight, sore hips!
Get the best hip-opening yoga poses sent straight to your inbox.
I didn't talk about this publicly, but if you're wondering why I only ran a few shorter races in 2015, it's because I was trying to let my body rest. I know every woman's body is different, and there are some women who can easily get pregnant while running high mileage and having lower body fat.
After a few months of no periods after going off of birth control, I felt that it was better for me to cut back. I kept my runs shorter and I took more low-impact barre classes and delved into my home yoga practice. I burned fewer calories and tried to incorporate more healthy fats and higher calorie foods into my diet. I'm not completely sure if it was these changes or just time that brought my body back to equilibrium. (Science nerd Dr. Beth would like to point out that I don't have a Control Beth.) But, I'm glad I made the decisions I did.
Ladies, if you're cutting back on your workouts, particularly your high intensity workouts, to get pregnant, know that you're not alone.
The First Trimester
The first week or two after I found out I was pregnant was fine. I was a little paranoid about harming my developing baby, which I think is pretty common for most first-time moms. But, I felt okay and continued to take a few barre classes a week. (It was too cold and icy to run outdoors at that point, and I didn't have access to a treadmill.)
Then the "morning sickness" came. For me, I was nauseous for almost the entire day. It took all of the energy that I had to just go to work, and there were several times as I was teaching barre and yoga classes when I thought I was going to be sick. So, my workouts consisted of being active when I was teaching, and whatever walking I needed to do as part of my daily routine. The rest of my days were spent on the couch trying not to get sick.
My advice to any of you moms-to-be out there who are in the same boat: be gentle on yourself. Don't beat yourself up if you don't feel up to working out. I chatted with my doctor about this a few times and unless yours tells you otherwise, it's okay to back off of your workout routine if you're feeling sick. Yes, getting exercise is great for you and your baby, but
Currently (The Second Trimester)
Once the nausea passed, I was able to get back to my normal routine with some modifications. I've hardly run at all, due in large part to my lack of a good sports bra that will offer me the support that I need for my pregnant body. It's also been very hot and my treadmill is still in storage for a few more weeks. I don't want to over stress my body with a high intensity workout in the heat. It's very dangerous for your baby if your core body temperature gets too high, and I'd rather be safe than sorry.
So what have I been doing? I've been walking a lot. I spend extra time walking my dogs when it's not too hot out for all of us. I've been able to take a few full barre classes, but with a busier schedule I'm incorporating a quicker version of some of the moves at home to help build strength and keep my muscle tone. And, I've been doing some prenatal yoga at home, too.
Listen to Your Body
I'm sharing this because I know there are a lot of other moms-to-be out there in the fitness industry who are able to keep up with their hardcore workout routines while they're pregnant. I'm here to tell you it's okay if you can't. Every woman experiences pregnancy different, so don't think that your workout routine needs to keep up with someone else's. Focus on keeping yourself and your baby healthy. Your hardcore workouts will be waiting for you when you're ready, and it's okay if you never are.