Yoga breathing, or pranayama, can be tricky to master, especially when you're new to yoga. It's easy to let your breath get away from you, or to be confused about how you should be breathing. But, breath control is an incredibly important part of yoga, so it's a good idea to spend some time mastering your breath. Today I wanted to share some tips for how to breathe in yoga to help you take control of your breath and your yoga practice.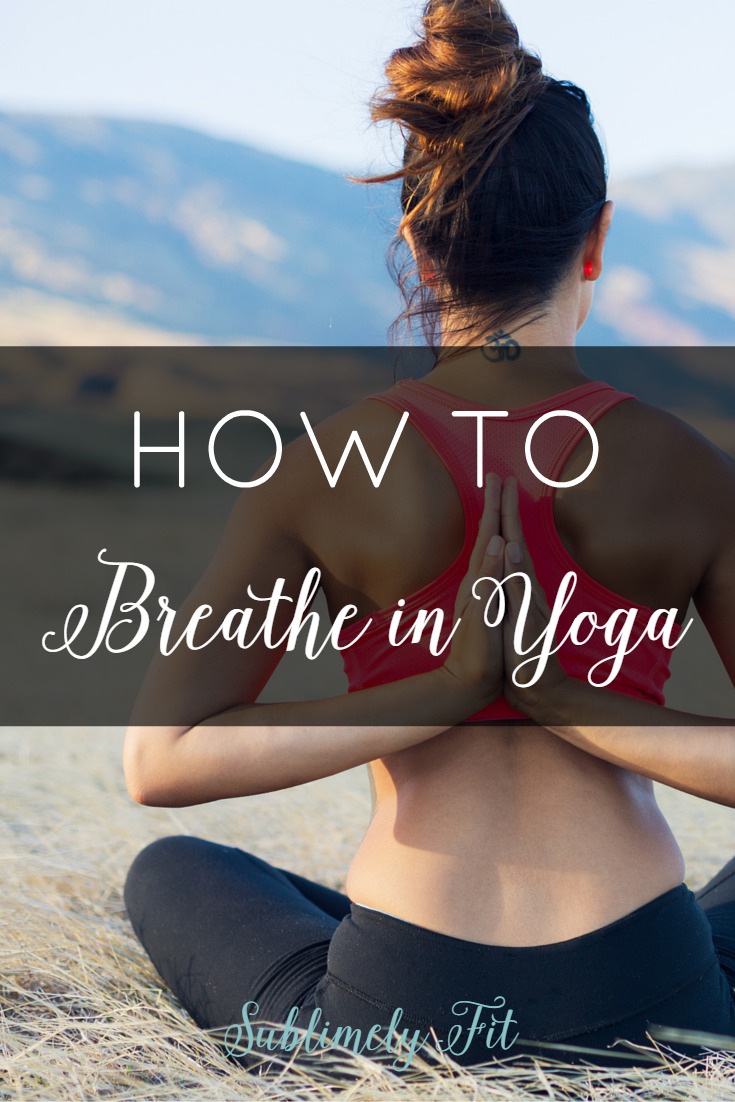 Take Deep Breaths
The first step to learn how to breathe in yoga is to learn how to take deep breaths. Most of us naturally take more shallow breaths, but deep breath is the key to mastering yoga breathing. You'll want to focus on taking three part breaths.
One of the easiest ways to practice three part breathing is to begin in a comfortable seated position. Place one hand on your chest, just above your breastbone, and one hand on your belly. Close your eyes, and focus on inhaling your breath all the way down to your belly. You'll start to feel your belly rise with your hand.
Once you've completely filled your belly with air, start to fill your ribs by letting your ribs expand out to the sides. Then, let your chest lift, feeling your other hand lift with it. When you exhale, everything will move in reverse: your chest will fall, then your ribs will pull in, then your belly will fall.
Close your eyes and focus on taking deep breaths like this for a few minutes. You'll learn how to pull more air into your lungs, which will help you with that deep, yoga breathing.
Listen to Your Body
One of the reasons our breath gets out of control is because we're doing too much too soon. This is particularly true in more vigorous styles of yoga like power yoga or some vinyasa yoga styles. In these classes, it's incredibly important to make sure you're taking deep breaths. When your breaths start to get short and shallow, that's your body telling you that you're doing too much and you need to slow down.
Take a moment to come into Child's Pose and reconnect with your breath. Drop any thoughts you're having and instead focus on lengthening your breath. Come back to your three part breathing. Focusing on the connection between my forehead and my mat also helps me calm down my breath, mind, and body. Once you feel in control of your breath again, come back to your practice. Don't be afraid to honor your body and take breaks.
Move Your Body with Your Breath
Syncing movement with breath is a core principle of vinyasa (flow) yoga, which I primarily practice and teach. In vinyasa yoga, your movement flows along with your breath. But, you can also find a little bit of vinyasa in other style of yoga, too. For example, you can work to get your spine longer on your inhales and move deeper into the pose on your exhales in twists and folds.
When you link your movement with your breath, it helps you continue to focus on your breath. Because breathing is something we do automatically, it can be easy to forget to breathe and just tune out. But, the core of yoga is learning how to remain present mentally.
Remind Yourself to Breathe
So, remember to keep breathing, reminding yourself as often as you need to that you need to be focusing on your breath. Not only will your breathing help you physically because you're fueling your body with the oxygen it needs to move, but you'll also find a big mental benefit, too. When you focus on your breath, you focus on your body as it is in the moment, letting go of your thoughts. That's the key to getting many of the mental benefits of yoga.
Questions about how to breathe in yoga?
Leave them in the comments!