Choosing the right training plan for your running can be pretty daunting, especially if you're not working one-on-one with a running coach who writes the plan for you based on your needs. There are a lot of factors to consider when finding the perfect plan for you and your needs, and you may not even know what those needs are if you're just starting out. So, here I'm sharing my biggest tips to help you find a running training plan that's going to work well for you. Use these tips to find a plan that's sustainable for your lifestyle and that you have the greatest chance of following up to race day.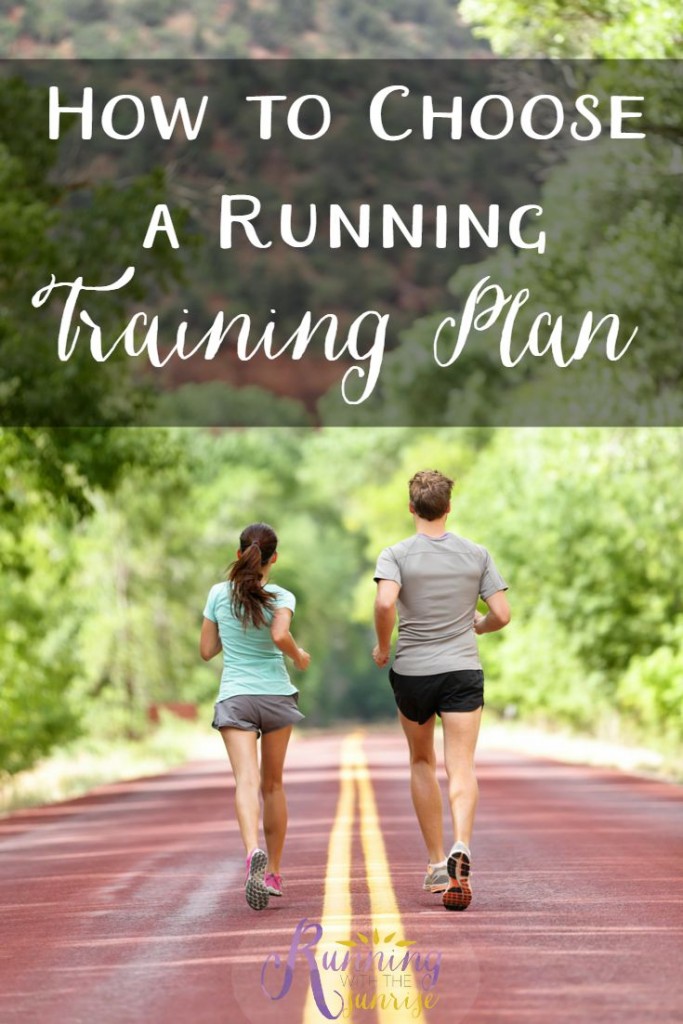 What should you look for in a running training plan?
Experience level: One of the common things you'll see is a running training plan written for a "novice" or an "intermediate" runner, but how do you know where you fall along that spectrum of experience? A novice is someone who is brand new to running, someone who may not even be sure how to run or how fast they should be running. Many novices programs are also listed as beginner programs. If you're training for your first race, look for a novice or beginner running training plan.
FREE Hip Openers for Runners Guide
Sweet relief for your tight, sore hips!
Get the best hip-opening yoga poses sent straight to your inbox.
Intermediate programs are generally designed for runners who have a few races under their belts, or for folks who have been running consistently for about six months to a year or so, or maybe a little over a year. Generally you've run your goal distance once or twice and are looking to get a little faster if you choose an intermediate training plan. Even if you would qualify as an intermediate runner, it's okay to stick with a novice or beginner's plan if it fits your needs better.
Advanced programs are for runners who have run that distance multiple times and are looking to get even faster. Examples of folks who would choose an advanced program are someone who wants to aim for an age group award at a 5K or someone who wants to qualify for the Boston Marathon. Most people training with advanced programs have a time goal in mind for their goal race, and they're willing to put in the extra mileage and hard work to meet that goal.
How many times a week do you want to run? Before you choose a running training plan, you need to take a moment to think carefully and honestly about the amount of time you can put in to training. You may have great intentions of getting up in the morning and running an hour every day, but if you have a big work project coming up, the likelihood of that happening is very slim. It's key to find a plan that you'll be able to stick with and that meets your needs. Be honest about what you can do and find a training plan that meets those needs. This is one of the nice things about working directly with a running coach—they can modify your training plan in the middle of the training cycle if you need them to.
How many hours a week can you dedicate to running? This is an extension of the last point. It's really important to know how much time your schedule will allow you to dedicate to running. Don't forget that stretching, foam rolling, and other injury prevention necessities will also take up time. Factor all of these things in when you're selecting your running training plan. If you can only afford an hour a day, including stretching and other recovery activities, a 55 mile per week plan is probably not going to be the right one for you.
(A side note: don't run your mileage faster just to get in more miles in a given amount of time. Most of your miles should be run at a comfortable, conversational pace, or you'll greatly increase your risk of getting injured.)
What's your base mileage? If you haven't been running much, you'll want to choose a longer running training plan to give yourself a little more time to build what we call a "base" and get some miles in your legs. Too much too fast leads to injury. So, if you're not running solid mileage in your off season, find a 16-week or even a 20-week training plan for your race so you have time to slowly build up the stress on your body. Do everything you can to get to that starting line uninjured.
Do you have any questions about selecting a training plan that I didn't answer?
Runners: how do you choose what running training plan you use?