Having the right yoga mat can really change your practice. I started out with a very cheap mat that I got as part of a weight and fitness set from one of the big box stores and thought it was normal for my knees to hurt and to feel uncomfortable on my mat. When I started taking classes at my school's gym during grad school, I upgraded a bit and got an intermediate mat. It was okay, but I slipped all the time. I finally upgraded and got what I consider to be a very nice mat after a while, and this the the mat that I still use almost every time I practice. A good mat really is worth the investment. But, what exactly should you look for when you choose a yoga mat?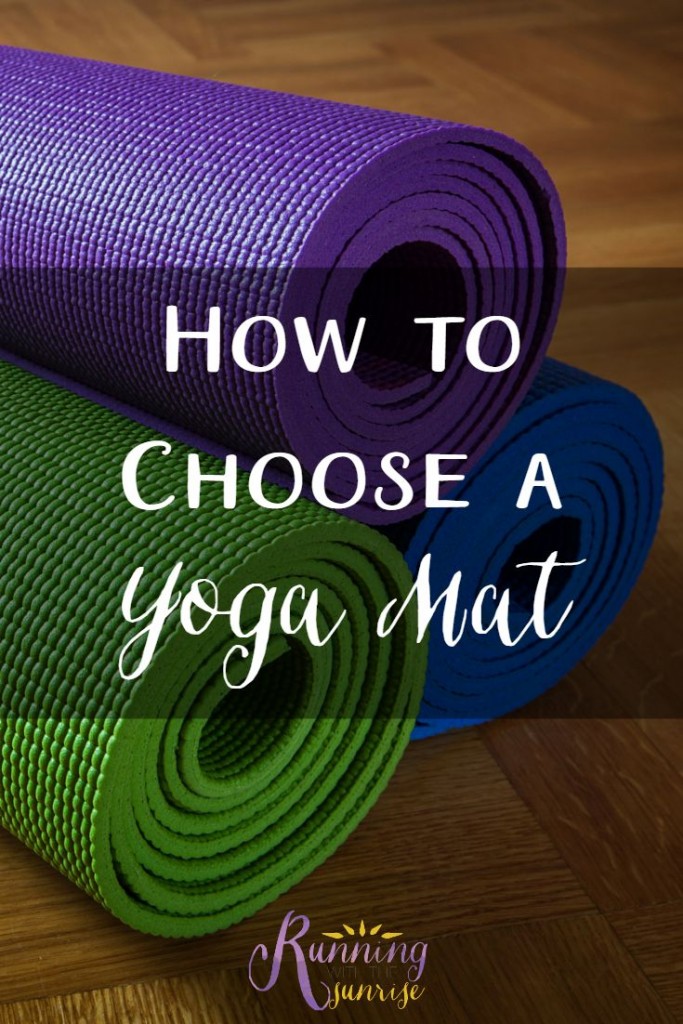 Quality. You really do get what you pay for with a yoga mat. I'm not saying that you have to go out and spend over $100 for a mat, but inexpensive mats are also often cheaply made. I've been to yoga studios that have very cheap yoga mats as loaner mats and people knock out small chunks of the foam the mat's made out of all the time with their rings or fingernails. It's better to spend a little more on a mat that's going to last you a while.
Materials. The most popular materials I've seen to make mats are foam and rubber. I've owned both and I've had better luck personally with the rubber-based mats. I find them to be less slippery and I think they hold up better over time. The downside to a rubber-based mat is that it can smell like rubber for a while, but I promise that smell does go away over time. If you really don't want a rubber mat (or are allergic to rubber) but slip on the foam mats, consider getting a yoga towel. If you do, I'd recommend getting one with little grips on the bottom so your towel doesn't wind up sliding all over your mat, which is very annoying (trust me).
Thickness. The thinner the mat, the less padding you'll have for your joints, especially when those joints are resting on the floor, like a lunge with your back knee on the mat. But, highly padded mats are often heavier, and it can also be tough to practice balancing poses on them because there's so much mat between you and the floor. One's not inherently better than the other; it's important to find the mat that fits your needs.
Length. If you're very tall, you might consider getting an extra long mat. Many, if not most, companies make them these days. Most standard mats are 72 inches long, give or take an inch or two, and long yoga mats often around 80 inches long. So, if you're over 6 feet tall (or 1.8 m tall for those of you not in the US), you might consider getting a longer mat.
Weight. Many of the features I've described will contribute to the weight of a mat. Foam mats are generally lighter than rubber mats. Thicker mats have more material and will generally be heavier than thinner mats. If you have a short walk from your car to your yoga studio, weight may not matter much, but if you have to carry your mat longer distances, a lighter mat may be helpful.
To summarize, to choose a yoga mat that's the right one for you, it's helpful to think about what you need from a yoga mat: more padding for the joints? Lightweight and portable? Then, choose a mat based on those needs. In terms of brands, there are a lot of great brands out there, but I know a lot of yoga teachers who have had very good luck with Manduka, Jade, and Lululemon, but that's not to say that other brands are bad. It's all about finding the right mat for you.
Any questions about buying a yoga mat?
Yogis: do you have a favorite mat?