For beginning runners, finding the right shoe can be the difference between continuing to run or quitting due to aches and pains. I worked at a running specialty store for three years, helping customers select the perfect running shoes for their feet. Over that time, I narrowed down a few things that really help find the perfect pair of shoes for your feet. Here are my best tips for how to choose running shoes.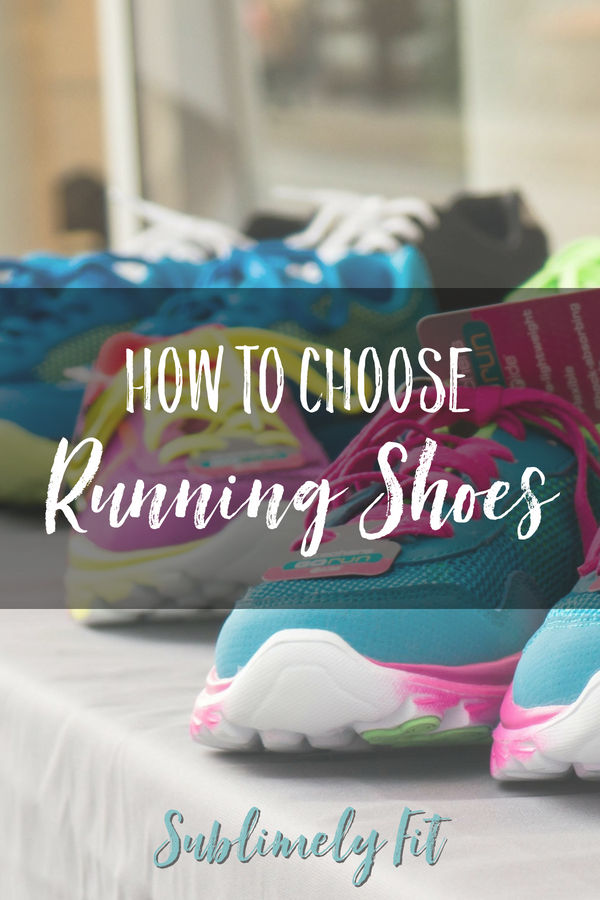 First, you need to know what kind of shoe you want…
FREE Hip Openers for Runners Guide
Sweet relief for your tight, sore hips!
Get the best hip-opening yoga poses sent straight to your inbox.
Step 1: Decide What You Want from Your Shoes
Think about what surfaces you'll be running in and what kind of mileage you'll be running. Every person's body is different, but most higher mileage runners need and prefer more cushion than a minimalist shoe will give you. Likewise, knowing your running surface can help you choose between a trail shoe, one that's best suited for road running, or a shoe that can do a bit of both.
Step 2: Get Your Gait Analyzed
There are websites and articles that will suggest what category of shoe you should be in based on arch height and other measurements you can take at home. However, I've seen enough people running to tell you that a high arch does not always mean you're a neutral runner and even if your ankle is relatively rigid, your foot can still roll in as you follow through. Looking at old shoes will just tell you if that shoe was giving you the proper amount of support. In my opinion, the best thing to do is go to a running specialty store so they can assign you to the proper category.
Step 3: Make Sure You're in the Right Size
I can't stress this enough: it doesn't matter what size you wear in a street shoe. It shouldn't matter to your ego what size your running shoe is. You want to make sure you have a thumb width of space between your longest toe and the front of the shoe when you're standing in them. (Your feet will naturally spread as you stand.) This ensures that your toes won't hit the front of the shoe when they well.
Step 4: Try on Several Brands
Once you've narrowed down how much support you should have, try on shoes that have the right amount of support from several brands. Every person's body is different, so how a shoe feels to me can be different from how a shoe feels to you. Also consider purchasing a different insole for your shoe, especially if you want more arch support. The shoes themselves don't provide much arch support and the sockliner (foam that comes in the shoe that your foot sits on) certainly doesn't.
If you'll be wearing orthotics with the shoes, always bring those when trying on shoes. The orthotic can correct for pronation (the foot rolling in or out), which may change what category of shoe you should be in.
Step 5: Decide Which Shoe Feels Most Natural
When my customers find that more than one shoe feels comfortable, but in different ways, I always suggest to go with the shoe that feels the most natural to your foot. Especially if you'll be running longer distances, you'll be spending a lot of time in the shoe, so you want to make sure it fits and supports your foot as naturally as possible.
Also a factor in finding the right fit of shoe: the right sock. Sock thickness and feel can have a big effect on what the shoe feels like, so make sure you decide what kind of socks you'll want to be wearing so you can use a similar sock when trying on shoes.
Worry About Color and Appearance Last
This tip plays off of the previous tip, but I can't stress enough that finding a comfortable shoe should be a bigger priority than finding a pretty shoe, especially as you run more and more miles. If you hate your shoes and they make your feet hurt, you won't want to run. It's better to find something that fits and then try to get the shoe in a color that you like–manufacturers make most shoes in several colors. (Caveat: if you're in a wide width, you may be stuck with one color. Again, go with comfort over what looks good.)
Have you been through a gait analysis?
Experienced runners: do you have any additional tips for choosing shoes?
Shoe color: do you like brighter or more muted running shoes?