One of the biggest struggles that yoga practitioners have is consistency. You might make it to the yoga studio four times a week for a month, but then life gets in the way and you realize it's been weeks since you've been on your mat. It can be tough to be consistent, but a consistent yoga practice is how you start to really see results, both mentally and physically. Here are some of my top tips for creating a consistent yoga practice.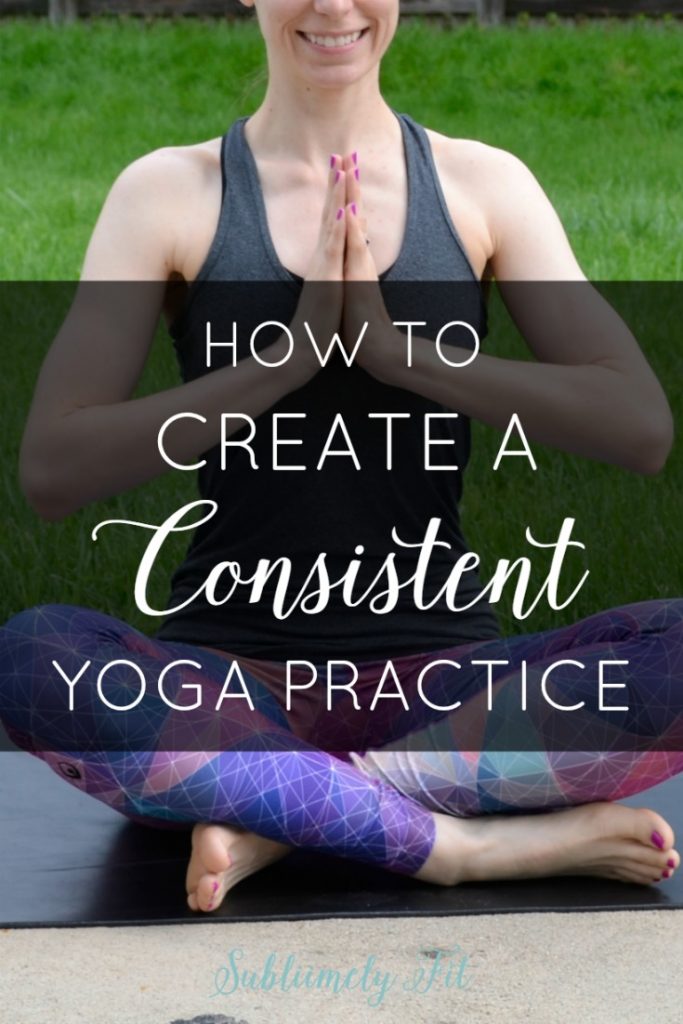 Don't Worry About Length
Let's be honest. Your schedule gets crazy busy from time to time, or maybe even more often than that. If you think that you need to practice yoga for an hour for it to count, or even half an hour or 20 minutes, you're more likely to skip out.
Remind yourself that even a five or 10 minute practice is better than no yoga at all. And, short sessions can help you keep up with any progress you've been getting with flexibility or strength. If it's the end of the day and you still haven't gotten on your mat, do a few gentle poses for some bedtime yoga. Commit to doing a little yoga almost every day and consistency will come naturally.
Develop a Home Practice
A home practice comes in handy when you're short on time. Sometimes, you just can't fit a studio class into your schedule. It's generally considered rude to walk out of a yoga class after 15 minutes (unless you're not feeling well). And, when you factor in traffic, getting to the studio early to set up, and your teacher possibly letting class run long (a topic for another day), studio classes can be a serious time commitment.
With your home practice, your commute is incredibly short. You can adjust the length of your practice to fit the amount of time that you have. And, you can create a yoga practice that's exactly what you need that day. If you know that you're going to be focusing on poses that help you feel great, it's easier to find the motivation to get on your mat.
Find a Goal Pose
Sometimes you need something to work toward. Is there a yoga pose that you've always wanted to be able to do? Getting to that goal pose can be great motivation, and in order to get there, you're going to have to stay consistent or you'll never see any progress.
When I first started my yoga practice, I just wanted to be able to hold a low plank on my toes. Then, I worked up to Bird of Paradise Pose. Next, I worked on building my upper body strength for arm balances like Crow Pose and Mountain Climber, and most recently, I've worked toward being able to hold Handstand away from the wall. Each time, working up the necessary strength and flexibility to get to the pose has helped me stay consistent with my yoga practice.
Track Your Progress
I'm a firm believer that the best yoga pose is the one that feels best in your body, as long as you're not at risk of injuring yourself. But, many yogis want to become more flexible, or to be able to hold an arm balance. In these instances, tracking your progress can be very helpful.
Consider taking a photo every month or couple of weeks to chart your progress as you work on a pose. You'll be able to see changes in flexibility this way, and changes in how deep you can get into poses like lunges or chair, too. Seeing that you're actually making progress will motivate you to keep up your yoga practice, helping you stay consistent.
Sign Up for a Yoga Challenge
A participating in a yoga challenge can help make yoga a habit. That habit ultimately helps you be consistent with your yoga practice. A month-long yoga challenge is perfect for helping you set up that habit; anything shorter and that habit won't quite be there yet. Whether you take a certain number of classes in a month or you participate in an Instagram challenge where you post a photo a day, being consistent for a month can help you be consistent for a long time after.
A couple of years ago, I participated in a yoga challenge at my studio. You had to take 28 classes in February to complete the challenge. I had to do a couple of back-to-back classes, but I finished. Because I was so used to coming to the studio almost every day, I continued to make to four or five classes a week in March. It felt weird to skip yoga with my new habit, which made it so much easier to stay consistent.
(I've thought about creating my own yoga challenges. If you're interested, leave a note in the comments or shoot me an email!)
I hope these tips help you create a consistent yoga practice! Remember, you'll really start to see progress with a consistent practice. Stick with it and you'll love the results you see!