One of the top complaints that a lot of people have when they run is that running is so boring. Beginners will run for 10 or 20 minutes and quit because they're bored and they can't stand doing the same thing for a long period of time. Successful runners often have tricks that they've come up with that help them get over the boredom so that they can successfully run longer and longer distances. These tricks to help make running less boring will help you forget about how bored you are so you can keep running.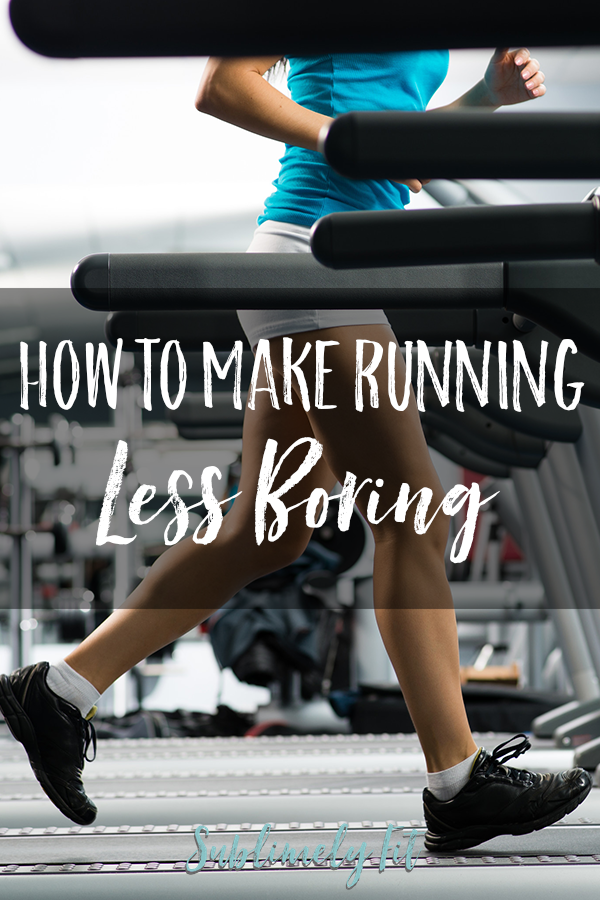 Making Treadmill Running Less Boring
Play around with your speed or incline. Try running intervals or slightly change your speed or incline every few minutes. The continuous changes will have you focusing more on when you'll be changing the settings on your treadmill and less on how bored you are.
Catch up on your favorite TV show. If your attention is fixed on what you're watching, you won't be focusing on how long you've been on the treadmill.
Listen to an interesting podcast or book on tape. Again, the idea here is to entertain the brain so you don't focus on the fact that you're not really going anywhere.
Visualize your race course. If you're training for a race, try visualizing your race course during your treadmill runs. I used to visualize pushing hard during the last few miles and finishing strong at the finish line when I would do my tempo runs on a treadmill.
Run on the treadmill more. The more you run on a treadmill, the more you get used to it, which makes treadmill running easier mentally.
Making Running Outdoors Less Boring
Focus on the beautiful scenery around you. Sometimes we don't notice all of the lovely things that surround us when we run. Listen to the birds chirping or notice the different types of flowers blooming as the seasons change.
Think about your running form. Make sure you're not carrying extra tension in your shoulders or upper body. Take note of your breathing and try to take in deep, long breaths.
Sort through your mental to-do list or complete thinking tasks. I often think of blog post topics when I'm running, starting to write them in my head. When I was finishing my PhD, I would think through how I was going to analyze my data. Running gets blood flowing through the brain which helps you think, so take advantage of that extra thinking power!
Count your footfalls. I picked this one up from Kara Goucher's book. If you're at the end of a long or hard run and you're feeling tired, just count each step you take. Focusing on something easy to think about like counting helps take the focus off of any discomfort you may be feeling.
What do you do to keep your runs interesting?
Do you prefer running indoors or outdoors?
FREE Hip Openers for Runners Guide
Sweet relief for your tight, sore hips!
Get the best hip-opening yoga poses sent straight to your inbox.