Starting a yoga practice can be a daunting task if you've never practiced yoga before. (You can read more about why we call it a yoga practice.) There are so many different yoga poses to learn, and the terminology can be tough to get a handle on, too. Continuing on with my articles for true beginners this week (read about how to start running, too!), I'm sharing my top tips for how to start yoga and creating your own personal yoga practice.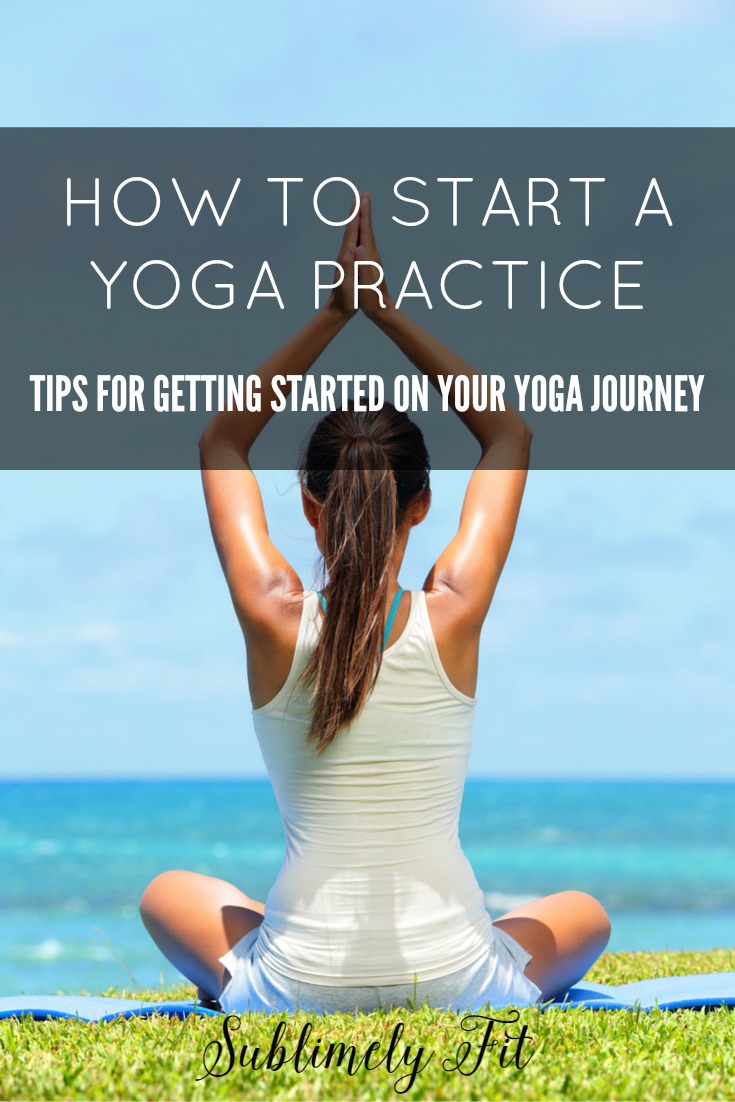 Be okay with being a beginner
I promise, every yogi has been there. The first time you practice yoga, you may feel overwhelmed by the number of poses and the terminology yogis, use, particularly the sanskrit names of the yoga poses. Know that feeling overwhelmed as you start yoga is completely normal! One of the things you'll learn as you practice yoga is to let go of the concerns you feel as you practice. Trust me, no one is looking at you and judging you—they're all focused on their own poses. Work toward clearing your mind of thoughts as you practice, finding a moving meditation during your yoga practice. Want to head to your first yoga class at a studio but aren't sure what to expect? Read my tips for attending your first yoga class!
What kind of yoga should I try?
When taking classes or choosing videos, start by looking for yoga specifically aimed at beginners. They'll break down basics of alignment and tell you how to modify poses when you need to. You may consider starting with a gentler style of yoga like Hatha yoga when you're starting out, working up to more vigorous styles such as Ashtanga and Vinyasa yoga. Every yoga studio is different, so consider trying a few different studios until you find a yoga that teaches a style of yoga that speaks to you.
Child's Pose is your friend
We have a saying that Child's Pose is a pose of honor. When you start yoga, you're likely not used to moving your body into yoga poses, and your breath may get away from you, that is, your breath become heavy and uncontrolled. Focus on taking deep breaths in and out, but if you still feel like you're breathing fast, take a moment and come back to Child's Pose. When you're there, focus on lengthening your inhales and exhales, slowing your heart rate down as you slow your breath. When you're ready, come back into your practice. When you take a break, you're learning to listen to the signals that your body is sending, one of the very important lessons you learn as you start yoga.
Pay attention to alignment
When you're starting any new activity, your body is learning to do new things. Using your body in new ways leaves it at a higher risk of getting injured. That's why keeping proper alignment in yoga is so important, and alignment is one of the most important things to think about as you learn how to start yoga. Stacking your joints in yoga poses helps to protect them. Be sure you pay attention to the alignment cues your teacher gives you, or read up on proper alignment. Protect your body! If your body is feeling tired, ask for a modification of the pose, or come to child's pose for a few breaths. Being tired makes it easier to have poor form, so pay careful attention to the signals your body sends you.
Best of luck to you as you start your yoga journey!
Yogis: do you have any tips to share?
New yogis: do you have any questions you'd like to have answered?
Share in the comments!