I'm trying to focus on gratitude more than usual this week, with tomorrow being Thanksgiving in the States. I've been weaving gratitude themes into my yoga classes, and I'm trying to take time throughout the day to stop and be grateful for everything I have going. I'm thankful for my health and strength, and I'm thankful that my body is able to do amazing things like run a marathon. Running was my gateway drug—it's what got me started on my healthy living journey. It's why I'm a yoga teacher, and now a barre teacher. So, today I wanted to share why I'm so grateful to be a runner.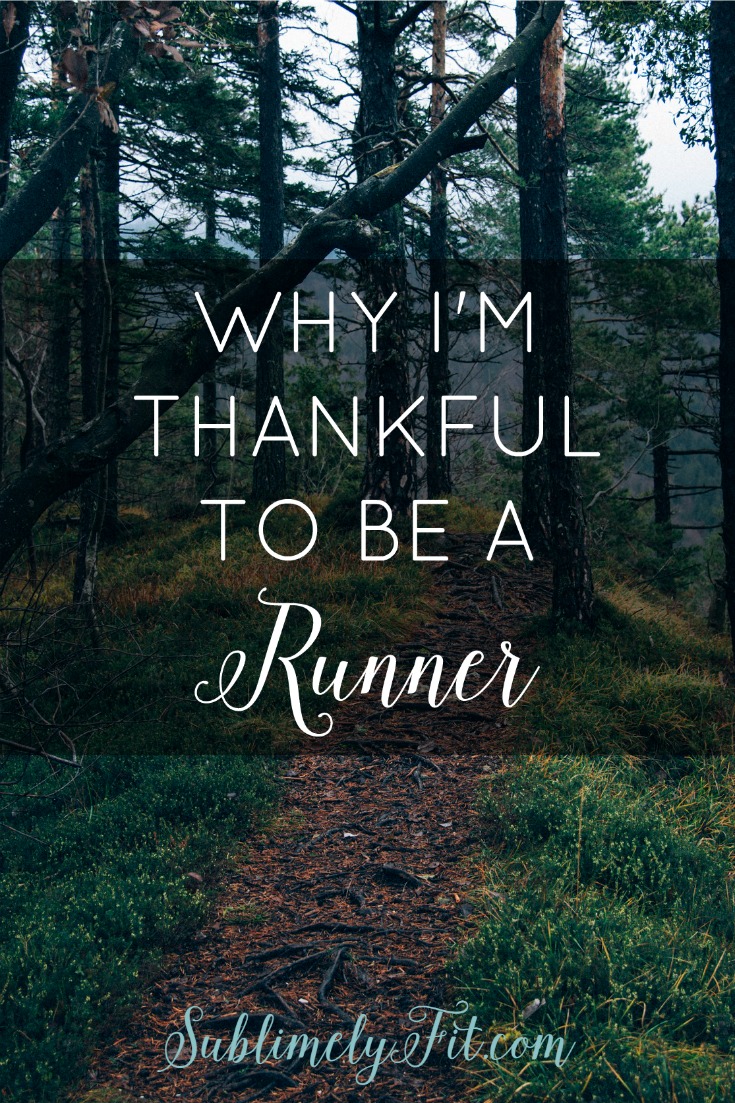 Running is such a life changer. When you start to run, you suddenly become part of a wonderful community of runners. They understand why you can't stay out late on Saturday when you have a long run planned for Sunday morning. They understand being rungry and hangry and the desire to eat every food in sight. They understand struggling to spend money on dress shoes and work clothes, but will easily drop hundreds of dollars on running shoe and gear. It's the reason why I started a running blog: your non-running friends tend to get bored when you talk about running all the time, so you make friends who are runners and who understand what you're going through.
FREE Hip Openers for Runners Guide
Sweet relief for your tight, sore hips!
Get the best hip-opening yoga poses sent straight to your inbox.
Running has also changed how I see myself. It's changed the way I look at my body. Instead of seeing perceived imperfections and wondering why I don't look like airbrushed women in magazines, I'm now able to see my body as strong and capable. I've carried myself through three marathons and over fifteen half marathons (I've honestly lost count). I've pushed through tempo runs and intervals, through the summer heat in South Carolina and winters in Illinois. I know I'm capable of greatness because I've achieved greatness in my own way, through pushing the boundaries of what I can do.
Running gives me a safe space where I can be alone to think. It allows me to sort out what's going on in my head. To burn off some of the anxiety I have, to let go of my thoughts and be one with myself. I come up with some of my best ideas on my runs, first for my research when I was still in grad school, now for my blog and clients. Running helps me see things more clearly, and sometimes it helps me not think at all, so I can just enjoy running and being outside in nature.
So thanks, running, for changing my life for the better. I'm excited for us to spend many more years together.
Runners: what has running done for you?
What are you thankful for?