I'm a little behind the times in many ways, but as a fitness/healthy living blogger, one of the biggest ways is that I'm late to the Instant Pot game. I just got mine about a month ago—I got a great deal on Prime Day. I've been playing around with making things in the Instant Pot, and that combined with a great sale on cherries is what gave me the inspiration for this Instant Pot Chocolate-Covered Cherry Oatmeal.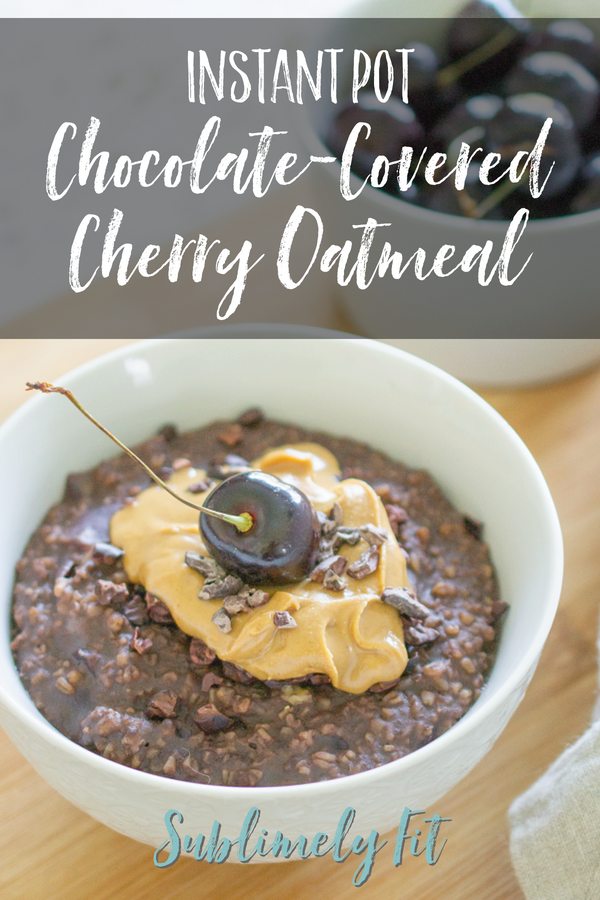 This post is sponsored by NOW Foods. All opinions are my own, honest thoughts. Please know that I only work with brands that I absolutely believe in, and NOW Foods is one of the few brands that I completely trust to support my health and the health of my family.
FREE Hip Openers for Runners Guide
Sweet relief for your tight, sore hips!
Get the best hip-opening yoga poses sent straight to your inbox.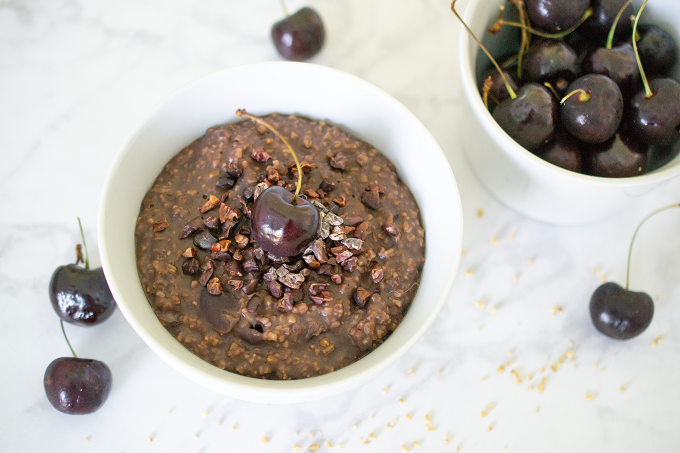 The recipe for my Instant Pot Chocolate-Covered Cherry Oatmeal is actually pretty simple. These days, I don't have time for complicated. The base is steel-cut oats, chocolate protein powder, cherries, and water. Throw in some of your favorite spices, a little sweetener (only if you want it), and you've got this recipe. (I have a toddler. I don't have time for complicated.)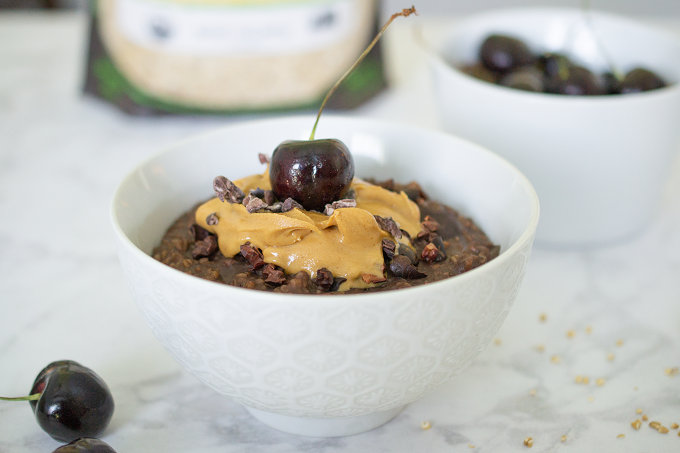 Since this oatmeal is protein-rich thanks to a scoop of protein powder, let's take a sec to talk about protein powder. You might already know this, but that super cheap protein powder you buy at your local discount store or online? Do you know what's really in that powder? The supplement industry is notoriously underregulated, which is why I love having a brand I can trust when it comes to supplements.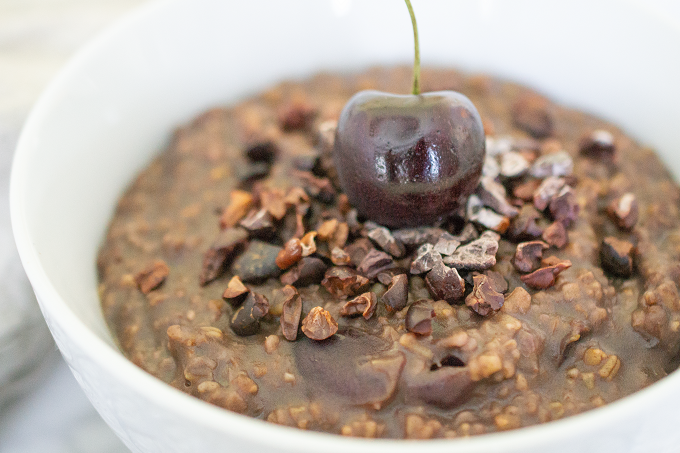 So, of course I used NOW Foods protein powder when I made my Instant Pot Chocolate-Covered Cherry Oatmeal recipe. I know that they test every single ingredient that comes in their warehouse to make sure it's pure and that it is what it's supposed to be. So, that's why I use their protein powder every day in my smoothies, and why it's the #1 brand I recommend to friends and family.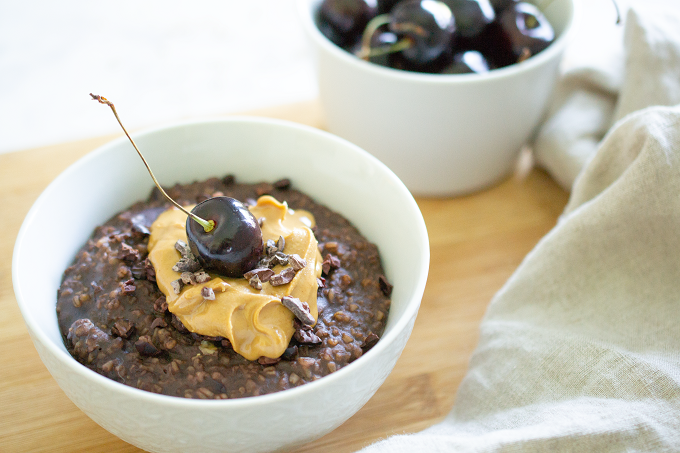 For this Instant Pot Chocolate-Covered Cherry Oatmeal, I used their chocolate plant protein powder and their organic steel-cut oats. If you prefer different sources of protein, you could absolutely swap out a whey-based or soy-based protein powder. I'm just trying to make more vegan meals, so I went for plant-based protein.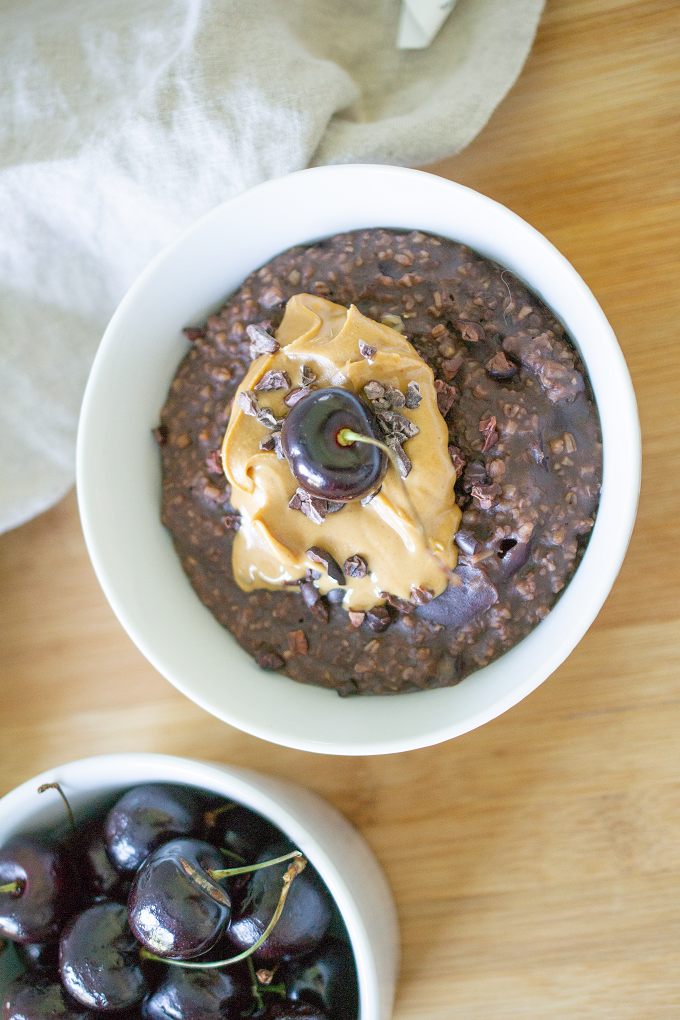 So, there you have it! My Instant Pot Chocolate-Covered Cherry Oatmeal. Definitely put this on your list of go-to recipes. I think you're going to love it!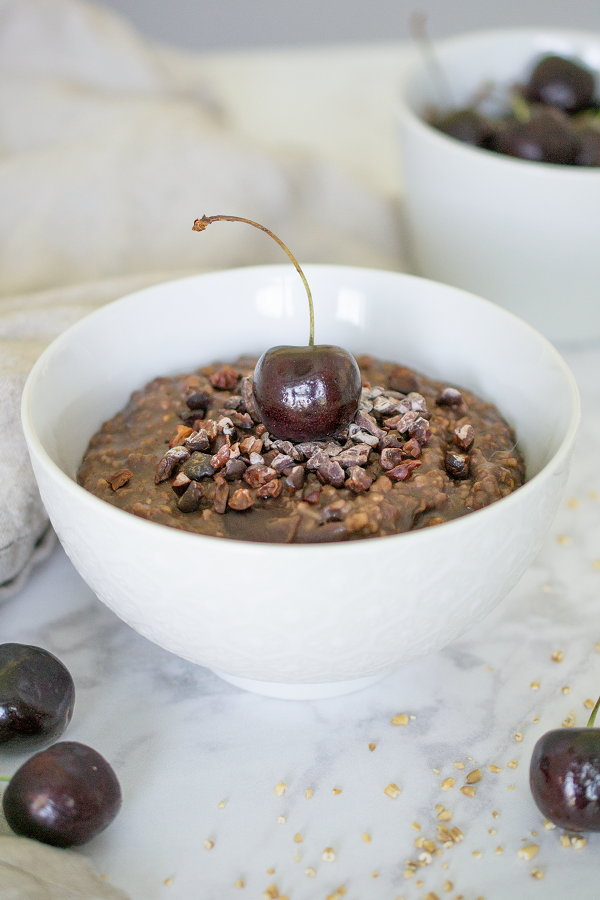 Instant Pot Chocolate-Covered Cherry Oatmeal
2018-08-10 08:06:38
Serves 4
Ingredients
1 c NOW Real Food organic steel-cut oats
3 c water
1 scoop NOW Sports chocolate protein powder
1 c cherries, cut into fourths
1/2 tbsp cinnamon
1 tsp nutmeg
OPTIONAL: 2-3 tbsp agave nectar
OPTIONAL: 1 tbsp instant coffee
Instructions
Combine all ingredients in the inner cooking pot of an Instant Pot. Stir well.
Cook on Porridge setting for 5 minutes.
You can either wait for the pressure to release naturally or release it manually. Just be sure to follow the manufacturer's instructions for releasing pressure.
Notes
Love nut butter? Top your Instant Pot Chocolate-Covered Cherry Oatmeal with a spoonful like I did.
You might also top the oatmeal with a sprinkle of cacao nibs.
Note: this recipe is MUCH better when eaten right away. Leftovers stored in the fridge aren't nearly as tasty as the fresh recipe.
Sublimely Fit https://sublimelyfit.com/