I wanted to write a post about intention setting, something that is near and dear to my yogi heart. Intention setting has really transformed my yoga practice by allowing me to ensure that I get exactly what I need out of each yoga session. It helps me focus on what I need to accomplish and to let everything else go. So, I wanted to take the time to let you, my lovely readers, know about the power of intention setting and why you should give it a try.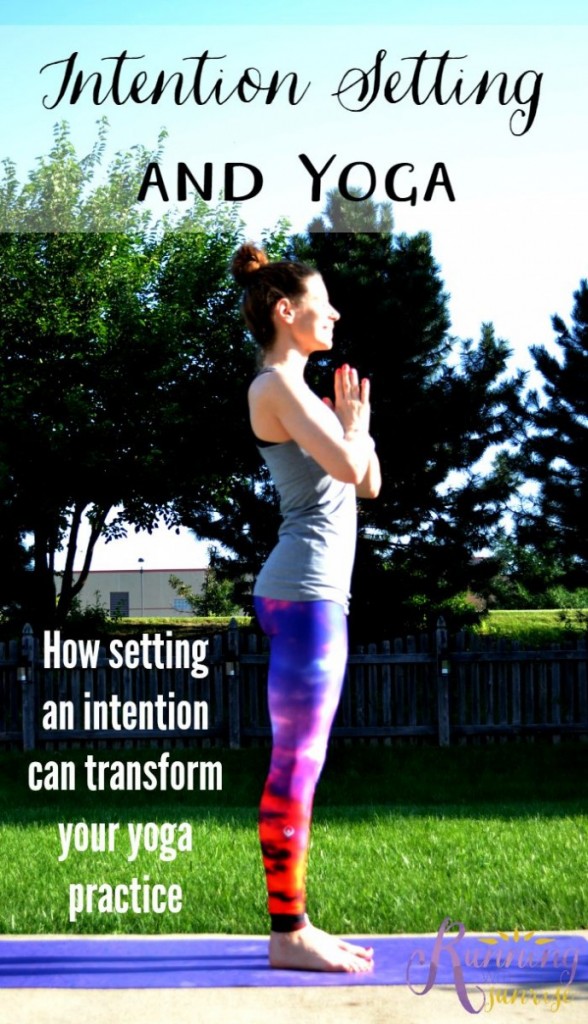 But first…
What is intention setting?
Every yoga teacher may have a different definition of intention setting, but to me, to set an intention for your yoga practice, you actively decide what exactly it is you need to get out of your yoga practice. Maybe there's a feeling (gratitude, calmness, inner peace) you would like to focus on as you practice, or it could be something as simple as letting go of your thoughts. You take the time to decide what it is you need out of your practice, and commit to focusing on filling that need throughout your practice.
You could say that intention setting is a form of meditation, in some ways. You release everything else your mind might want to focus on and instead focus on that one intention, just like you might focus on your breath in meditation. (Or, crazy thought: you could make focusing on your breath in your yoga class an intention for your practice that day!) That focus allows you to clear your mind of clutter so you can hone in on what's really important to you in the moment.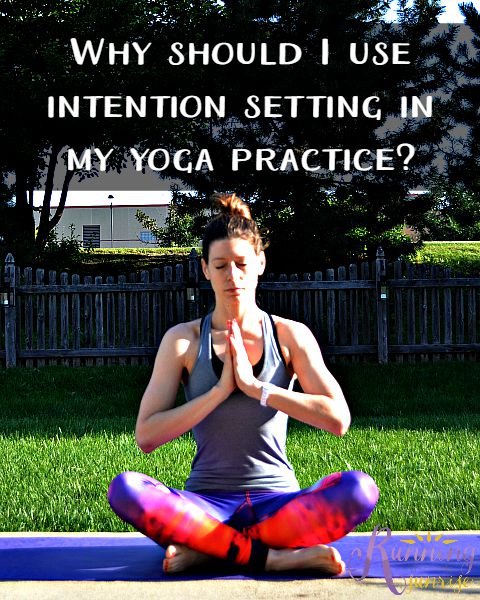 Why should I use intention setting in my yoga practice?
For me, setting an intention really helps me stay focused in my practice. If I've been really stressed out, focusing on letting go and not letting whatever I've been worrying about creep back into my brain helps me find that moving meditation in my yoga practice that I need to release. We all come to our mats for different reasons, and setting an intention allows us to remind ourselves of what exactly it is we need out of our time on our mats so that ultimately our yoga practice is more effective. If you'd like to read more about why intention setting is so helpful, Yoga Journal also has a great Q&A about why we set intentions in yoga that you might find interesting.
What's lovely about practicing intention setting in yoga is that you can then apply it to your life outside of yoga. (The same is true about so many other things we learn during our yoga practice, too.) You could set an intention for the day to be kinder, or to not worry about the little things. If I happen to meditate in the morning, I'll set an intention for the day at the end of my meditation session. Or, if I'm practicing yoga, I'll set an intention when I'm in fetal pose, right before coming up to an easy seated position to finish my practice.
My challenge to you: try setting an intention for your day, or even for the next hour or two. If you need to, write it down. Then, keep coming back to that intention and let go of anything that might come up that distracts you from that intention. See how it changes your life (and tell me about it in the comments or via email!).
Yogis: do you use intention setting in your yoga practice?
What intentions do you like to set for your day or workouts?