Happy Monday! We're a little over a week into the month of August and I'm already making great progress on the big goals that I've set for myself for the month. I've found that by outlining the big things that I need to get done for the month, or even the day, I'm able to make better progress toward my big goals because I'm more focused. That focus allows me to keep my forward momentum going, which brings me to today's quote: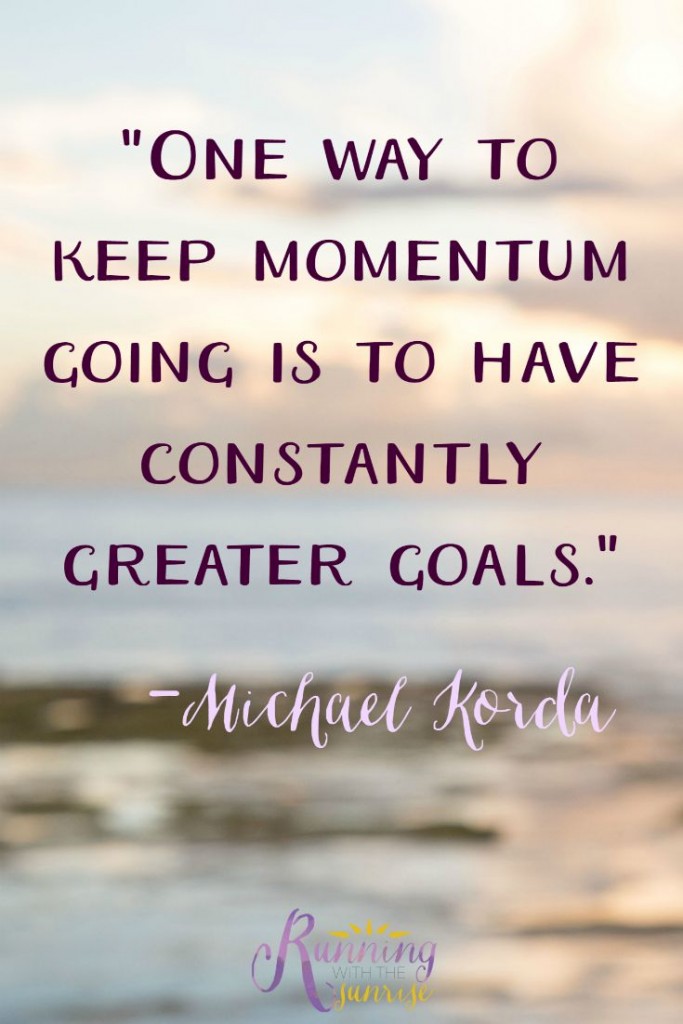 Momentum is a great thing. When we feel like we're moving forward on the path that we've set for ourselves, especially when we feel like we're gaining speed along that path, it's easier to push ourselves to work a little harder because we know that our hard work is bringing results. All of that forward momentum brings us to our first goal, but what then?
FREE Hip Openers for Runners Guide
Sweet relief for your tight, sore hips!
Get the best hip-opening yoga poses sent straight to your inbox.
Today's quote really spoke to me because momentum and goals really do go hand in hand. If we're getting close to our first goal, why not set a second goal that's a little higher? If a goal is a little too easy to accomplish, our momentum can slow down and we might not reach our full potential, at least not in that moment. Reevaluating our goals and creating bigger goals can help us maintain that forward momentum.
Setting new goals can definitely help with fitness goals. Take running for example. If your training is going well and you run a tune up race that shows you're ready to run a half marathon in 2:10 instead of 2:30, you might adjust your training to help you prepare to run your half marathon at that new pace. Or, maybe you planned to BQ next year, but your speed workouts are showing you that you're ready to run that BQ this year, maybe you move your goal up.
Always find something to motivate you to keep striving to move further along the path that you've set for yourself. Setting a goal can make the difference between forgetting about a dream or making it come true, and setting bigger goals for yourself can help you make even bigger dreams happen. Right now, I have my big goals for August written on a sticky note that's displayed prominently on my desk, and I'm going to spend a lot of time this week thinking about what my big goals are for the rest of the year. It's better to reach and fail than to not try at all!
How do you keep your forward momentum?
Do you write down your goals?
How often do you reassess your goals?