One theme that seems to flow throughout many yoga classes is the theme of letting go of your ego. We tend to be raised to compete and perform, to be the best and win the shiny trophy. Pushing yourself to achieve new heights can be a good thing—it's how we finish our first marathon or get promoted to a new position in the workplace. However, that ego can also be a big downfall, especially when it gets in the way of what you really need, physically and emotionally.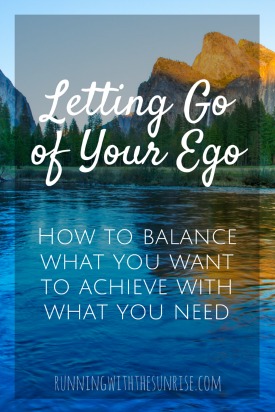 We've been having a nice discussion about listening to your body or heart in the comments of my yoga block giveaway post, which has inspired me to write this post. People who have those "Type A" personalities, like many if not most runners and athletes, have a tendency to keep pushing through discomfort because they think that stopping shows weakness. Often they wind up burnt out if they're lucky, or injured if they're not.
FREE Hip Openers for Runners Guide
Sweet relief for your tight, sore hips!
Get the best hip-opening yoga poses sent straight to your inbox.
So, how do you let go of your ego? These tricks are the ones that have been most helpful to me:
Remind yourself of what could happen if you keep pushing. Have that little niggle in your knee or hip in the middle of marathon training, but you don't want to take any time off? Remember that often those little twinges are our bodies telling us that we need to back off and ignoring them often results in injury, sometimes a big one. Is taking a day off worse than not getting to the start of the race because you've badly hurt yourself?
What would happen if you skipped that _____ (run, yoga pose, workout, etc.)? In most cases, taking the "easier" route won't hurt you in the long run, especially if you've been pushing hard otherwise. Fitness and other achievements aren't built on a single day, they're the result of weeks and months of hard work. Hitting that pause button when you really need it can only help you in the long run.
Stay focused on the present moment. Don't dwell on the past or the future. Instead, concentrate on what you can do in this very moment to meet your goals. If your mind and body are sending you strong signals that you need a break, listening to what you need now will often give you the best results. If you practice listening to your body, you'll know when you can keep pushing or when you need to back off a little bit.
What are your tips for letting go of your ego?