Happy Sunday, everyone! BlogFest wrapped up on Friday and we just finished with IDEA World sessions a few hours ago, so I finally have a little time to sit down and work on a blog post. (Recap coming soon!) I'm so far behind on reading blogs from this week and replying to comments, so first and foremost, I'm so sorry if I haven't gotten to interact with you! I'm hoping to catch up over the next day or two. (If only the WiFi on planes was more reliable…) I did want to take time to share some posts from this past week that I found really helpful and I hope you find them helpful, too!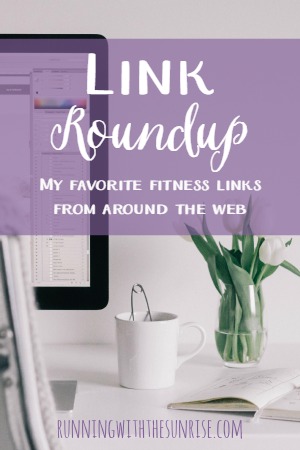 Running + Fitness
27 Body Weight Workouts for Runners via Amanda at Run to the Finish – This is a great roundup of body weight workouts, great for runners and nonrunners alike.
FREE Hip Openers for Runners Guide
Sweet relief for your tight, sore hips!
Get the best hip-opening yoga poses sent straight to your inbox.
3 Ways to Make Sure You Actually Recover on Recovery Days via Tina at Fuel Your Future – Tina's 100% right, running slow enough on your recovery runs is so tough! Love her tips for how to make sure you're maintaining the right effort on those recovery days.
Summer Total Bodyweight Burner via Heather at Life in Leggings – This is a really great bodyweight workout for those times when you don't have any equipment but still need to work out (of course). Perfect for summer vacations when you don't want to bring a ton of equipment with you.
5 Ways to Increase Endurance and Mileage via Chelsea at The Dancing Runner – Chelsea has been running pretty high mileage weeks for a while, so she knows what she's talking about when it comes to getting in that mileage. She's put together some great tips that are really helpful to anyone who's looking to run more every week.
2 Ways to Use Yoga Blocks to Open the Chest via Jayne Becca Yoga – After all of the workouts I did this week and carrying around a heavy back, I am definitely going to be practicing these poses when I get home! Can't wait!
Healthy Living
5 Ways to Get Moving this Summer via Julie at Running in a Skirt – It's nice out, so of course we should get outside and be active before the mountains of snow come back (at least to those of us who live up North). Loving these fun ways to get active!
I Miss My Runner's Body via Christine at Love Life Surf – A great post about how tough it is mentally to be an injured runner, and a nice discussion of how we look at and feel about our bodies in general.
Blogging
Cure Your Writer's Block With These Prompts via Ashley at A Lady Goes West – Blogging writer's block happens to me all the time, so I'm loving these great tips from Ashley with some great ideas for things to blog about.
Blog Metrics That Don't Matter via Katy Widrick – A great discussion about the direction in which blogging is headed and which metrics are quickly becoming less important. I loved this because it really helps you think about where you should be focusing your efforts as a blogger. I think it's important to first define your overall goals and then to decide which metrics are what you'll need to improve to meet those goals, and this post offers up some really great information to help you decide where you need to be spending your (finite) time.
How was your weekend?
Did you read anything great this weekend?
Where's the last place you traveled to?