It's lucky 13 for my link roundups! I have to admit that I really love giving shoutouts to people who are creating really great content in these link love posts, and they help encourage me to stay up on my blog reading, too. I didn't have as much time as I would have liked to to catch up on my reading (hello, working all sorts of extra hours), but I'm so happy that I had time to read the following posts, because they're all incredibly helpful. I hope you enjoy them!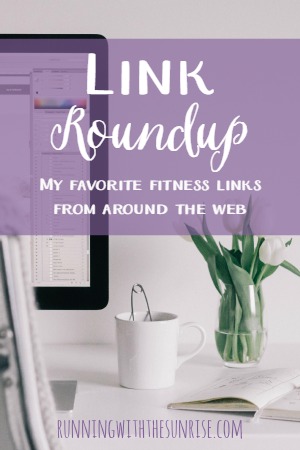 Running + Fitness
Marathon Long Run Tips via Laura at This Runner's Recipes – The long run can be so much more than just building up your physical endurance for your race. Laura tells us all about how you also have the opportunity to try out fueling strategies and find the right mental tricks to help you through the tough parts of your race.
FREE Hip Openers for Runners Guide
Sweet relief for your tight, sore hips!
Get the best hip-opening yoga poses sent straight to your inbox.
How to Overcome the Top 5 Exercise Excuses via Debbie at Coach Debbie Runs – Debbie has some great actionable things that you can easily do to overcome some of the big reasons people come up with for not working out. If you feel like your motivation has been lacking lately, definitely check this one out.
Healthy Living
Why You Don't Need to Lose Weight via Bri at Run Lift Yoga – Bri has a great discussion here about why you may be working out more but the scale may not be budging. And, as she aptly puts it, the number you see on your scale doesn't define who you are as a person.
Why Multi-Tasking BITES and Holds You Back via Kelly Olexa – Kelly brings up a really good point about multi-tasking here. By focusing on too many things at once, we don't give our 100% to anything. I've been trying to limit my distractions lately, especially first thing in the morning, and it's really helped me become more efficient.
How to Food Prep – 5 Tips for Beginners via Lindsay at the Lean Green Bean – Have you ever thought that you'd like to do a weekly food prep but aren't sure how to go about it? (I definitely fall into this category!) Lindsay is pretty much the queen of food prep, and I loved this post because it really breaks food prepping down into simple steps.
Blogging
Periscope for Fitness Guide via Amanda at Run to the Finish – If you're a blogger, you may have heard about Periscope, which is really blowing up right now with the people I follow. I broadcast my first Periscope last Sunday (follow me on Periscope at runwithsunrise!) and I'm trying to learn as much as I can about it. Loved Amanda's fitness twist on the Periscope basics.
What is the Best Blogging Advice You've Ever Received? via the SITS Girls – There are some really great tips and ideas here. I know I need to be better about promoting old content instead of spending all of my time worrying about thinking up new content. This post gave me great ideas for things to work on.
Did you read anything great this week?
How's your weekend going?
Have any big plans for August?