Happy Sunday! I hope you've had a great week! I've been busy, but I've accomplished a lot, including launching my free two week Yoga for Runners challenge! If you want to get a new pose sent to your inbox every day, you can sign up here. I'm so excited to finally get into video, and I'd love to hear your feedback if you decide to sign up for the challenge!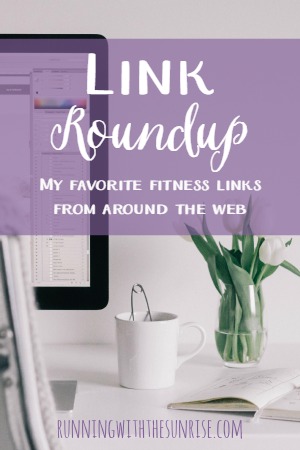 Here's what I really loved reading this week:
FREE Hip Openers for Runners Guide
Sweet relief for your tight, sore hips!
Get the best hip-opening yoga poses sent straight to your inbox.
Running + Fitness
5 Tips for Optimal Muscle Recovery for Runners via Susie at Suzlyfe – Suz has a great rundown of different ways that you can make sure you're recovering properly from your runs, especially long and hard runs.
Five Tips for New Runners via Cynthia at You Signed Up For What? – These are great first steps for new runners to take. Wish I would have had this when I first started running!
8 Reasons Why the Half Marathon is the Perfect Distance via Debbie at Coach Debbie Runs – I'm with Debbie on this one, I really do think the half marathon is a great distance to run. It's long enough to be challenging, but it doesn't put an enormous stress on your body like the full marathon can. Read many more reasons why the 13.1 is the bee's knees over on Debbie's post!
Healthy Living
Why Labels Should ONLY be Used for Canned Food, Not You via Kelly Olexa – Also, you guys should check out Kelly's Periscope (she's @kellyolexa); she's been killing it with the scopes lately.
How to Choose a Protein Powder via Jen at Pretty Little Grub – Jen does a great rundown of what to look for in a protein powder and even goes into detail about the different types of protein that a powder can be made of. Really informative post!
The Introvert's Guide to Fitness Instruction via Erin at Erin's Inside Job – Erin has some great tips for how to cope with being surrounded by lots of people as a fitness instructor when you're an introvert and being surrounded by lots of people tires you out. I've totally been there and loved this post!
Blogging + Social Media
Periscope Tips and Tricks via Katie at Mom's Little Running Buddy – Periscope is such a new social media platform and I think a lot of us are still trying to figure it out. Loved reading Katie's tips on how to make your Periscope channel awesome.
Business of Blogging: Copycats, Plagiarism, and Writer's Block via Candace at Yoga by Candace – I can't imagine what it must feel like as a blogger to have your work outright copied by another blogger. And I can't imagine why as a blogger you would think it would be okay (or even a good idea) to blatantly copy someone else's work. Candace gives a great rundown of what you should do if you've found someone has copied your work. Hopefully none of us ever have to go through this, but I wanted to share just in case!
What have you been reading about this week?
What's on your plate this weekend?