Happy Monday, and Happy Martin Luther King Day to all of my US friends! In honor of Dr. King and all of his amazing accomplishments, I wanted to feature one of his quotes for today's Monday Motivation. If we could all be as lucky to live such a purpose-driven life, our world would truly be a better place.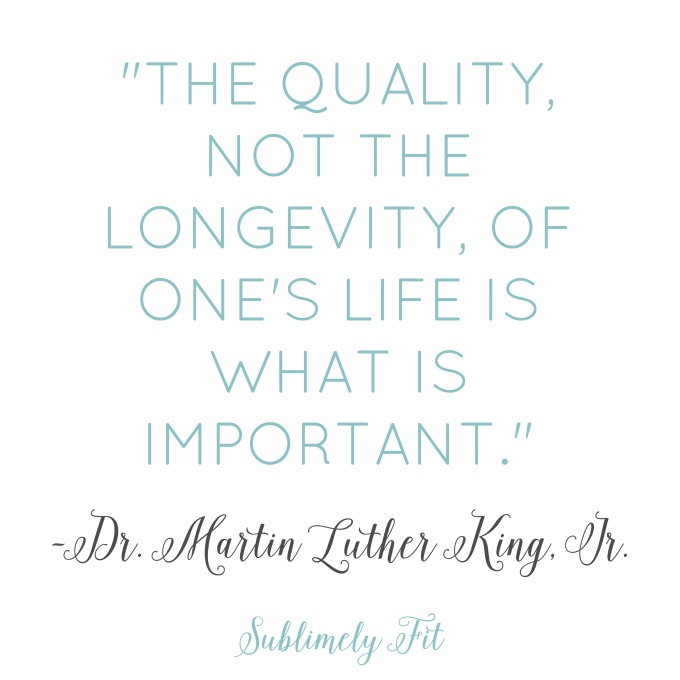 I'm loving this quote today because you can interpret it in several different ways. As a fitness blogger, I can read the quote as focusing on the physical and mental quality of life, which we all know can decline significantly long before we pass away. Many studies have shown that staying fit and active can help extend a high quality of life as we age, allowing us to live independently and to experience the things we love.
FREE Hip Openers for Runners Guide
Sweet relief for your tight, sore hips!
Get the best hip-opening yoga poses sent straight to your inbox.
But, there's more to living a good life than just feeling physically well. Finding your purpose, finding a way to help make the lives of others better, these are often the things that make us feel like we've lived a good life. We want to feel like we mattered, and that's often measured by the number of lives we touch. Whose life did you work to make better?
This is a big reason why I write this blog, and why I love and teach fitness. If I can help others learn confidence and self-love through fitness, through seeing strength instead of flaws, I think I'll really feel like I've lived a good life. If you don't teach fitness you may not think of this, but just about every day at least one of my clients or students tells me how they've been having a rough day and my yoga class helped them feel better, or about how excited they are to hold exercises longer and with better form at a Pure Barre class. Leading someone to find the best version of her- or himself, even if it's "just" through fitness, is an amazing experience.
My challenge to you today, lovely readers, is to think about what you can do to make the world a better place for others. Maybe you make a small donation to a charity you really believe in, take time to volunteer, or even just lend some encouragement to a friend who needs it. Challenge yourself to live your live with a servant's heart, and see how many lives you can impact positively.
What do you do to improve the quality of your life? The lives of others?