This post is sponsored by NOW Foods. All opinions are my own, honest thoughts. Please know that I only work with brands that I absolutely believe in, and NOW Foods is one of the few brands that I completely trust to support my health and the health of my family.
As a busy work-at-home mom, I've been turning to smoothies to make sure I'm getting in the nutrients my body needs without spending a lot of time preparing and eating meals. I have just a few hours of childcare a week, so I have to maximize the work I can get done in that time. So, I've been grabbing a smoothie just about every day. That's when I came up with the recipe for this low-carb smoothie made with delicious super fruits.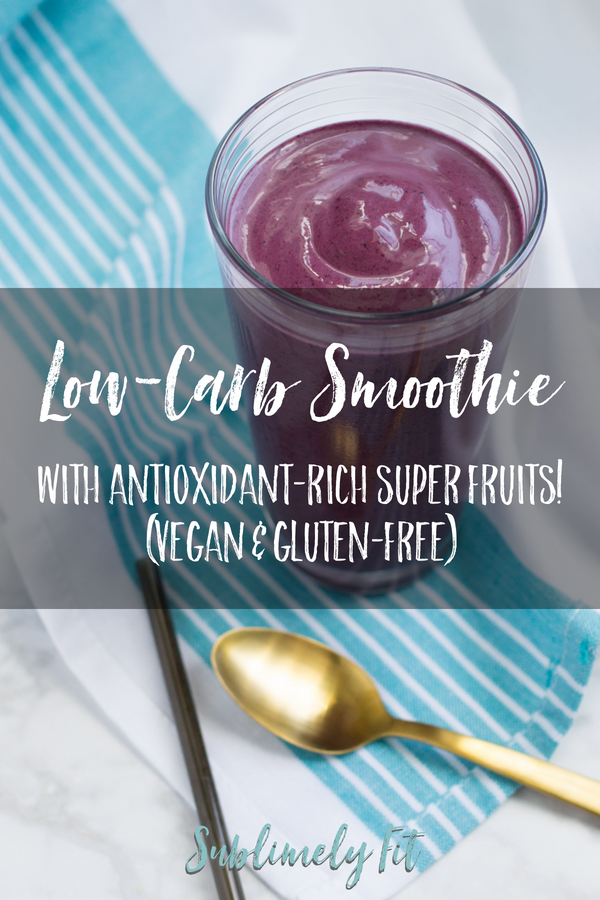 FREE Hip Openers for Runners Guide
Sweet relief for your tight, sore hips!
Get the best hip-opening yoga poses sent straight to your inbox.
I'm careful with the ingredients I put in my smoothies. For example, I don't use juice as the liquid base for my smoothies because I don't want the extra sugar without the fiber from whole fruits. (And, some juices can lose their nutrients over time. Frozen fruits tend to keep nutrients longer.) I'm always grabbing the most nutrient-rich ingredients I can for my smoothies, which is why I created this low-carb smoothie that's full of antioxidant-rich super fruits, like acai berries, blueberries, blackberries, and raspberries.
Berries are naturally low in carbs, which is one of the reasons why they're so popular with people who are tracking macros or following low carb diets. Plus, they have a lot of fiber, so you don't get a lot of net carbs from eating them. So, not only is this smoothie full of low-carb goodness, but it's also full of nutrients from the berries. It's a win if you just want to eat healthy and get in great nutrients from your food, and it's a double win if you're being conscious of the macros you're eating.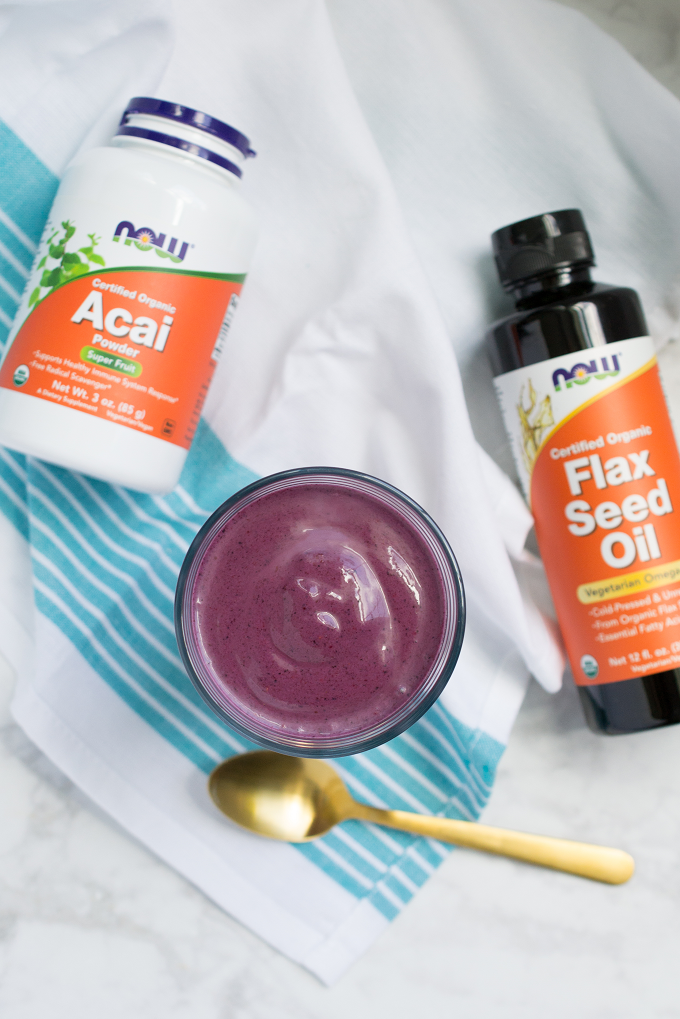 I also live in a small-ish town, which means I don't always have the best access to more exotic fruits, like acai berries. I've been turning to the Acai Powder from NOW Foods lately for my smoothies and (one of my all-time faves) my Peanut Butter Acai Smoothie Bowls. I love having it in my pantry whenever the mood strikes and I want to add acai berries to my smoothies. I'm all about getting in extra antioxidants and phytonutrients from acai!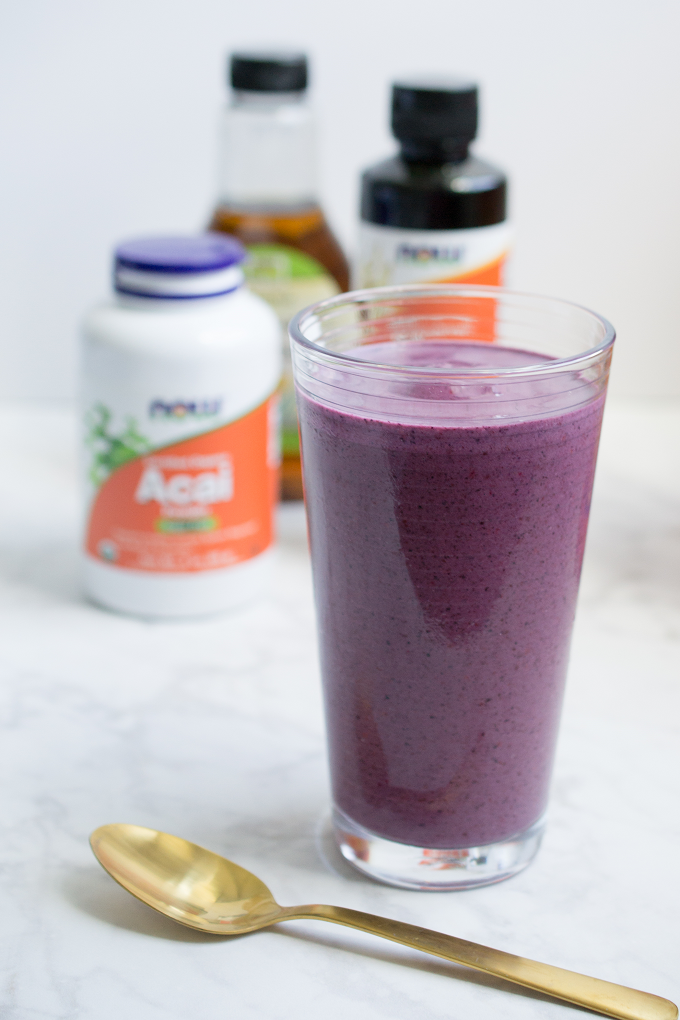 For this smoothie, I also grabbed several of my other go-to smoothie ingredients, like the Plant Protein Complex and Organic Flax Seed Oil from NOW Foods. I seriously use NOW Foods protein powder and the flax oil every single time I make a smoothie. I've been to their facilities and I know they make high-quality products. So, I know that I can trust those ingredients 100%, which is so important when you're eating something daily.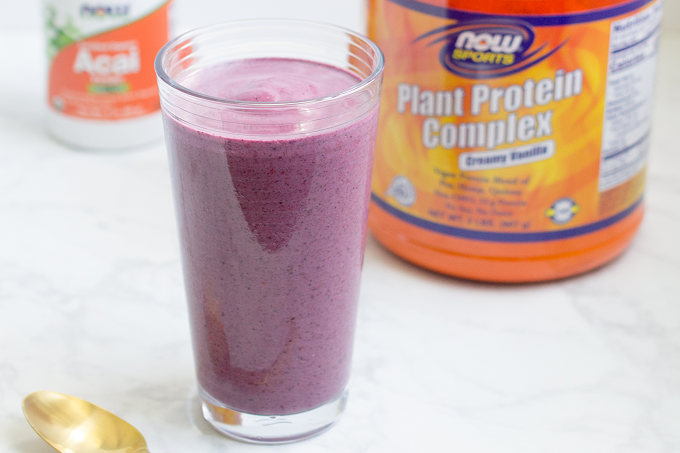 I also chose to sweeten my smoothie with the NOW Foods Organic Light Agave Nectar, which is a lower-carb sweetener (about 5 g of carbs per teaspoon). But, if you really want to limit the carbs in your smoothie, you can either skip sweetener altogether, or you can sweeten with stevia. If you're using stevia to limit your carb intake, definitely try the NOW Foods BetterStevia.® It's seriously the best stevia I've ever tasted.
So there you have it! My low-carb smoothie packed with nutrients from super fruits. I hope you enjoy it as much as I do!
Low-Carb Smoothie with Super Fruit
2018-06-27 11:52:24
Serves 1
An antioxidant-rich low-carb smoothie that tastes great and is great for your body!
Ingredients
1/2 c frozen blueberries
1/2 c frozen blackberries
1/2 c frozen raspberries
1 tsp NOW Foods Acai Powder
1 scoop NOW Foods Plant Protein Complex
1 tbsp NOW Foods Organic Flax Seed Oil
1 c cold water
OPTIONAL: 1-2 tsp NOW Foods Organic Light Agave Nectar
Instructions
Place frozen berries in blender, then add in the remaining ingredients. Blend until smooth.
Notes
You could also swap out the agave nectar for stevia. I strongly recommend the NOW Foods Better Stevia if you're a stevia fan--it's not bitter at all, unlike some other brands.
Sublimely Fit http://sublimelyfit.com/