Sometimes we know we're not happy with where our lives are at the moment, but we don't know what to do about it, or we know what to do, but we're too afraid to take the next step. I know I've been there, even recently. I chose to make some big, scary changes in my life, and I'm very grateful I had the courage and support to make those changes.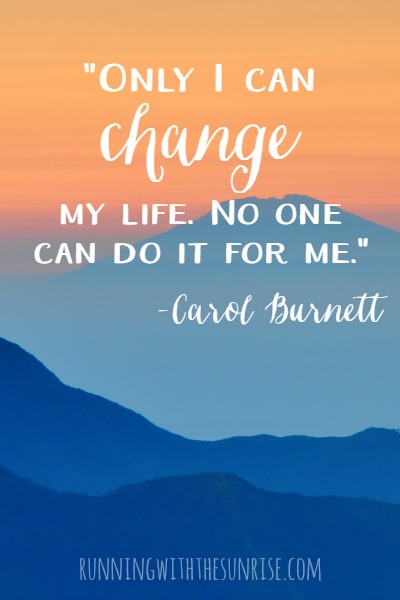 I was really scared to find and start a new job. I wasn't happy with my old job, but I was comfortable with it, and I didn't know if I wanted to give up that comfort. Luckily I have a good friend from work who knew how unhappy I was and they really encouraged me to find something better. I'm loving Pure Barre and am so happy that I had the courage to take the leap into a new job. I no longer get nice things like paid vacation and sick days, but my happiness is worth giving up those comforts.
FREE Hip Openers for Runners Guide
Sweet relief for your tight, sore hips!
Get the best hip-opening yoga poses sent straight to your inbox.
Even though change can be scary, if you're not happy with where you are, you have to take the risk and make some changes to make yourself happy. Life is too short to stay miserable. Only you can decide when the benefits of change outweigh the risks, and only you can begin to make the changes in your life that will make you happy.
This week, I want to challenge you to take the first steps of a change you've been wanting to make in your life but you've been hesitating. Maybe you want to try that new fitness class. Maybe you just want to be more consistent with working out, or better about making healthy food choices. Whatever it is, make the change a priority this week. Tell your friends and family about your goal so they'll support you. Tell me and I'll support you! Schedule time to work towards your goal. Again, make it a priority.
What's a change you want to work on this week?
Keep me updated on social media if you take this challenge!
I'd love to hear how you're doing.
Tell me about a big, scary change you made in your life.