Meditation is becoming more and more popular every year thanks to its many health benefits. A regular meditation practice can help improve both your physical and mental health. You'll lower your blood pressure, help combat stress and anxiety, improve your mental focus, and much more. (It's certainly helped me a lot with my pre-partum and post-partum anxiety.) But, meditation can be a little tough to get into, especially if you're used to letting your thoughts run wild all day. Today I wanted to share my top meditation tips for beginners with the hope that if you try meditation, you'll stick with it!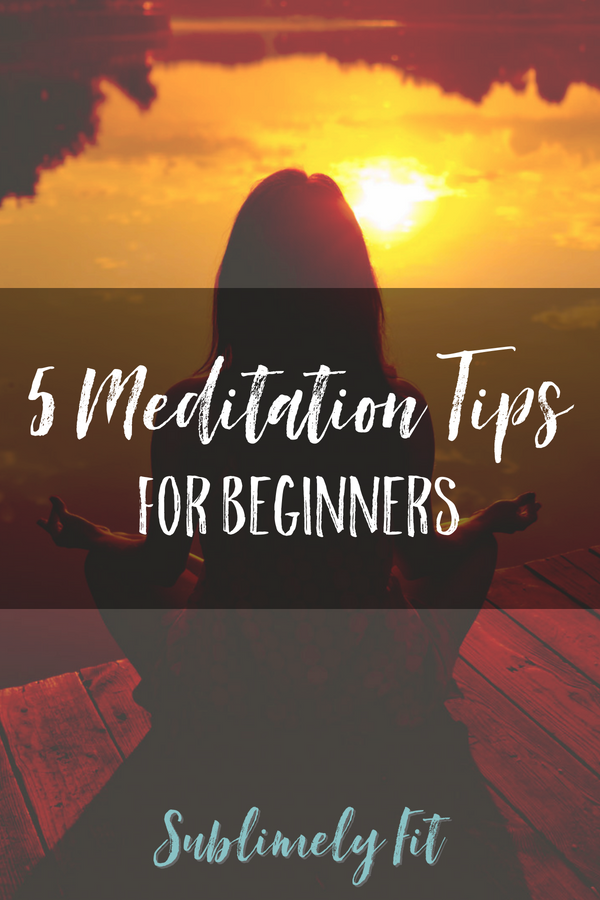 Don't Be Hard on Yourself
I won't lie to you: meditation is hard. Yes, just sitting quietly seems like it's easy, but mentally, meditation is really difficult. So, it's easy to get frustrated or angry with yourself when you feel like you're not "doing it right." But, if you sit there and stew and focus on how you think you're terrible at meditation, you're missing the point. Continue to focus on letting go of those thoughts, and when they inevitably reappear (believe me, they will), remind yourself that what you're experiencing is totally normal.
Find the Right Setting
So much of meditation is letting go of the world and its stresses. If you try meditating in a busy spot, especially when you're just starting, the distractions can get to you. Pretty soon, you're focused on what's going on around you instead of meditating.
When you sit down to meditate, find a spot where you won't be interrupted. Put your phone on silent, or, better yet, turn it off completely. Remove any temptations that might distract you so you can fully commit to your meditation practice. If you try a spot today that doesn't work for you, try a different spot tomorrow until you find the right place for your meditation practice.
Start Small
As I said above, meditation is really tough to master. Our brains really do want to wander, especially in the current era of constant stimulation. (Anyone else guilty of being on their phone in front of their laptop while watching TV?) Make it easier on yourself and start with short meditation sessions. Most of us won't be able to sit down and meditate for 30 minutes on our first try. Start out by meditating for 5 or 10 minutes, then gradually lengthen your meditation sessions as you become more experienced and better at controlling your thoughts.
Find a Style that Works for You
Just like there are many different styles of food, there are different styles of meditation, too. Just because I love Mexican food (like my life depends on it) doesn't mean that you do. Similarly, just because a seated meditation in a silent room works for me, it may not work for you.
If you try a style of meditation that doesn't work for you, try another. Personally, my mind tends to wander a LOT thanks to my anxiety disorder, introversion, and just generally being in my head all the time. So, what worked best for me in the beginning was a moving meditation with my yoga practice. Moving meditation made it easier for me to learn how to quiet my mind. I was then able to work up to seated meditation once I'd learned some meditation skills in my yoga classes. You can also try guided meditation, or meditating about an object if you're feeling really adventurous.
Practice Makes Perfect
Remember that meditation is a practice! Just like anything new, it's tough to master at first. (See Tip #1.) But, the more you do it, the easier it gets. I notice a huge difference in how easy it is to meditate when I do it daily, versus when I take a break for several weeks and try to get back into it.
So, if you're serious about getting into meditation, start by scheduling out 5 or 10 minutes every day in your calendar. Do your best to stay mentally focused, but if your mind wanders, don't get angry. Just refocus your mind. After 2 or 3 weeks of consistent meditation, you'll start to notice that it does get easier. And, better yet, you'll start to notice that you feel better, too.
Questions about meditation?
Leave 'em in the comments!