Happy Monday, everyone! And, to all of my friends in the States, Happy Presidents' Day! Enjoy your day off, if you don't have to work. I work at the barre studio for a bit this morning, then I'll be busy unpacking this afternoon and evening. So excited about the unpacking. (Not really.) I am excited to hopefully share a few photos of our new place soon, including my office. So excited to have a dedicated work space where I can do video as well as computer work.
Moving is always stressful, which is why this quote is my Monday Motivation: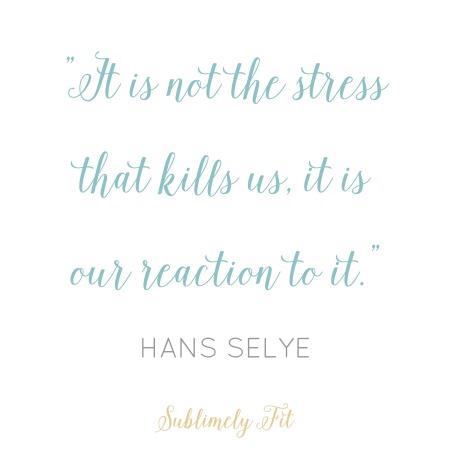 This quote reminds me of the distinction between reacting and responding. You can react immediately to stress and let your emotions take over, or you can take a step back, put things in perspective, and take control of how you want to respond. I'll be the first to admit that I'm not the best at this sometimes. But, I know I'm a happier person when I try to let as much roll off my back as I can, when I focus on what's important and try not to worry about what's not.
For those of you who struggle with this, I'll say it again: I struggle with it, too. Learning to not react quickly takes practice, just like any other important skill. It takes time to realize you're in a pattern of reacting, and it takes even longer to work to change that response. My challenge to you this week is to start to notice the times when you start to react, maybe when a driver cuts you off or when someone's rude to you in the grocery store. Step back and try to assess the situation with a clearer head. Maybe that person is having a terrible day. Try to think and act with compassion instead of assuming the worst.
This isn't easy, but the more you take the time to think and respond objectively, the happier you'll be. You'll get less emotionally wrapped up in things that don't matter, leaving you with more emotional energy for the things that do matter. It's a great first step toward being mindful of your thoughts and actions.
Have a wonderful week! And, if you haven't already, be sure to save your spot for my free Overcoming Stress Webinar for more tips for reducing the stress in your life.