I was glancing through motivational quotes and came across this great one by Muhammad Ali. It reminded me a lot of marathon training, except for the fact that I'll never be a marathon champion. 😉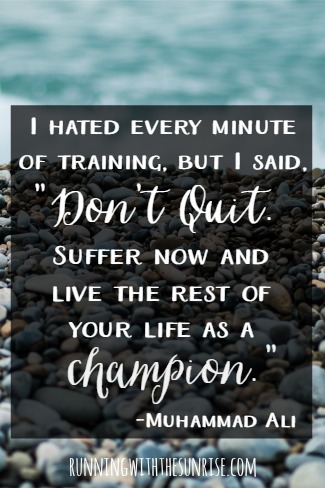 There's a lot of truth to the suffering of training, as anyone who has trained for a distance running event will tell you. The last few miles of your 20 mile long runs hurt. The last few miles of the marathon hurt. Tempo runs hurt.
FREE Hip Openers for Runners Guide
Sweet relief for your tight, sore hips!
Get the best hip-opening yoga poses sent straight to your inbox.
But what's more important is the glory at the end of the suffering—crossing the finish line of your race. Nailing that PR. You have to focus on what's at the end of the tunnel to keep going and to remind yourself of why you're suffering through training.
Maybe make a vision board or just write out your goals and keep them posted somewhere you can see them easily, so you can remind yourself daily why you're putting in the hard work. Keep your eyes on the prize! Reminding yourself why you're suffering through the hard work will help keep you motivated and focused on that goal, whether it's a race or something that you're working toward in other areas of your life.
What's something you're working hard for?
Have you ever made a vision board?
It's one of the things I'd like to do this week!