I'm now just over 12 weeks postpartum with my beautiful baby girl. I am absolutely and totally in love with her, but I also won't lie—being a new mom is tough. I've broken down crying many times. But, I'm feeling much better since being diagnosed with postpartum depression (PPD) and getting medication to help. Although it's getting much better, there's still some stigma about admitting that you have PPD, so I wanted to share my experience with the hope that maybe I can put a tiny ding in that stigma.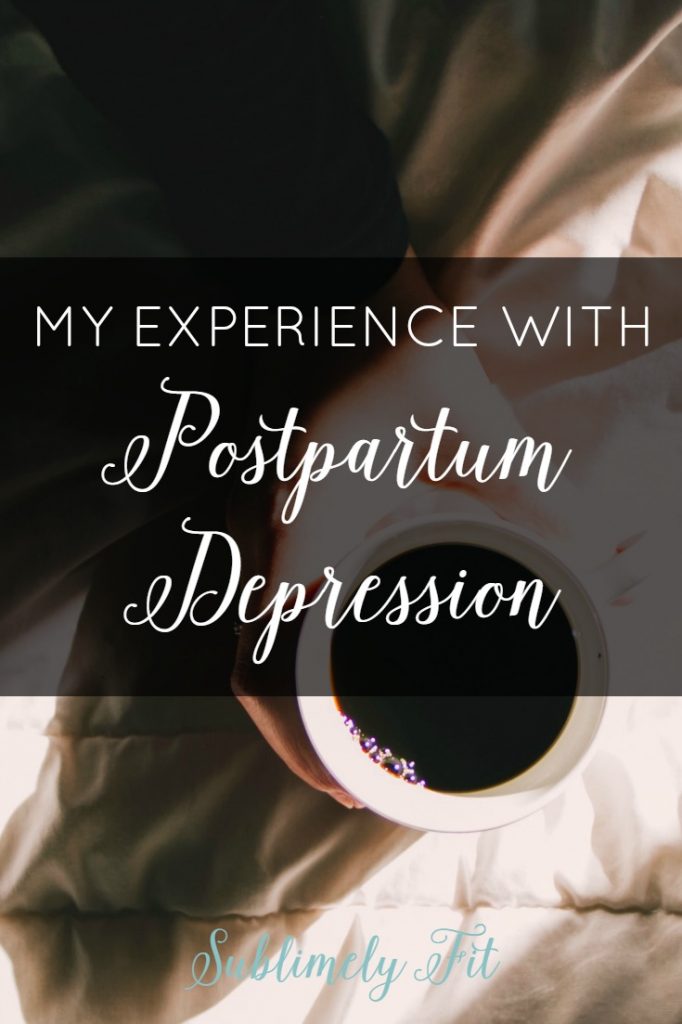 Pre-Partum Anxiety
I couldn't tell the story of my PPD without touching on my mental state before giving birth. My anxiety disorder was really tough to deal with in the months before giving birth. First, our new home in Oklahoma had been unoccupied for several months before we moved in, leading to many poisonous spiders taking up residence. I spent months terrified that any little speck on the carpet was a brown recluse until I was able to properly inspect it.
FREE Hip Openers for Runners Guide
Sweet relief for your tight, sore hips!
Get the best hip-opening yoga poses sent straight to your inbox.
Plus, Baby B was in a breech position, and as my pregnancy progressed, it became more and more probable that I was going to need a C section. I was terrified of giving birth to begin with. (I actually broke down sobbing at our birthing class…that was embarrassing.) The prospect of needing major surgery to give birth was absolutely terrifying.
So, I decided to get help. I talked to my OB about medication, but ultimately decided to try therapy first, and if therapy didn't work, I'd take the medication as well. Luckily I found a wonderful therapist to work with who helped me work through some techniques to bring myself back to the present when I started to obsess and worry about my imminent surgery.
The First 2 Weeks
Having pre-partum anxiety, and having anxiety disorder, put me at a higher risk of developing PPD. So, I was really keeping an eye out for symptoms of PPD. I knew that I'd experience baby blues for the first two weeks due to the crazy change in hormones. But, I wanted to make sure that things didn't change from baby blues to full-blown PPD.
I definitely cried a LOT during those first two weeks. I cried because I was so in love with my little girl and I couldn't believe I was lucky enough to have her. I cried because breastfeeding was hard and I felt like I was having to torture her to teach her how to latch properly. (She would actually push herself away from my breast…that was fun to work through.) I cried because I was exhausted. I cried because I didn't love my new postpartum body. And, I cried because I was just plain overwhelmed.
The good thing for me about having a C section was that I had a standing appointment with my OB 2 weeks after giving birth. Before Baby B was born, we'd talked several times about my increased risk of PPD. So, when it came time for that appointment, I made sure to talk to her about my symptoms. She diagnosed me with PPD and gave me some medication that's safe to take while breastfeeding.
Thanks to the medication and my hormones leveling out, I'm feeling a lot better. I won't lie—I still have hard days when Baby B's being really fussy or when I'm really sleep deprived. I still struggle with anxiety, and sometimes have to get up at night to check and make sure she's still breathing. But, it's getting easier, and I feel so much better than I did before. Plus, baby smiles and laughs make everything a just a little bit easier.
How to Take Care of Yourself
Here are my three tips for new moms who may be at risk for developing PPD:
Be Vigilant – I made sure that I knew the symptoms of PPD before giving birth. I knew what to look for and what symptoms I should tell my doctor about. I promised myself that I would be honest about what I was experiencing, and that I wouldn't be ashamed of asking for help. Be sure that you know what to look for (read about the symptoms of PPD here) and speak up if you're having those symptoms. Your doctor will be able to tell you if you're just having baby blues or if it's PPD.
Have an Advocate – I'm so glad that I had my husband through all of this. Not only did he support me when I was having my sometimes-crippling pre-partum anxiety, but he was a huge advocate for me after I gave birth. Since I wasn't cleared to drive at my 2 week postpartum OB appointment, he drove me and came to the appointment. He made sure that I didn't minimize what I was feeling. (I have a tendency to think "it's not that bad" when I'm actually in the doctor's office.) He helped me be honest about what I was feeling when I talked to my OB and he supported and encouraged my decision to take medication to help me feel better.
Don't Be Ashamed – Don't let the stigma get to you. You're being brave by asking for help and being honest about how you're feeling. It's easier to sweep things under the rug and pretend like everything's okay while crying in secret. Also, don't be ashamed if you and your doctor decide to use medication to treat your PPD. You wouldn't think differently of a Type 1 diabetic taking insulin, or about taking an antibiotic for a bacterial infection. Medication for PPD isn't any different. The neurotransmitters in your body aren't working like they should, so there isn't any shame in getting medical help for PPD just like you would any other illness or disease.
If you're suffering, don't suffer alone. Don't be afraid to ask for help. Whether you use medication to help, or even if you just work with a good therapist, getting help can really make you feel better. Feel free to email me if you need someone to talk to, and please don't be afraid to talk to your doctor. You're in control, and you can take steps to help yourself feel better.