I realized the other day that I started my consistent yoga practice five years ago at this time, right after training for my first half marathon. I was between training cycles and had been reading all about the benefits of yoga for runners, so I decided to start attending the yoga classes they offered at the campus gym twice a week. Within a couple of months of taking those bi-weekly classes, I had fallen totally in love with yoga and was starting to feel stronger and calmer.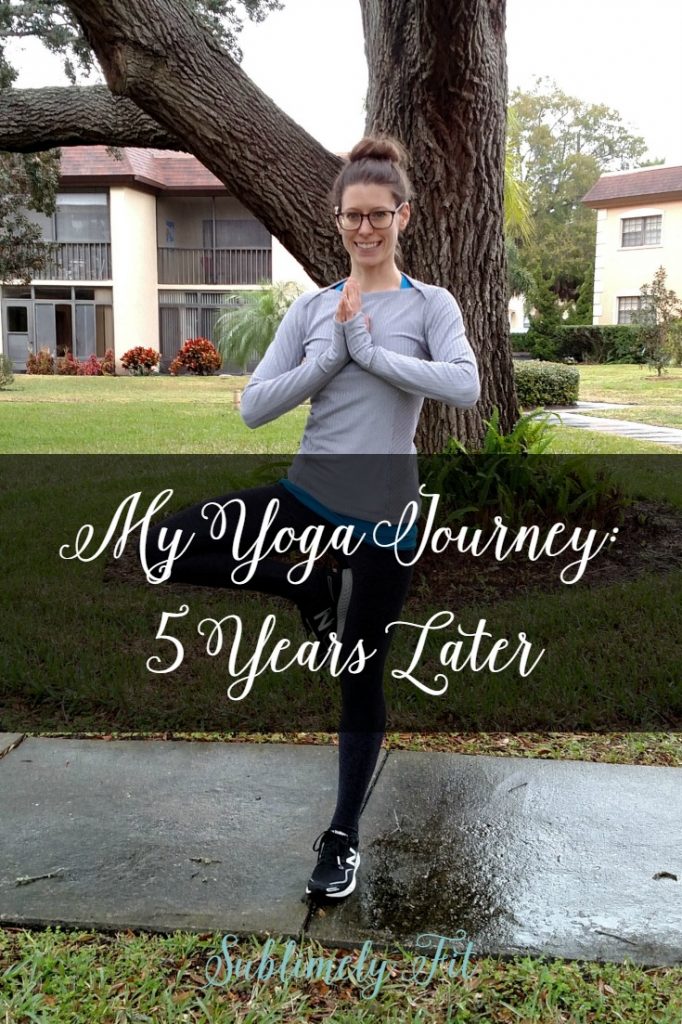 I don't know if back then I would have even thought I'd wind up where I am today. In those five years, I started this blog, became a certified yoga teacher, and started teaching yoga and blogging about yoga on a consistent basis. I don't often think about those first few classes I took, but I can't imagine what my life would be like today if I hadn't taken them.
Yoga helped me cope with the stress of graduate school. At the time that I started my yoga practice, I was about a year and a half away from finishing my PhD, furiously working in the lab to collect the data I would need to graduate. And, my now husband had moved, and instead of living two hours away, he was now 12 hours away. As I continued with my yoga practice, it became easier to relax and let my stress go during yoga classes. I was not only training my body; I was training my mind, too.
I learned the hard way how beneficial yoga was for my running. As I was writing my dissertation and getting ready to graduate, and training for the Chicago Marathon at the same time (bad idea), I ran out of hours in the day and my consistent yoga practice was the first thing to go. After two of months of 60+ miles coupled with skipped yoga classes, I wound up with a bad hip flexor injury that sidelined me for months. That injury taught me the true value of yoga for runners.
So, when my favorite yoga studio in Illinois offered its first yoga teacher training program in the summer of 2013, I jumped at the opportunity. I'd done a lot of soul searching and knew that I was passionate about helping runners learn about yoga, and becoming a yoga teacher was a perfect way for me to pursue that passion. Fast forward a few more years, and I've taught yoga to hundreds of runners, and even authored a book, "Yoga for Runners." And, I run an online course with yoga videos created just for runners, as well as great information about how to incorporate yoga into a training plan, and how to maximize the benefits of yoga to become a better runner.
In the past five years, I've also learned a lot about my own personal yoga practice. I've learned that like everything in life, there are seasons for yoga, too. I'll find my passion for one style of yoga waning for a bit, then I'll come back to it. I'll go for weeks or months when all I want is a really sweaty, hour-long yoga session, then I'll find that for a while, all I really want are restorative classes. I've learned to follow what speaks to me and what I need from my yoga practice, knowing that who and what I am changes all the time, so my needs from my yoga practice will change, too.
I've also gotten much better at dropping my ego. I used to strive to take the advanced option for every pose that the teacher offered, really pushing myself to work up to that arm balance or to twist a little deeper. Now, I'm better at listening to what my body needs, and taking a modification if I need to. I've learned to make my yoga practice what I need it to be and no more. And, I've learned to accept that my body may not be able to do today what it did yesterday, and that's okay. In many cases, it's not about the pose, it's more about how I feel and how much I can let go of during my practice.
Wherever you are in your yoga practice, my biggest message to you is this: don't try to make your practice be something it's not. Be true to yourself, and listen to what you and your body need every day. Don't compare yourself to who you were yesterday or last week, because ultimately that doesn't matter. The more you learn to live in the present and accept who you are in each moment, knowing that who you are will change from one moment to the next, the happier you'll feel.
Namaste!