This post has been sponsored by NOW Foods via FitFluential. All opinions are my own and are my honest thoughts.
I'm so excited today to tell you all about my newest obsession: NOW Foods. Last week I was lucky enough to be able to visit the NOW Foods production facility and headquarters up in the Chicago suburbs. I got a behind-the-scenes look into how NOW produces their products, and I got to learn more about NOW Foods and their values and corporate culture. Everything I learned has made me a hardcore fan of NOW Foods, and I'm excited to share that experience with you on the blog today.
FREE Hip Openers for Runners Guide
Sweet relief for your tight, sore hips!
Get the best hip-opening yoga poses sent straight to your inbox.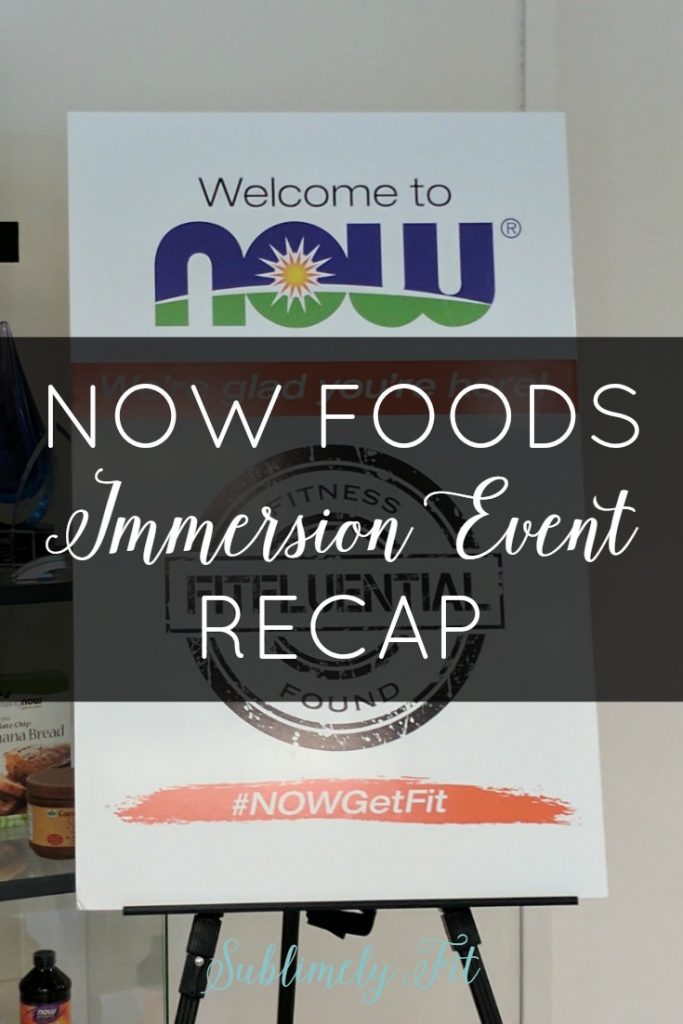 The event started last Thursday with checking in at the hotel, where two large and very generous goody bags were waiting for us. (I did a live "unboxing" video of the goody bags, which you can watch here. I talk about a lot of the products and what they're good for, and you can totally tell how excited I am to try them out, too.) I've already started to use several of these products, and I plan to review them more fully in a future post when I have more time to test them out.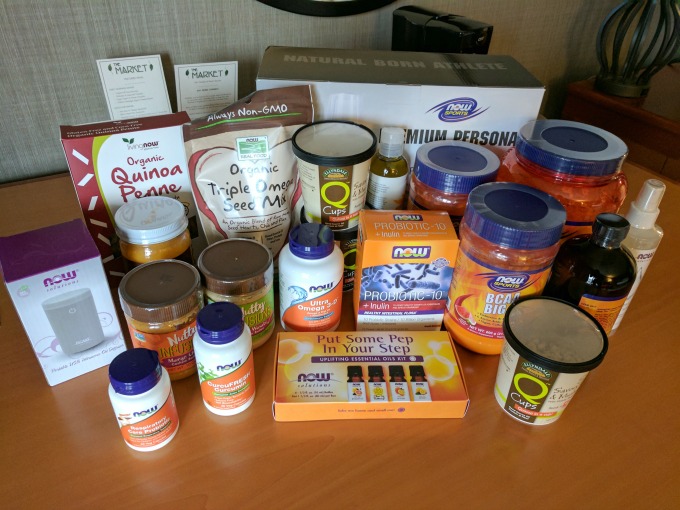 That evening, we went out to dinner with several members of the NOW Foods team at Glen Prairie restaurant. We got to hear from the CEO of NOW Foods, Jim Emme. I loved hearing his passion for the company and how they're committed to not only creating great products, but also to making a great workplace for their employees. He shared that they actively hire refugees from many countries around the world, helping them create a new life in the US, which I found particularly moving.
We also had the opportunity to talk with several of the NOW Foods employees over dinner. We got to hear more about their products and the features that make NOW Foods so unique, and we also learned how the leadership really works hard to make NOW Foods a great place to work. When you have happy employees, the entire business thrives.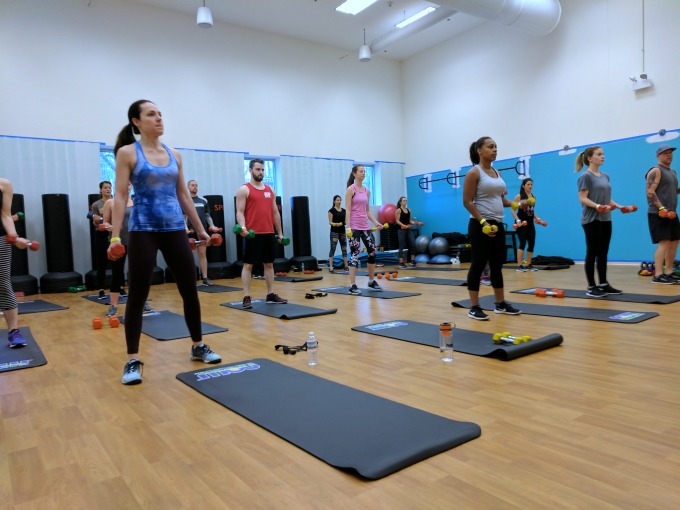 The next day started out with a R.I.P.P.E.D. workout at the hotel fitness facility. It was a combination of HIIT, kickboxing, weight training. I was definitely sweating! (It was also nice to get in a full hour-long workout, my longest since Baby B was born.) It was also really nice to get some new HIIT workout ideas.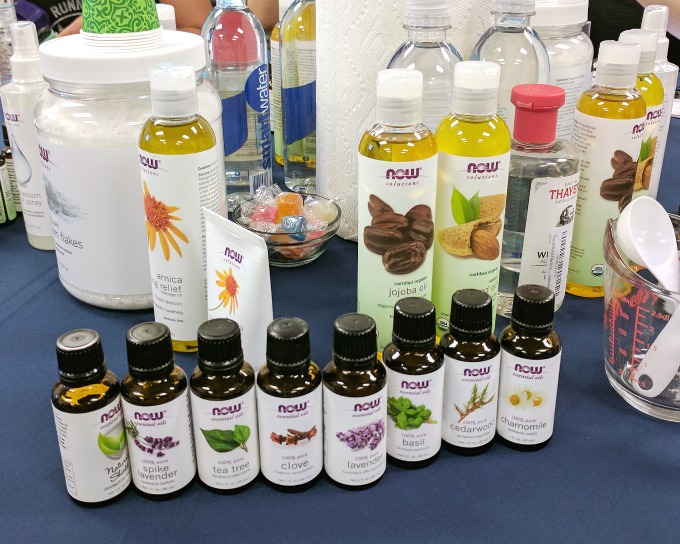 After the workout, we headed to a session to learn about NOW's natural personal care line with Tina Tews, their personal care brand manger. She went into detail about how the staff at NOW Foods does all sorts of testing to make sure that their products contain what the labels say they do. She also shared that their essential oil blends contain the exact same ingredients as some pricier, direct-to-consumer oil brands, but at less than half the price.
We learned how to use essential oils to make our own personal care products, specifically a gym mat spray (which you could also totally use for yoga mats) and a massage oil. (And, if I'm being totally honest, I also used the spray to de-stinkify my shoes after the workout.) I'd never realized how easy it is to make your own! If you're curious how you can use essential oils to make your own personal care products, check out the recipes on NOW's website.
After a short break, we headed over to the NOW Foods production plant to see how they manufacture their products. I think this part of the immersion event had the biggest impact on me. We learned how NOW Foods is really focused on value. If you shop in health foods stores on a regular basis, you may have noticed that NOW products are usually quite a bit cheaper than other brands. That's because they're committed to providing great products at as low of a price as possible so you can afford the natural health products that you need to live your healthiest life.
We were lucky enough to have CEO Jim along with us for part of the tour as well. I noticed how he knew many of the employees working on the production lines by name, and how he took time to say hi to everyone and shake their hands. You could see that management really makes an effort to keep every single person who works their happy, and that they truly care about their employees, no matter what position they're in.
We also spent some time in their science facilities learning about how they control the quality of their products. When ingredients come into the facility, they verify the identity and purity of those ingredients before using them in their products. Then, they do further quality testing down the line in the manufacturing process to make sure that none of their products become adulterated. As someone with a MS and PhD in Biology (and a minor in chemistry), I can tell you that they put a lot of money and effort into making sure they provide high-quality products. Even my PhD chemist hubby was impressed when I told him about the analytical setup at NOW Foods.
After the tour, we had lunch and heard more about the NOW Sports line. NOW Sports focuses on making high-quality supplements without artificial ingredients or illegal substances. They really focus on putting just the good stuff in their supplements to help their consumers meet their fitness goals. I could also tell that they work really hard to stay on top of the latest research and trends in the sports nutrition field to make sure they're getting their consumers the supplements that will give them the best results. This trip was my first time using their protein powder, but now I'm definitely a convert.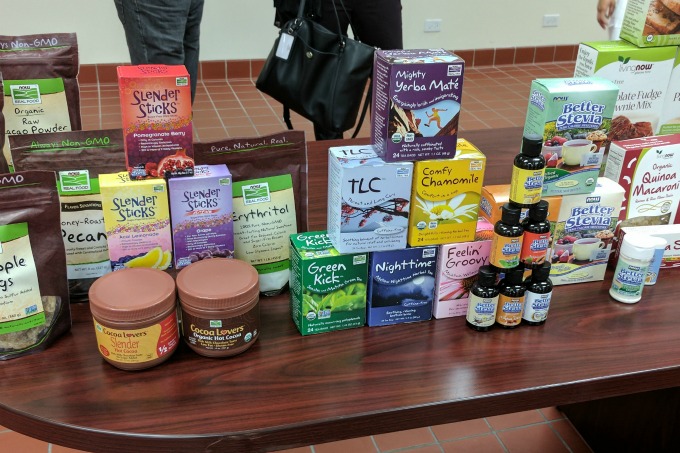 We finished up with a trip to the Culinary Innovation Center, where they work to develop foods with cutting-edge flavors and recipes that really let their ingredients shine. For example, we got to test their brand new Nutty Infusions cashew butter in Mango Chili and Ginger Wasabi flavors.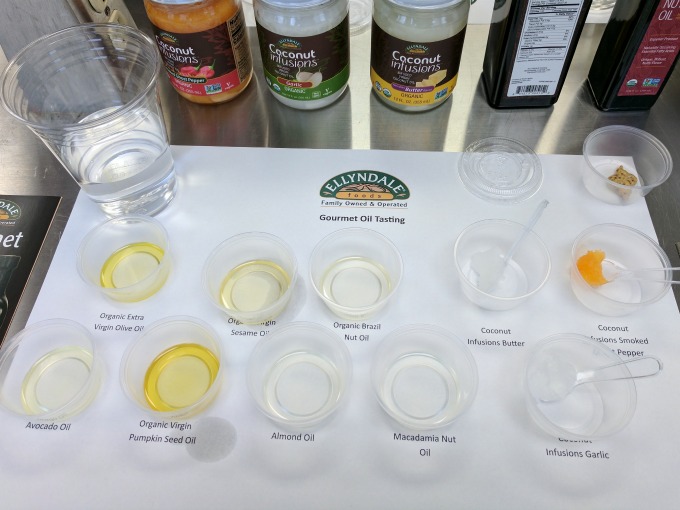 We also got to taste a little Coconut Infusions Smoked Ghost Pepper coconut oil, which was VERY spicy, but had an incredibly unique taste. And, we got to taste their other nut oils, which were really delicious and I would love to use in dressings and other dishes. (If anyone's wondering, Brazil Nut Oil and Macadamia Oil are delicious!)
Then, we wrapped up the tour with a quick trip out to the NOW Foods organic garden with Chef Suzy Singh. They actually grow organic produce that their employees can take home to their families, which I really loved. And, I loved getting to chat with Chef Suzy about different flavors that you could mix together to take the NOW Foods and Ellyndale products to the next level. I definitely have some ideas for recipes I want to share in future blog posts!
TOP TAKEAWAYS
Here are the top takeaways I had from the event:
I Can Trust NOW Foods
With so many supplement companies out there in the marketplace today, it's hard to find a brand that you can trust. In fact, some major retailers have been in the news lately because their store-brand supplements were tested and didn't contain the botanicals the bottles said they did. After touring the NOW Foods plant and manufacturing facilities, I am 100% sure that I can trust all of the products that NOW Foods makes, and I can feel great giving them to my family, too.
NOW Foods Cares About Value
I mentioned this earlier, but it's a point I want to reiterate. Even though NOW Foods products may be less expensive than others that are next to them on the shelf, that doesn't mean they're not high quality! We learned that many health and natural food companies mark their products up by 100 to 300%. The folks at NOW Foods believe that you shouldn't have to choose between your health and paying your bills, which is why they're committed to providing really great products at a low price.
NOW Foods is a Family
I was also very struck by the family atmosphere at NOW Foods. They seem to really take care of their employees, and you could just tell that everyone enjoyed being there. On the tour, I also noticed that they have a pretty diverse workforce–lots of women and minorities, which I really appreciated. And, I learned that they take care of their employees. I know that when I spend my money, I want to support companies that take care of their people instead of simply profiting off of them.
So, that's why NOW Foods is now one of my go-to brands. I've already taken a trip to my local health food store and bought some of their products since I got home. (Better Stevia was a definite must-have. If you're a stevia fan, you MUST try Better Stevia! It's not bitter at all.) If I'm making a special trip out with my 6-month-old baby to buy something with my own hard-earned money, you'd better believe it's something I'm passionate about. So, the next time you're picking up a natural food or health product, I'd strongly encourage you to pick up a product from NOW Foods. I know you're going to love it.