I feel like so often in the fitness industry and niche, we're always supposed to be pushing people. People need motivation to get started, to stay on track, and to push themselves to new heights. All of that motivation can be a good thing. But, I think sometimes with all the pushing, we forget that there's also a season to step back. Sometimes, we need to take a break.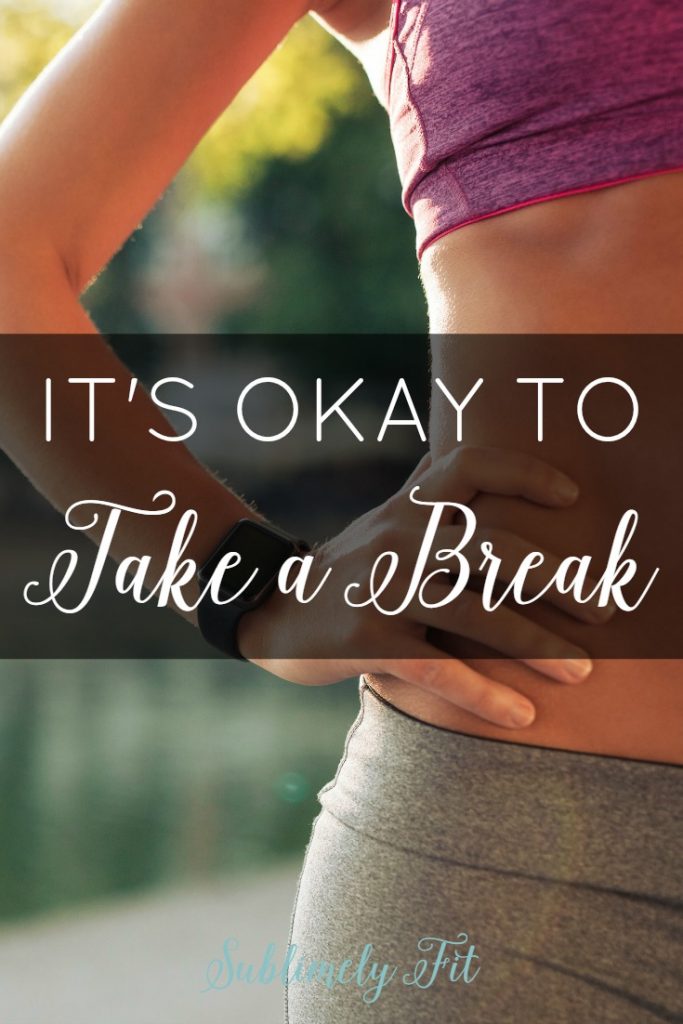 I definitely experienced this when I was pregnant. I'd always imagined that I'd still be doing kick butt workouts when I was pregnant, but my first trimester left me feeling totally drained (and feeling completely nauseated). By the time my second trimester rolled around, I just wasn't feeling up to my usual high intensity workouts. So, instead of pushing myself through workouts and hating life, I switched to gentler workouts.
FREE Hip Openers for Runners Guide
Sweet relief for your tight, sore hips!
Get the best hip-opening yoga poses sent straight to your inbox.
When your body tells you something, take the time to listen. In that instance, my body was telling me that I didn't need to be doing crazy hard workouts. I needed to swallow my pride and let go of the guilt over not doing hardcore workouts like I thought I should. Like I had imagined I would. Sometimes just moving is enough, even if it doesn't look as good on Instagram.
I also experienced this while training for marathons. I've trained for about twice as many marathons as I've run because all of those miles seriously take a lot out of you. I got to a point where my body could handle more than my mind could. I'd break down and cry before my long runs because I was dreading them so much. That was a huge signal that I needed to back off and start to focus on just enjoying my workouts.
If your fitness routine has you dreading heading out the door or going to the gym, maybe it's time to re-evaluate your goals. Are they keeping you motivated, or are they putting unnecessary pressure on you? If your goals are making you hate your workouts, that's a big sign that you might have the wrong goals.
Fitness should bring you joy, first and foremost. It's virtually impossible to stick with any habit, even a healthy habit, if you totally hate it. Find something you love to do, and continue to pursue what you're passionate about. If you started out as a runner and now you absolutely hate it, take a break. Used to be a Zumba junkie but now you're dreading your classes? Hit the pause button. You may never come back, or you may find that after a little break, you come back to it with a renewed passion.
Remember to stay true to what makes you happy, to what fuels your passion. That can change over time, and that's okay. Don't feel guilty if you no longer enjoy your favorite class or workout. Variety can be the spice of life, and sometimes all you need to get out of a fitness rut is to try something new, even if that new thing is a less intense workout. Listen carefully to your body and your heart, and give them what they need.