Yoga teacher training is a huge undertaking. Most basic teacher training programs (TTPs) are 200 hour programs certified through Yoga Alliance, which means you'll be spending at least 200 hours of your life learning about yoga, not to mention the time you'll spend studying outside of the course. It's also a pretty big financial investment for most of us. Here's the story of how I came to be a yoga teacher and how I knew I was ready for yoga teacher training.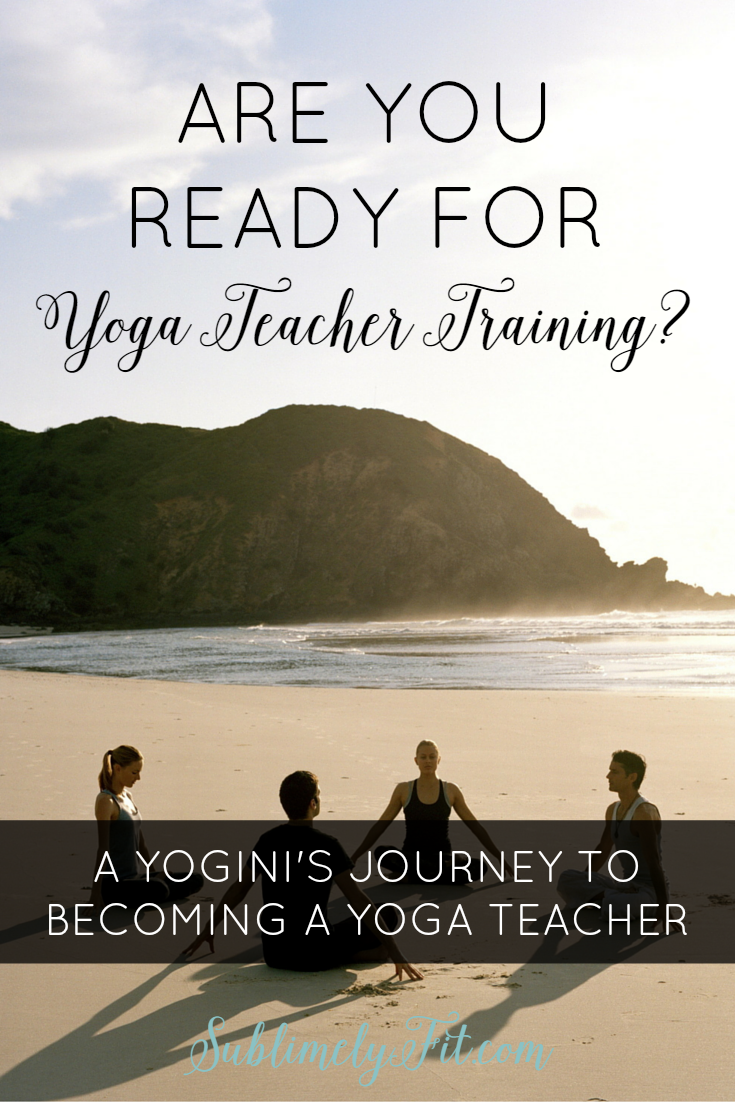 First, the story of how I found yoga. I'd picked up a yoga DVD (or maybe even a VHS) or two over the years that I'd followed through for a couple of weeks, then forgot about. I knew some of the poses, but I wouldn't say that I had an actual yoga practice until I started training for my first half marathon. When I started running more seriously, I read every book and article about running that I could get my hands on, and many of those articles and books talked about how great yoga was for runners. So, I headed to my first formal yoga class, a 45 minute power yoga class at the campus gym at Clemson, where I was working on my PhD. I fell in love and started going to two classes a week, adding in a third when a local Zumba studio started offering yoga classes as well.
I fell deeply in love with yoga when I started practicing at my current studio in the Chicago suburbs. I'd started practicing there when I visited my then-boyfriend (now husband) on breaks, and started taking classes at the studio as often as I could. After graduation, I'd spent some time soul searching and thinking about what I wanted to do with my life, and after taking a goal-setting seminar, I realized that I wanted to teach yoga to runners, to show them how yoga could help them like it had helped me.
Originally I thought I'd go through training years down the road. When I thought of yoga teachers, I thought of yogis who could hold handstands and practiced crazy arm balances all the time. I was practicing yoga a lot, so I was gaining a lot of strength and advancing in my poses, but I definitely didn't consider myself an advanced yogi. I thought once I'd gotten stronger and more flexible, once I "looked" more like a yoga teacher, then I'd be ready to become a yoga teacher. Luckily, I met some wonderful teachers and teacher trainers who assured me that loving yoga and wanting to share the love of yoga is the most important quality you should possess to become a yoga teacher, not the ability to hold arm balances.
I looked around at yoga TTPs in my area. I knew I couldn't afford to attend a training that wasn't local. I looked at pricing, but more importantly, I looked at the style of yoga that those studios practiced and taught. I wanted to be sure I was trained in a style that really spoke to me. Once you're certified you can teach just about any style of yoga you're interested in, but you'll probably feel the most comfortable starting to teach a class that's similar to the classes offered at the studio where you complete your teacher training.
I was incredibly lucky. I happened to ask the owner of my studio, who I love dearly, if she had ever thought about providing teacher training, and it turned out that she was planning to start a TTP in a few months. I was able to complete my training at the studio I was deeply in love with, learning to teach the style of yoga that spoke to my soul. My program was a 9 month program, meeting one weekend a month. This schedule made participating in the program a lot easier for me and my schedule. If you know you want to attend a TTP, be sure to think through the time commitment and what you'll have going on in your life as you're completing your training.
If you're considering signing up for a TTP, I suggest you think about the following:
Do you want to learn more about yoga? Even if you don't intent to teach, going through a TTP will greatly deepen your understanding of yoga. I love that I can guide myself through a practice at home if I can't fit a class into my schedule.
Do you have a home practice? Does yoga have a place in your daily life? If you're content to take classes at a studio two or three times a week and have no desire to make yoga a part of your daily life, wait a little longer and think about whether you truly want to go through the program.
Are you doing this to make the big bucks? I'll be honest, most yoga teachers don't make a lot of money. You can make more by opening your own studio, or by teaching for years and years and becoming well-known enough to drive students to your class. But, the vast majority of yoga teachers aren't millionaires.
Are you doing this to instantly find a job? I was lucky when I was offered the opportunity to teach at my home studio. For many if not most TTP graduates, it can take a while to find a position as a yoga teacher, and even then you may only teach a class or two a week.
If you've been thinking about becoming a yoga teacher, I hope you've found this helpful! If you have any questions about being a yoga teacher or going through training, please feel free to email me or contact me on any of my social media channels, or comment below!
Yoga teachers: chime in!
How did you know you were ready for yoga teacher training?