What's the deal with recovery yoga for runners? I've written many times about how helpful yoga for runners can be. Recovery yoga, restorative yoga, and yin yoga are all closely related types of yoga that runners should absolutely incorporate into their training. I know most runners would rather eat dirt or deep clean their house than sit still for several minutes at a time. But I promise, the benefits make recovery yoga totally worth it for runners!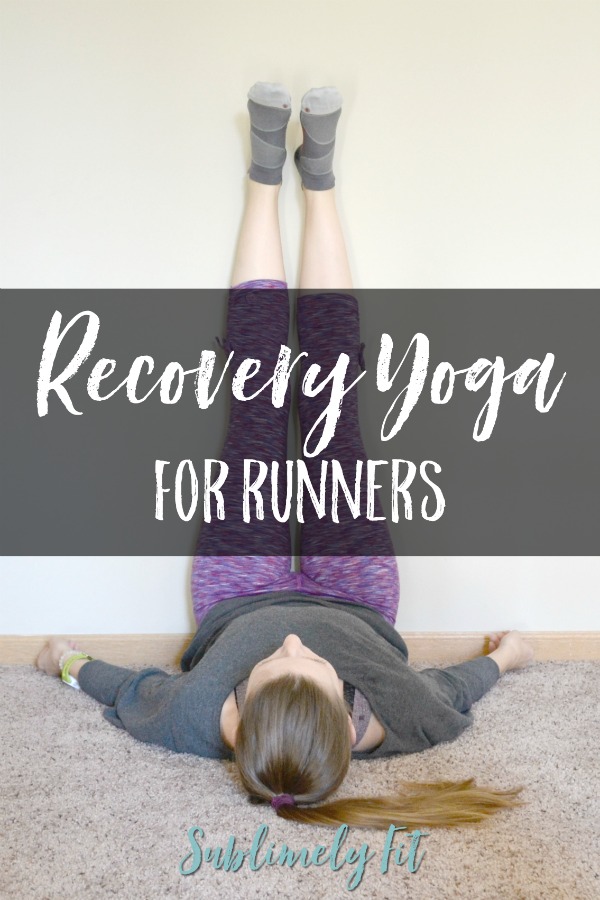 Disclaimer: I am a yoga teacher, but I'm not your yoga teacher. Always practice yoga mindfully and if you have any questions, consult with your teacher.
FREE Hip Openers for Runners Guide
Sweet relief for your tight, sore hips!
Get the best hip-opening yoga poses sent straight to your inbox.
Why Runners Should Try Recovery Yoga
Let's be honest: running can be really tough on your body, especially if you're running a lot of miles every week. To get the most out of that hard effort, you need to make sure you're giving your body what it needs to recover and repair the muscles you break down during your workouts. When you don't properly recover from your runs, you risk getting burnt out, sick, or injured.
One way yoga can really help runners is by aiding recovery. (This is especially true of restorative and yin yoga poses, which These poses can help promote proper blood flow, which aids the removal of waste products from tissues and brings in oxygen and nutrients. That increased blood flow ultimately helps your muscles repair themselves faster, which means you'll recover from your runs more quickly.
In addition, restorative yoga poses help release the tension that builds in muscle and connective tissue, helping you maintain a good range of motion. When you relax into a pose for a long period of time, your connective tissue begins to release, especially your fascia. Restorative yoga and yin yoga poses are specially selected because they help release your fascia and connective tissue, helping you build a better range of motion, and helping you feel better overall.
If you do a lot of reading about running or fitness, you've probably read about the importance of your fascia and taking care of it. Fascia and fascial release are really hot topics in the fitness world right now. When your fascia starts sticking, it can cause issues throughout your body. More and more research is showing that it's really important to keep your fascia loose if you want to live a pain-free life.
For example, and adhesion in the fascia in your hip can cause issues all the way down your kinetic chain, ultimately resulting in injuries. That adhesion can cause limited hip mobility, and it can also tug on the fascia of your thigh and knee. That, in turn, can put unneeded pressure on your knee, and can also cascade into imbalances down into your calf, shin, ankle, and foot. And that's just one example.
I recommend that all of my runners and clients add in at least one recovery yoga session a week for all of these reasons. You don't have to dedicate hours to restorative yoga, but I do think that 20-30 minutes a week will have a big, positive impact on your running. It's the perfect slow, calm compliment to a sport that's very fast and stimulating.
Recovery Yoga For Runners – Poses to Try
Below, I've curated my five favorite recovery yoga for runners poses that I use to recover from my running. Hold each of these poses for two to three minutes, or as long as it's comfortable. (If a pose ever feels very uncomfortable, or even painful, come out of it.)
Supported Forward Fold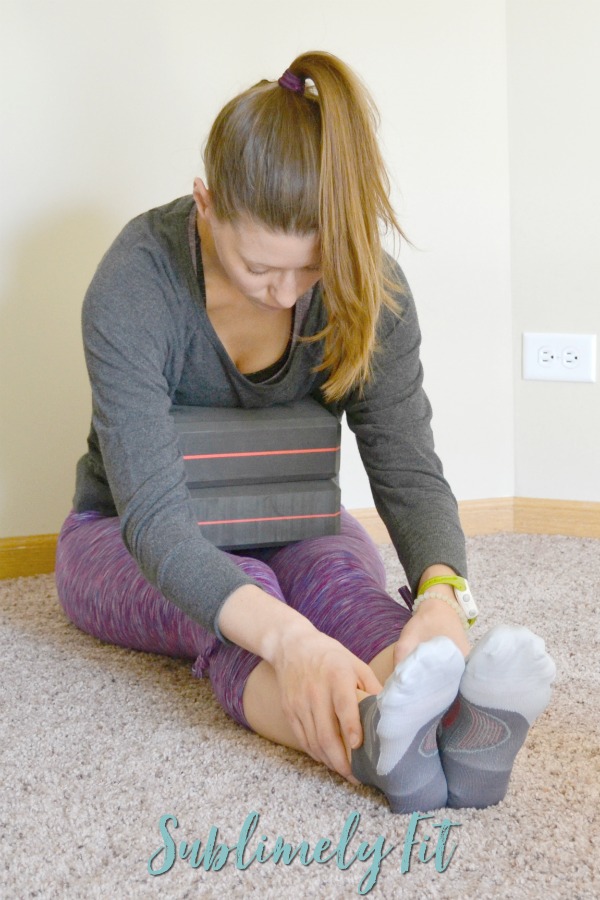 A supported forward fold is wonderful for opening up the hamstrings, making it a perfect recovery yoga for runners pose. The key to making this a restorative pose is to stack blocks, pillows, blankets, or other supportive items under your chest and/or head so that you can relax your upper body. If you find that you're putting weight on your arms, flip your hands over so that the palms face up—this can help you relax a little deeper. Be very careful that you're gently stretching through the belly of the hamstrings (the thick, meaty part of the muscle) and that it feels like a gentle stretch, not like you're straining.
Cow Face Pose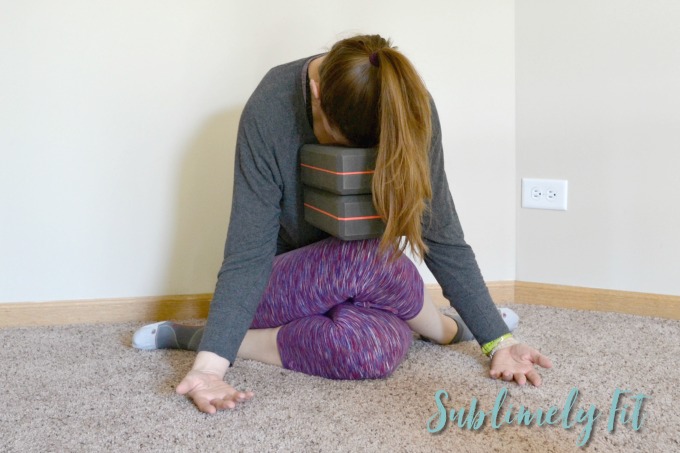 Cow face pose is great for opening and stretching the outer thigh and leg, especially the piriformis, which tends to be a problem area for a lot of runners. You stack your knees together, bringing your feet out to the side. If you bring your feet closer to your butt, you'll deepen the stretch, but remember, you should be relaxing into these poses, so there's no need to push. Support your head and/or chest with blocks, blankets, etc. as needed.
Butterfly Pose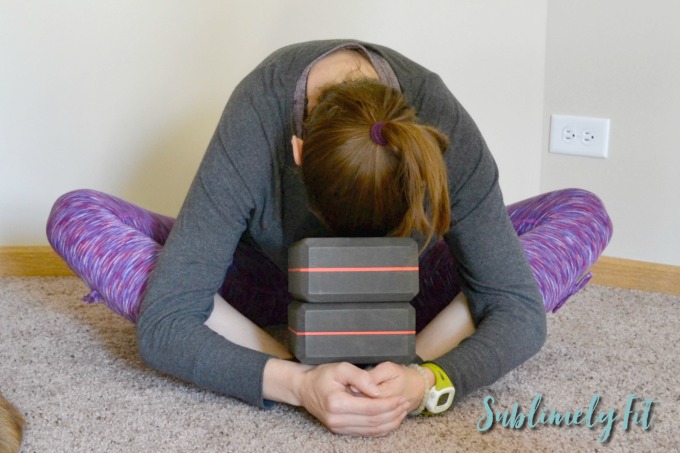 Butterfly pose counteracts cow face pose by opening up the inner thigh. You press the soles of your feet together and let your knees go out wide. Your feet can be as close to or far away from your hips as they need to be to make the pose comfortable. Again, use props to support your torso so that you can relax into the pose.
Legs Up The Wall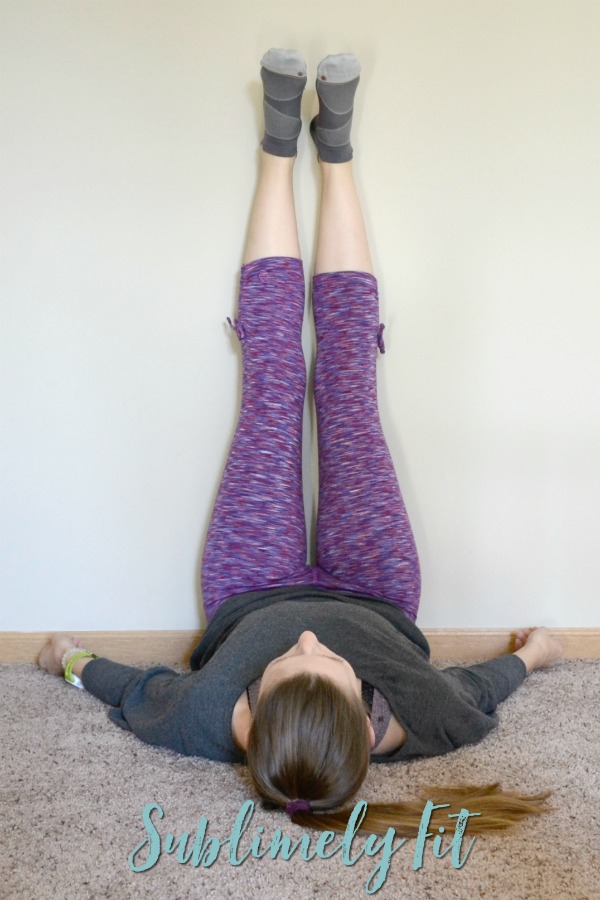 Legs up the wall is a perennial favorite of runners because it helps drain waste products from running and muscle breakdown from the legs and helps bring fresh blood in when you bring your legs down after the pose. Lying on your side, you should try to get your butt as close as you can to the wall. Then, flip onto your back, letting your legs rest against the wall. Hold the pose for about five minutes, less if the pose is uncomfortable.
Supported Savasana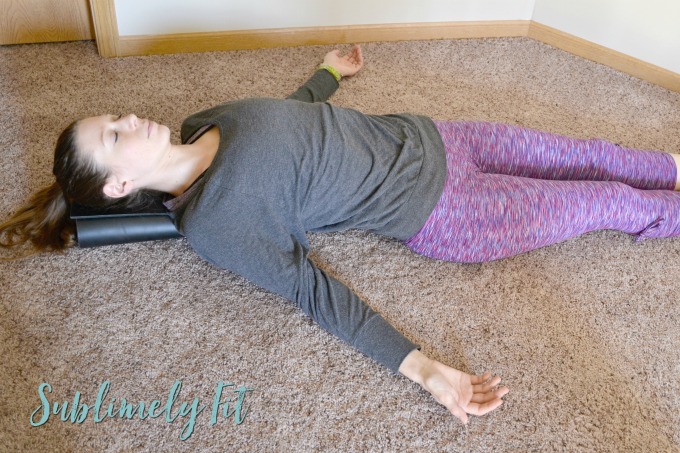 You see it all the time on the running path: may runners (including myself) have a tendency to run with hunched shoulders. This pose helps counteract the hunching by opening up the muscles on the front side of your shoulder, including the pectorals. By placing a bolster, folded blanket, or even a yoga mat under your spine between your shoulders, it allows your heart and shoulders to open. I love lying in this pose when I feel like I need to open my heart a little more.
Do you practice recovery yoga?
What's your favorite yoga pose to relax into?
How do you recover from your workouts?

Linking up with Running on Happy, Crazy Running Girl, and Coach Debbie Runs for Running Coaches' Corner.