Over the past several weeks, I've come to understand just how terrible I am at setting boundaries. Like, really really terrible. I didn't always care about setting boundaries, but I'm starting to see just how important setting boundaries is for my happiness and mental health. January was a huge struggle for me, and February hasn't been a total cake walk either. I keep asking myself why that is, and one of the things I keep coming back to is boundaries.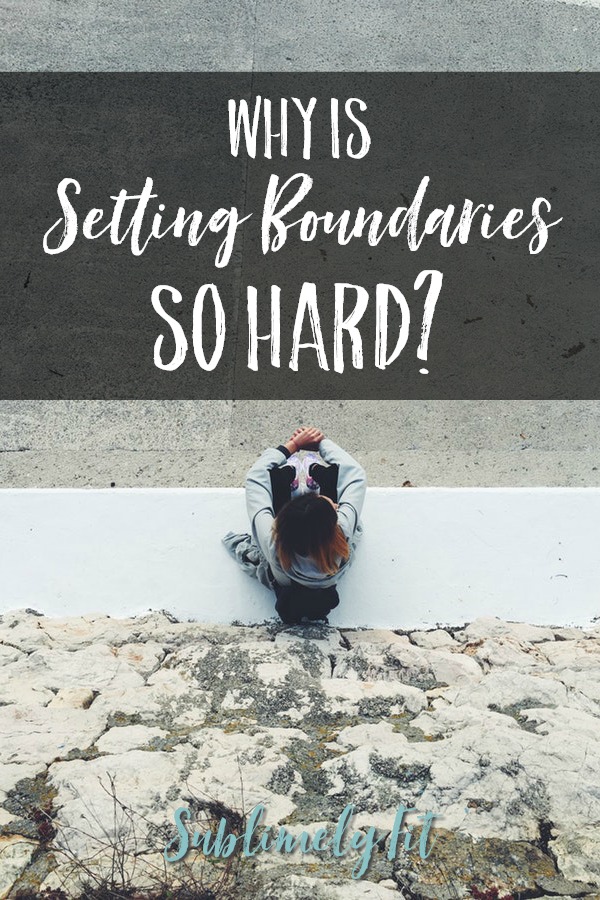 My goal here isn't to air any dirty laundry or to blame anyone. (I will say that this isn't about my wonderful husband.) But, what I do want to share is the feelings that have come up, and how I feel that's affected my mental health. (After all, for anyone interested in health and wellness like I am, mental health is key.) I feel a lot of shame around the idea of being difficult. I think I've internalized that it's bad to rock the boat, even if it's simply sticking up for myself and my needs.
FREE Hip Openers for Runners Guide
Sweet relief for your tight, sore hips!
Get the best hip-opening yoga poses sent straight to your inbox.
That leads to this visceral reaction whenever I feel like I am causing problems by asking for something I need, whether it's physical or emotional. I start to feel anxious. I get this deep feeling of fear in the pit of my stomach. My throat feels tighter. My shoulders tense up and move higher and more forward. In some ways, I feel like I'm preparing for a fight-or-flight response.
I absolutely hate those feelings. So, for years I've totally avoided them. I've done my best to just go with the flow in every situation, and when I do finally speak up for myself, it's because the teakettle is boiling. I've hit my limit, and there's often a lot of emotion tied along with it. Not a very healthy thing to do, and it's all because I have a really hard time asking for what I need from other people, and holding them and myself to it.
Down in my bones, I'm a people pleaser. I'm terrified of criticism (probably why I avoid bringing up controversial topics, especially on the blog) and I'm terrified of people disliking me. So, as much as I can, I try not to make waves, even if I'm feeling deeply unhappy. I'm still not a hundred percent sure why that is, but I also don't think that knowing why I'm a people pleaser really affects the point I'm trying to make here, anyway.
So what is that point?
The point is that by trying to make other people happy, I often make myself unhappy. When I'm afraid to speak up for what I need emotionally, physically, or whatever, my needs come dead last. Or, it builds up so much that there's a whole lot of hurt, anger, and other emotions that come along with me bottling up tension because my needs aren't being met. Either way, it's not good. And that's why I'm trying to stop the cycle.
Over the past few weeks, I've been actively trying to set the boundaries I need. Standing up and drawing those invisible lines has been so, so hard for me. In fact, the dread that I feel when I know I need to let someone know about a boundary I have to set has lingered like a storm cloud for hours on some days. I sometimes even still feel guilty when I do have these difficult conversations.
But, I'm also starting to feel the satisfaction that comes from having good boundaries. I no longer feel resentful because I think I'm being taken advantage of, because those boundaries make sure that I stay in my comfort zone. Those boundaries have helped me feel more respected and valued, which ultimately makes me feel a lot happier. I'll also be honest and tell you that it's a work and progress, but I am feeling better.
So what's the take home message here?
If you're someone who struggles with setting boundaries, too, I'd really encourage you to take some time to think about what that's doing to you mentally. Are you like me, and is your lack of boundaries actually making you much less happy than you deserve to be? Do you feel like people take advantage of your giving nature, and would you be happier if you no longer felt that way? And how can you start to stick up for yourself, even in small ways, so you can build that boundary-setting muscle?